Kilkenny advanced to a Leinster final showdown with Dublin after eventually see off a brave Wexford challenge in an epic contest at Croke Park which needed extra-time before the Cats booked their place in the final by 2-37 to 2-29
Brian Cody's men led by a point at the break in regular time after a highly entertaining opening half that was played at a high tempo.
But the game went to extra-time when Wexford responded to a late Kilkenny goal with three points in the closing stages of a thriller, before Kilkenny's stronger bench helped them to victory after an astonishing game.
Seven subs scored for Kilkenny and they held Wexford scoreless for the second-half in extra-time as they fashioned victory in a great contest.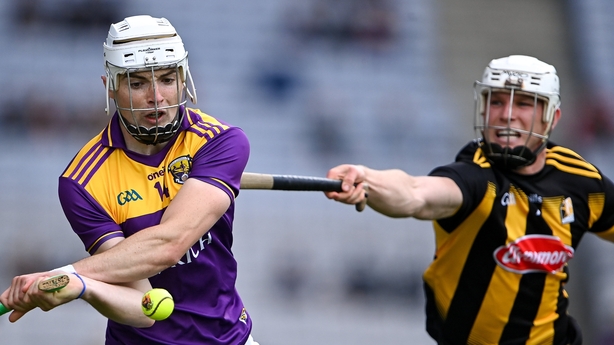 Kilkenny went in leading by 0-15 to 0-14 at the break after a quality first-half where both sides picked off some excellent points and the sides were level seven times.
They exchanged points four times in the opening ten minutes with Wexford sweeper Kevin Foley doing superbly to deny Eoin Cody a goal with an excellent block.
Kilkenny enjoyed more goal-scoring chances but Mark Fanning was in top form and it was Wexford who opened up a 0-07 to 0-04 lead after 13 minutes after points from Lee Chin, Rory O'Connor and Matthew O'Hanlon.
But with Richie Leahy, TJ Reid and Cody responding for Kilkenny they drew level at 0-10 apiece after 27 minutes before Cody's second point edged the Cats in front for the first time.
Wexford hit back. Paul Morris pointed a free after Chin was fouled, Conor McDonald got his second point and O'Connor landed his third of the match from the right in a great spell for Davy Fitzgerald's men.
However, while Wexford were on top Kilkenny kept hauling them back. Reid pointed after another goal chance and Martin Keoghan equalised before Cody's third point and another Reid free put them two ahead but Chin cut the gap to the minimum at the interval when he landed his fifth free.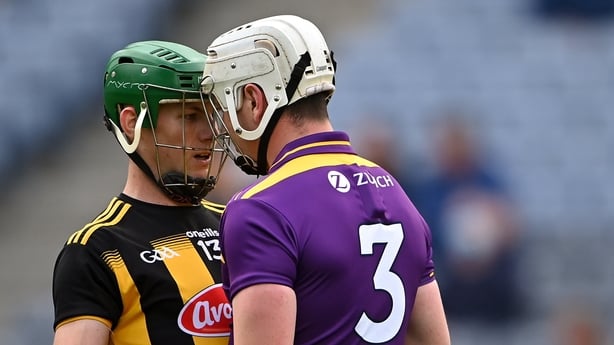 Two more points from Reid and one from interval sub Conor Fogarty pushed Kilkenny 0-18 to 0-14 after 40 minutes but Wexford hit back with two more frees from Chin and one from Liam Og McGovern cut the gap to the minimum before Shaun Murphy landed one from distance to tie the sides for the eighth time.
And they went into the second water break level when subs James Maher and Jack O'Connor traded quality points from distance.
Murphy and Chin put Wexford two in front but the next four points came from Kilkenny before sub David Dunne drilled home the opening goal just seconds after coming on for Wexford when he latched on to a puckout.
Chin and goalkeeper Mark Fanning added points to lead by a goal with 12 minutes remaining but Kilkenny hit back with four points in a row before McGovern levelled them again two minutes from the end of regular time.
Cody seemed poised to win it for Kilkenny when he raced on to a puck-out to finish to the net but Wexford responded with three points in a row to force extra-time, the equalising score coming from full-back Liam Ryan from distance which goalkeeper Eoin Murphy tried to bat out before McDonald finished the rebound to the net but referee Fergal Horgan went to Hawk Eye and the point rather than the goal was awarded and the game went to extra-time.
Wexford goalkeeper Mark Fanning scored a penalty within a minute of the restart when Kilkenny keeper Eoin Murphy was binned for dragging down Connal Flood, with replacement custodian Darren Brennan almost saving the penalty after he came on.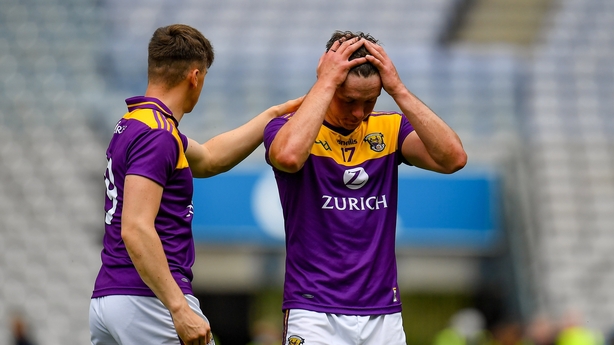 Kilkenny responded well and outscored Wexford by four points to one to draw level for the 13th time but Chin edged Wexford in front at the interval in extra-time when he pointed a free to lead by 2-29 to 1-31.
But Kilkenny pulled away after the break with James Bergin adding two to another from Reid, Billy Ryan also pointed and then Walter Walsh soloed through and batted the ball to the net and there was no way back for Wexford after that.
Kilkenny: Eoin Murphy (0-01, 0-01f); Tommy Walsh (0-01), Huw Lawlor, Paddy Deegan; Darragh Corcoran, Padraig Walsh, Conor Browne; Richie Reid (0-02), Richie Leahy; Billy Ryan, Adrian Mullen (0-01), Martin Keoghan (0-01); Alan Murphy (0-01), TJ Reid (0-16, 0-12, 0-01 '65), Eoin Cody (1-05).
Substitutes: Conor Fogarty (0-01) for Leahy (half-time), James Maher (0-02) for Corcoran (half-time), John Donnelly (0-01) for Ryan (45), Walter Walsh (1-01) for R Reid (53), James Bergin (0-02) for Murphy (64), Michael Carey (0-01) for Fogarty (70), Cillian Buckley for Browne (70), Darren Brennan for Bergin (71-81 BC), Billy Ryan (0-01) for Keoghan (80).
Wexford: Mark Fanning (1-01, 1-00 pen, 0-01f); Liam Ryan (0-01), Matthew O'Hanlon (0-01), Shane Reck; Shaun Murphy (0-02), Simon Donohoe, Gavin Bailey; Diarmuid O'Keeffe (0-01), Lee Chin (0-14, 0-10f); Paul Morris (0-01, 0-01f), Liam Og McGovern (0-02), Conor McDonald (0-02); Mikie Dwyer, Rory O'Connor (0-03), Kevin Foley.
Substitutes: Jack O'Connor (0-01) for Morris (50), David Dunne (1-00) for Dwyer (59), Connal Flood for O'Keeffe (70), Conor Firman for Murphy (72), O'Keeffe for McGovern (77), Murphy for Bailey (80), Cathal Dunbar for Chin (85), Conor Hearne for O'Keeffe (88).
Referee: Fergal Horgan (Tipperary)