Tyrone's Paul Donaghy is taking inspiration from Kerry's dynamic duo David Clifford and Sean O'Shea as he looks to announce himself on the championship stage this summer.
The forward enjoyed a superb 2020 with his club Dungannon Thomas Clarkes, helping them to a surprise county title success and earning rave reviews from many supporters who wondered aloud how he wasn't involved in the Red Hand senior set-up.
In May, he finally got his chance. Donaghy started Tyrone's league clash with Donegal and excelled, scoring 0-10 in a seriously impressive debut performance.
He admits the subsequent hype caught him off guard but Donaghy has been able to lean on some wise, experienced heads within the Tyrone camp and they were quick to rally around the 22-year-old.
"To be honest I sort of tried to block it all out because I know it's only a distraction," he said at AIB's All-Ireland SFC launch.
"You could see stuff even popping up on Facebook. It was nice to get off to a good start but in football it's all about the next game. All that's in the past now and it's just about trying to win and play the best we can against Cavan.
"A lot of those guys have been there before. It's that type of environment where the likes of Mattie Donnelly is able to identify it. I am new to all this.
"He'd come and explain that such and such will happen. Usually everything they say is spot on and if you're listening to those guys you'll not go too far wrong as far as being mentally prepared for everything.
"It's a big step up in terms of the commitment levels. The step up to actually playing the game is not as big as I thought it was going to be, though it definitely is big.
"But you're up there with so many experienced players who are all taking you under their wing and helping you along the way. We have that backroom team with Pete Donnelly, Holmsey [Collie Holmes] and Joe McMahon - they're all just teaching and coaching you along the way which makes the transition easier."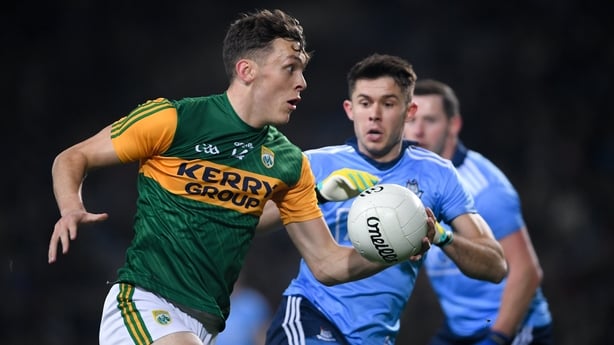 After the high of his debut, Donaghy got first-hand experience of just how cut-throat top-level inter-county football can be when a sensational Kerry attack rattled in six goals as they breezed to victory at at Fitzgerald Stadium.
For Donaghy, it was an eye-opener.
"You watch those guys on TV and in our own video analysis... what some of them are doing is incredible, guys like [David] Clifford and Sean O'Shea.
"They're the same age as me and you're always trying to pick wee snippets of what they're doing and add it into your game. It's amazing how well those guys are playing at the minute."
Right now the focus is Ulster champions Cavan, who Tyrone square up to in a provincial quarter-final on Saturday week.
"They are a different animal when it comes to the championship," added Donaghy.
"They're that type of team, they're tenacious and they're all warriors. They've some fantastic footballers so it's really going to be a tough opener for us but we're doing everything we can to be ready for it.
"We just hope for ourselves and the people of Tyrone that we are."