Croke Park officials say the weekend's pilot test fixtures for a return of spectators to the venue were positive and has shown it can cater for greater numbers with the GAA championships on the horizon.
On Saturday evening, the Derry footballers claimed a Division 3 league title at Offaly's expense in front of 2,400 fans, while on Sunday, a similar attendance was permitted for Kilkenny's camogie league final defeat of Galway.
Tony McGuinness, Croke Park Head of Operations said it had been a "fantastic" couple of days with the return of fans.
"We have been working on this for the last 15 months. We have had a few false dawns along the way and we would have been looking to get back at some stage last year," he told RTÉ Sport.
"They [plans] have come to fruition the last couple of days and hopefully we can look forward to some good attendances down the road."
McGuinness said the lack of congregating both inside and outside the stadium in both games was encouraging, and said a report will be given to the Department of Health, while the other sporting bodies will be consulted in order to pool together as many resources as possible.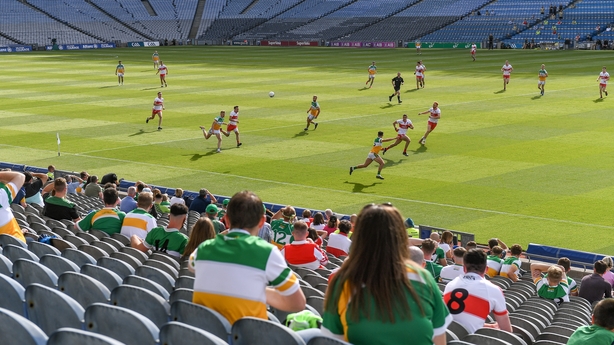 It has been reported that in early August, up to 5,000 people could be able to attend events in big outdoor venues, or 25% of capacity, whichever is the lower figure.
RTÉ Sport understands proposals for attendances of 10,000 at the Leinster hurling final in mid-July, and over 25,000 at the All-Ireland finals in August, have been discussed and McGuinness says the early signs are good for an increased return.
"We're certainly ready to bring more people back into the stadium. We'll look to a schedule of events then that will hopefully bring us bigger numbers."