Kieran McGeeney says that you have to be in Division 1 of the Allianz League if you want to be competing for the Sam Maguire.
Armagh beat Roscommon on Sunday by nine points to maintain their top-flight status. The Orchard County trailed by four at the first-half water break but they then found another gear to draw level in the 23rd minute.
Oisín O'Neill's goal helped them into a lead that they wouldn't give up again as the Rossies fell flat for large parts of the game.
"I can see an improvement in the forward line, and in the two O'Neills."

Pat Spillane says Kieran Donaghy's influence is beginning to show in Armagh. #AllianzLeagues #RTEGAA pic.twitter.com/A3YEQuRP9r

— The Sunday Game (@TheSundayGame) June 13, 2021
"We controlled the game very well," McGeeney told RTÉ's Sunday Sport.
"Coming into it the game we were talking among ourselves and we felt that we gave a good enough account of ourselves in the league.
"Scoring difference had been the difference between us going for a potential final and heading for the relegation play-off.
"So we said we wanted to go out today and give it our best rattle - and we did."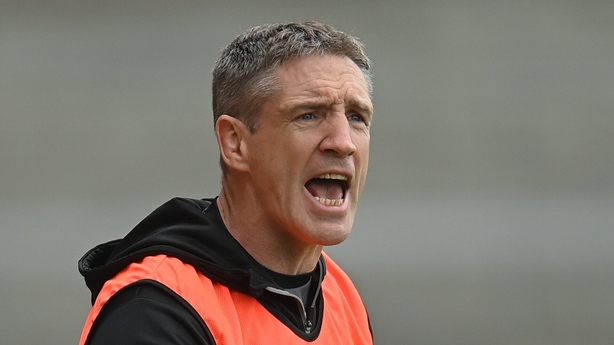 It was Armagh's first season back in the top flight since 2012 and they suffered just one defeat against Tyrone, while managing wins against Monaghan and a draw with Donegal, on top of Sunday's triumph.
"Sometimes you have to be careful what you wish for when you're taking on the Dublins and the Kerrys of this world," he said when asked about how significant it was to be staying in Division 1 for 2022.
"On any given day you have to be at your best to beat them. But it's no coincidence that in the Super 8s every year you might only get one surprise (team) and they don't usually do that well in it.
"So if you're going to be any force in the championship you have to be in the top eight. We want to be there and challenge ourselves and see where we go."
Next up for Armagh is a date with Antrim in the Ulster Championship on 4 July.
The Saffrons are managed by former Tyrone forward Enda McGinley, who McGeeney faced as a player in the 2003 All-Ireland final.
"Enda's over them (since November) and straight away they've been winning games with some aplomb, in terms of their scores," said McGeeney.
"I always thought Enda was a no-nonsense player himself, very effective, and now he's doing the same now in his management.
"Both in hurling and in football Antrim have shown that they easily have the talent. Last year in the championship Cavan were lucky to get out by a point, and the year before it was Tyrone who were lucky to escape.
"We know if we're at our very best we've a good chance and if we're not then we don't. That's Ulster football and it's been the same for 30 years."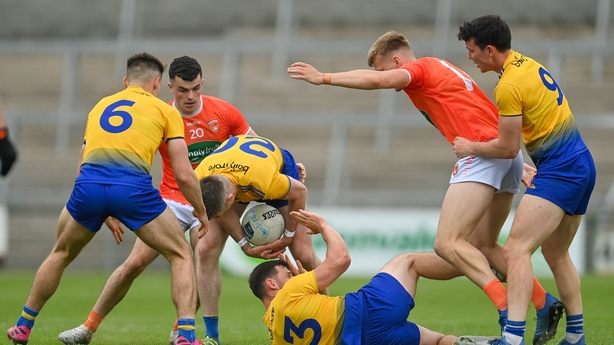 Defeat meant a third relegation in five years for Roscommon. Their manager Anthony Cunningham admitted he was disappointed to be going back down to Division 2.
"It's a concern going from the highs of the first quarter to not performing for the rest of the match," he said.
"To go from that to playing poorly - some of the shot selection and players taking the wrong option is a concern.
"We'll regroup and we owe it to every person in Roscommon, and to all the panel members to drive on for the next three weeks.
"For us really the big deal all year really is to banish that performance that we played against Mayo in last year's Connacht Championship, which wasn't a true reflection of this panel.
"We've a mighty battle with Galway at the Hyde and we're going to be up for it."