In January, it was disclosed that Donal O'Grady, All-Ireland winner as a player and manager, was returning to the Cork managerial set-up.
Between Johnny Clifford and Jimmy Barry Murphy and Kieran Kingston, Cork hurling stalwarts have never subscribed to the maxim that you should 'never go back'.
In fact, this is O'Grady's third stint involved in a coaching capacity with the Cork senior hurlers. On both previous occasions, they swooped in to claim All-Ireland titles.
He was a selector with Clifford in 1986, when Cork were supposedly incensed by jocular comments from the Mayor of Galway concerning preparations for the Tribesmens' victory homecoming. Captain Tom Cashman certainly indicated as much in his spicy Hogan Stand speech though other players have since said that portion was ad-libbed.
O'Grady carries a reputation as one of the foremost thinkers and tacticians in the game and that 1986 win was a tactical triumph, of a sort.
Galway had deployed a two-man full-forward line in the semi-final against Kilkenny - a bewilderingly radical concept in 1986 - thoroughly confusing their opponents. Unlike Kilkenny, who were all at sea, Cork decided to hold their positions, with veteran defender Johnny Crowley becoming an early prototype of the spare man in defence, enjoying a bumper afternoon when he appeared simultaneously leisurely and effective, sweeping up more ball than Tadhg de Burca might on a good day.
Cork's beneficial decision to hold their shape in the '86 final may have been more indicative of stubborn traditionalism than anything else - but O'Grady's subsequent career has been associated with questioning long-standing norms and evolving new styles of play.
He wasn't long finished playing at that point. His own relatively short-ish inter-county career had ended two years earlier.
He'd been a mainstay of the St Finbarr's side which won All-Ireland club titles in 1975 and 1978 - the competition was dominated by the big Cork city clubs in its first decade - but hadn't cracked into the three-in-a-row winning Cork team from 76-78.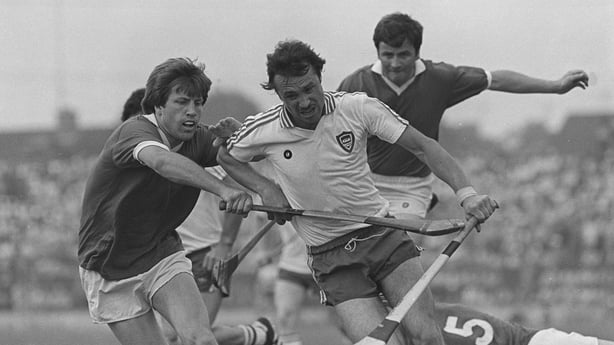 He only made his championship debut for Cork in 1981 at the age of 27 - a rare to loss to Clare in the Munster semi-final.
After two successive All-Ireland final defeats to Kilkenny in 1982 and 1983, O'Grady started at full-back as Cork destroyed Offaly in the centenary final in Thurles in 1984.
Having collected his All-Ireland medal, O'Grady swiftly got out, retiring from the inter-county scene just shy of his 31st birthday.
It was a move he'd repeat exactly two decades later, retiring abruptly after guiding Cork to the 2004 All-Ireland title.
It's been something of a theme in his management career. O'Grady has always given the impression of someone who's in a hurry to get somewhere else. He doesn't seem interested in forging a Brian Cody-style dynasty.
TJ Ryan worked with him during two separate stints with Limerick in the past decade, as a selector during the 2011 campaign and then as co-manager in late-2013/ early-2014.
"In 2011 (with Limerick), it was in and out. It was 12 months - he had said he was doing 12 months and he was going and he went," Ryan tells RTÉ Sport.
"That seems to be his style. He's in and out. He leaves an imprint and leaves a platform and a foundation for it to be taken on.
"Even going back to the All-Ireland winning team for Cork (in 2004). That seemed to be a very settled team after he won the All-Ireland with them.
"John Allen obviously went on to win an All-Ireland with them. But you probably would have said at the time, had O'Grady stayed, you would have fancied him to win with them again too.
"But that seems to be his style, make an impression and get out. And he certainly does leave an impression."
O'Grady's two-year stint as Cork manager in 2003 and 2004 has been portrayed, notably in The Game documentary, as a key period in the evolution of modern hurling, a moment when the sport took a big leap into the future.
He assumed the job after the first players' strike in 2002. Cork had endured a couple of wretched championship summers in '01 and '02 and the success of 1999 by then felt considerably longer than three years ago.
In an instant, Cork went from being the most hidebound and complacent of hurling environments into one of the most forward-thinking and restless.
"I made contacts with Munster Rugby to see what they were doing," O'Grady told the documentary. "Their diet, their preparation, hydration, how important it was. It was professional, but in an amateur setting."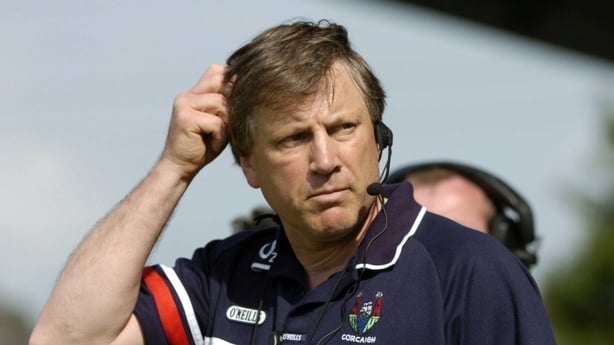 They certainly left their hated rivals, aka The Stepford Wives, trailing in their wake (From reading back over the various accounts, it seems most of the 'hatred' in that era was coming from Cork, the Kilkenny players seemed fairly oblivious).
Kilkenny, who'd re-established themselves as top dogs in the early noughties, weren't yet on the same page, preparation-wise, as Tommy Walsh disclosed to Newstalk a few years ago.
"Cork were coming then (with the message) that you look after yourself off the field, stay out of the chipper. I remember 2005 I was on the buildings. I had a breakfast every single morning five days a week at 10 o'clock. I didn't know that wasn't right for you.
"There was a fierce contrast in the way we thought. They were eating pasta at the time and we thought this was unbelievable. We were still eating spuds and bacon and steak."
It was during O'Grady's term as Cork manager that he became associated with what he doesn't like to call 'the short-passing game'.
"The term that I used for the way we played was that we maximised possession," O'Grady said in The Game. "That was my mantra - optimal use of possession."
"It's probably labelled the short-passing game," Ryan says. "But I'd say Donal would prefer if it was called 'maximising possession' or 'keeping the ball' or something along them lines. I don't think short-passing is the correct label myself."
Always analysing and questioning existing modes of doing things, it's characteristic of O'Grady's approach that he should be one of the earliest to doubt the wisdom of leathering the ball downfield, Póc Fáda style, for seventy minutes.
During RTÉ's Christmas-time 'Final Words' documentary on the famous 2004 Munster final, O'Grady pondered the efficacy of pre-match team-talks.
"You give a speech before the game, you go around to each of the players, you talk to them. I'd love to have enough time to do research and see does any of it go in? (laughs)"
Contrasting with some of his authoritarian predecessors, he was matter-of-fact about the player-power era.
"I remember growing up in a club scene whereby you were told something and it was a message delivered from on-high," O'Grady told The Game.
"As guys become more educated, they begin to question things much more... People talk about player power. If they don't want to do something collectively, it's not going to get done."
The era of managerial ear-pieces and short puckouts had begun. Propelled by their 'stay out of the chipper' maxim and their astute use of possession, Cork regained the Munster championship in 2003 and only just fell short in a tight and cagey All-Ireland final against Kilkenny.
After coaxing the great Brian Corcoran out of retirement for a wonderful Indian summer as a converted full-forward, Cork went one better in 2004, steaming past the defending champions in a devastating second half display on a rain-sodden afternoon in Dublin 3.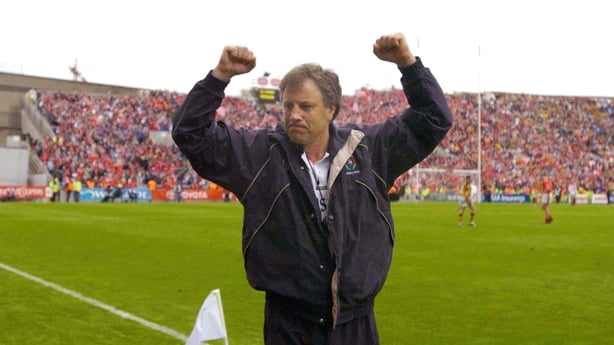 "I'd say it's very important to us that he stays on for another year. Donal is after bringing us from way down the bottom rung of the ladder up to the top," Ben O'Connor told the Irish Times the day after the final. "And I'm sure all the players would love Donal to stay on again next year."
But within a month, he was gone, citing family and work reasons. Under John Allen, who, coincidentally, also succeeded O'Grady as Limerick boss in 2012, Cork made it back-to-back titles in 2005.
O'Grady's next inter-county assignment also involved taking over following a protracted strike. Limerick had entered a virtual third-strength side in the 2010 championship after a lengthy stand-off between the players and manager Justin McCarthy, the latter backed by the county board.
"Donal came to Limerick in 2011 to take over after a difficult time for Limerick hurling with players' strikes," Ryan recalls. "I was a selector with him in 2011 and he got the wheels in motion.
"After John Allen left in 2013, myself and Donal took over as joint-managers and Donal departed three-quarters of the way into the first year and I stayed for three years.
"I would have had a great working relationship with him. I found him to be very professional, very thorough and extremely knowledgeable on the game of hurling.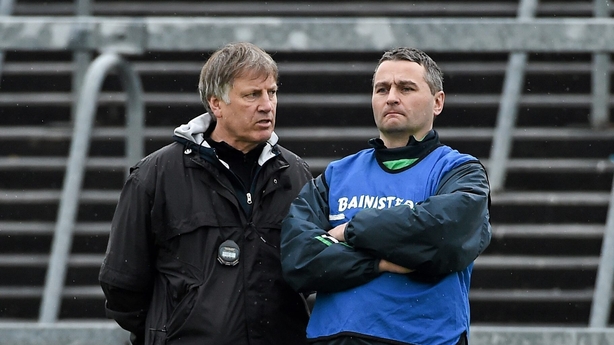 "He's a teacher and you can clearly see that. For me, those teachers have a better skill at transferring that coaching knowledge than us... we'll say 'ordinary people'. That's my belief. He has that in abundance."
Cork's bright start to the Allianz Hurling League has attracted notice and their highly distinctive playing style has naturally caused observers to point to O'Grady's influence.
Their televised match against Tipp, in particular, provoked an orgy of keening from the purists, grieving for the game they used to know.
But Cork have also gone against the grain of recent trends, plundering a barrel-load of goals in an era when teams increasingly have decided they no longer require them to win All-Irelands.
The Cork support is already perking up, the old performative triumphalism is close to making a return.
"Cork played like no other team in the country at the weekend," Shane Dowling wrote on RTÉ.ie after their draw with Tipperary in Semple Stadium. "It has Donal O'Grady written all over it. They hit almost every puckout short, and they are nice and composed, working the ball laterally, backwards and eventually forwards."
While Ryan clearly sees O'Grady's stamp in how the current Cork side are developing in the opening rounds of the league, he is nonetheless quick to praise Kieran Kingston for drafting in such a heavy-hitter and influential voice into his backroom team.
"To be fair to Kieran Kingston, I think that after last year, there was definitely a change coming about anyway.
"I think that Kieran might have put himself in a tricky position whereby if things go nicely right, Donal will probably get a lot of credit and if things go wrong, Kieran will get the blame! That was a difficult one for Kieran Kingston!
"I think he (Kingston) deserves huge credit. He recognised what Cork were good at, in terms of being good ball players. I think the current Cork crop are very athletic, the game suits them now and Donal is a good fit.
"Knowing Donal O'Grady, knowing his philosophy, knowing the way he thinks about hurling, there's no doubt that his imprint is in there. No doubt.
"And I'd say, knowing Donal, you're going to see further evolution over the coming weeks. It'll be tweaked and tweaked and tweaked until he's happy with it."
We need your consent to load this YouTube contentWe use YouTube to manage extra content that can set cookies on your device and collect data about your activity. Please review their details and accept them to load the content.Manage Preferences
Listen to the RTÉ GAA Podcast at Apple Podcasts, Soundcloud, Spotify, or wherever you get your podcasts.
Follow live updates of Allianz Hurling League Round 4 across Saturday and Sunday on RTÉ.ie and the RTÉ News Now app. Watch Limerick v Cork (7pm, LIT Gaelic Grounds) live on RTÉ2 and RTÉ Player, coverage begins at 6.45pm.