Across the four divisions of the Lidl Ladies National Football League, 73 goals were netted throughout last weekend's round three clashes.
Of the 17 green flags raised in Division 3, none raised eyebrows more than Down's first goal in their match against Roscommon, which came when there were no more than 20 players in total back on the field of play after the first water break.
Roscommon stalwart Jenny Higgins described the incident as being "very bizarre" when speaking at the launch of the Glenvagh Homes Gaelic4Girls programme yesterday.
Referee Ciaran Groome blew for the return to play after the water break and as the Roscommon players ambled away from their team huddle, Down worked the ball up the field unchallenged and into an open goal.
We were lucky we came away with a win. If you look closely the officials were not back on their lines either and down got a goal out of it?????? https://t.co/oK4sZgbb6a

— Roscommon LGFA (@RoscommonLGFA) May 31, 2021
"It was kind of a kick in the teeth really. We had done quite well in the first 15 minutes and had a goal at that stage," said Higgins.
"I can't remember how much we were up, but he blew the whistle and we were just kind of maybe causally making our way back, because it was a really hot day.
"It was really hot, so we may have taken an extra couple of seconds I suppose. But he allowed play to continue, and Down went ahead and got a goal in the back of the net.
"It was very bizarre, but fair play to our team - we responded really well and I think we went up and got our own score at the other end of the pitch.
"It's something that we'll definitely have to look into. Is that actually a rule? Can that actually be done? Obviously it is if the referee officiated it, but it's fair to say it won't happen to us again anyway. We learned for the second water break, we were the first team back out on the pitch just in case."
In the end the home side went on to win by nine points regardless and bagged themselves a second successive win in this year's league campaign.
"It was very strange but fair play to our team, they really rallied together and there were great instructions from the sideline with Diane [O'Hora] saying just to keep the heads calm," Higgins added.
"It's a great testament to our team because in previous years, that would have completely thrown us, thrown any team. You're doing really well and then they get this goal and now they're back in the game.
"Sometimes strange things happen and you just have to get on with it and bounce back."
Roscommon's first outing in round one against Fermanagh was manager O'Hora's first competitive game at the helm. The Mayo All Star's influence was evident in the addition of many new players, with a change in positions for the more seasoned players and a stronger kicking game beginning to emerge.
"It's very new, very fresh and it is taking us a while to try and adjust to the different style of management and the management team," said Higgins.
"But that's kind of just the natural progression. We have hit the ground running with two wins and we are fairly happy with that, but we still have a lot of work to do and a lot of fine-tuning to match up to what her expectations are of the team.
"She comes with new ideas, she was appointed early last season so she was able to watch all of our championship campaign.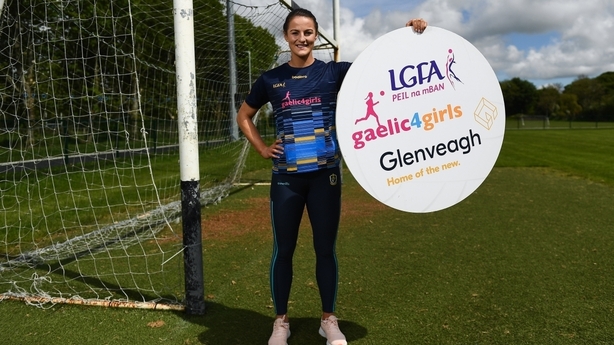 "I was playing full-forward yesterday but I still offer a lot at midfield and I ended up coming out there in the end. She's just trying to find the balance with us, as well as we're trying to find where we fit into the team and you are happy enough to play once you're on the pitch.
"We still have a lot of work to do, so it's very different but you are willing to trust her, you know she's in it 100%, she gives everything to it and once you can trust her heart is in the right place you are willing to back whatever she decides."
Higgins' marked her 100th appearance for her county last year while captain Sinead Kenny was acknowledged for her 110th appearance in the primrose and blue two weeks ago. The calibre and experience of the players in this squad is one that most teams would fear.
This year, O'Hora's plan to combine the experience with some new blood has worked out well. O'Hora has cast her net and brought in the multi-talented 17-year-old Aisling Hanly who has been setting sports records for years now, as well as 19-year-old Ellen Irwin and Megan Kelly. They are three players to watch in the future.
"In the last couple of years, we've been fortunate in Roscommon, our underage has been doing really well," explained Higgins.
"There's been a huge effort being put in by our county board and all the officials. Even the senior players getting involved in coaching at underage level. We're seeing the dividends of that coming through now.
"Myself and Laura [Fleming] would have coached a lot of those girls there coming onto the scene, so it is a little bit strange to see girls you were coaching since they were 14 and now they're coming up with us. But that's the great thing about sport, and about the team.
"You need that youth coming through and you also need the experience so we're fortunate to have players like Laura, players like Natalie McHugh who have been there, done that. Caroline Conway even makes me look kind of young!"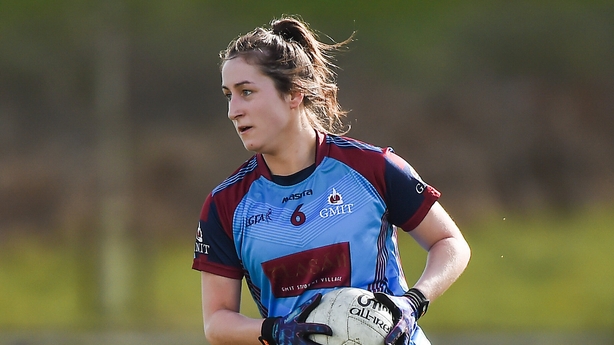 One player with pockets laden with inter-county and club medals who won't be lining out for Roscommon in 2021 is Rochelle Mullaney [above] who's recent cervical cancer diagnosis has forced her to take a backroom role in the squad.
"Rochelle, or 'Rocky' as we call her, is an inspiration to any woman really," said Higgins.
"She's just a year younger than me, so it really hits home because she started the season the same way as we all do, and then to get that devastating news is awful.
"A lot of people could have really taken that hard, but she's been at training with us and she's still giving her all to the team in the way that she can. And with such a positive attitude, and so encouraging of all the girls - and still battling everything she's been through. She's an inspiration.
"I know even myself, when I'm complaining maybe about a wet night at training, I just look over to the sideline and I see her and I think, 'well, she'd give anything just to be on the pitch and be able to play'.
"She has received huge feedback from other women, a lot of them in their late 20's who have probably received that letter for that smear test but have never actually prioritised it to get it done. I suppose the feedback from a lot of women is that she has inspired them to go and get it done because you can really relate to her story.
"She was going along thinking that football was the be all and end all and a really important part of her life but then she did realise that other priorities did exist and when she got the result she realised that had she got that test earlier she would have known earlier. It is a topic of discussion now for most women, even within our own team, is that you make sure you get it done and it has definitely raised awareness for it.
"She is a brave lady, she always has been and we don't call her Rocky for no reason. She is so strong and we were just willing to go with her in any way we can. We are behind her 100%."