Wexford GAA chairman Micheal Martin has responded to claims by Clare senior hurling manager Brian Lohan that the manner in which two of his players were deemed "close contacts" of Wexford players, who tested positive for Covid-19 earlier this week, was "unusual."
In calling for further clarification of the rules, Lohan had to stand down two members of their hurling panel for Sunday's Allianz Hurling League victory over Laois.
Speaking to the Alan Corcoran Show on South East Radio this morning, the Wexford chairman took issue with Lohan's comments.
"I would like to again reiterate that no Wexford player had anything to do with the listing of Clare players as close contacts," Martin said.
Both players in question were subsequently tested, with one coming back negative and the other awaiting their result.
"It was very unusual for us to hear that two of our players were nominated by two Wexford players as close contacts," Lohan told RTÉ Sport after Sunday's win.
"Particularly, given that one of those players only came on in the 51st minute and he nominated one of our players. Everything that we do, all of the protocols, all of the Covid-related stuff is so that if there is a case that you'd be deemed as a casual contact rather than a close contact.
"So, when someone nominated one of our players as a close contact, there was a good bit of anger there and frustration as well."
"Certainly there was a whole lot of anger amongst our set-up"

Clare manager Brian Lohan speaks about the circumstances that led to two of his players being unavailable for selection after being deemed "close contacts" of Wexford players: https://t.co/lqMuWaG9Hu #RTEGAA pic.twitter.com/bjCFKmXAax

— The Sunday Game (@TheSundayGame) May 23, 2021
Martin insisted that it was the HSE,not Wexford, who identified the close contacts.
"This information can be independently verified by the HSE. We have spoken to the HSE and they, in turn, have spoken to Clare GAA, like I have with my counterpart there, and informed Clare GAA once again that the accusation is inaccurate.
"The key point is certainly that the comments made by the Clare senior hurling manager are inaccurate.
"I am very disappointed to have to address them.
"They are ill informed and outrageous. More than that they are hurtful.
"Last week the Limerick hurling manager made comments in the heat of the moment and later took them back and I would hope that there would be a retraction in this case too," Martin said.
Martin pointed to a precedent in a minor match between Clare and Galway last year when public health officials viewed video footage and independently designated players as close contacts on the back of that evidence.
"We liaise with Croke Park and for sure there are areas in all of this that need to be explored and that will happen but what we have done is follow the guidelines."
Addressing rumours put to him by the show's host that the Wexford players picked up the virus as a result of house parties, Martin said he didn't deal in rumours.
"If this virus gets into a community like it did in Wexford two weeks ago, it is inevitable that it will get into primary and secondary schools.
"The schools and the GAA are our community and it has knock-on effects. But I will not get drawn into rumours on social media as a lot of it is just hype.
"The important message is that we must stick to regulations and guidelines and help to keep our clubs and schools safe."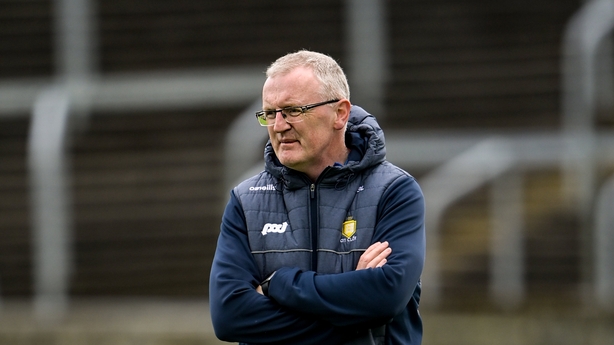 Martin was also asked if he felt there was a hidden agenda in the relationship of both counties – Clare and Wexford.
"I would be very slow to comment on that. We will continue to be very respectful to Clare," he said.
"Clare asked us to change our recent game from Saturday to Sunday which we did without question.
"There was a very serious incident last year where our senior hurling manager was abused on the sideline. Again, we did our business in a courteous manner and raised objections quietly through the appropriate channels.
"We will do that again now. I cannot accept a statement being made publicly accusing our players of doing something they didn't do.
"Wexford GAA won't tolerate that."
Clare GAA also released a statement on Monday morning, which read: "Clare GAA asked the two players who were deemed close contacts last week to step back from training and game activity once they were named and as a consequence have to isolate for the intervening 10 days from notification.
"Following voluntary testing of the two nominated Clare players they were deemed to be negative but will still be isolating.
"At all times Clare GAA teams adhere to the guidelines laid down by the HSE and the governing body of our sport. Clare GAA will take on board at all times the advice and support provided by the health authorities.
"Clare GAA will endeavour to ensure the strictest management of health and safety during Covid and non-Covid times for all Clare GAA teams and request that the clubs of the county do likewise as we now move into the playing season at levels.
"Clare GAA would like to wish the Wexford players a speedy recovery and finally congratulations our senior footballers and hurlers on their league wins yesterday in Newbridge and Portlaoise."