Clare hurling manager Brian Lohan says he found the manner in which two of his players were deemed "close contacts" of Wexford players, who tested positive for Covid-19 earlier this week, to be "unusual" and called for further clarification of the rules.
Clare stood down two members of their hurling panel for Sunday's Allianz Hurling League victory over Laois and both players in question were subsequently tested, with one coming back negative and the other awaiting their result.
"It was very unusual for us to hear that two of our players were nominated by two Wexford players as close contacts," Lohan told RTÉ Sport after Sunday's win.
"Particularly, given that one of those players only came on in the 51st minute and he nominated one of our players.
"Certainly there was a whole lot of anger amongst our set-up"

Clare manager Brian Lohan speaks about the circumstances that led to two of his players being unavailable for selection after being deemed "close contacts" of Wexford players: https://t.co/lqMuWaG9Hu #RTEGAA pic.twitter.com/bjCFKmXAax

— The Sunday Game (@TheSundayGame) May 23, 2021
"Everything that we do, all of the protocols, all of the Covid-related stuff is that so that if there is a case that you'd be deemed as a casual contact rather than a close contact.
"So when someone nominated one of our players as a close contact, there was a good bit of anger there and frustration as well."
Lohan added that he had sought clarification on the matter and called for more "direction" on the rules.
"I spoke to the public health official to make the case as I've made to you there and she told me that she was responsible for public health in Clare or the Midwest or whatever area that she was covering, and that she had made the decision," he said.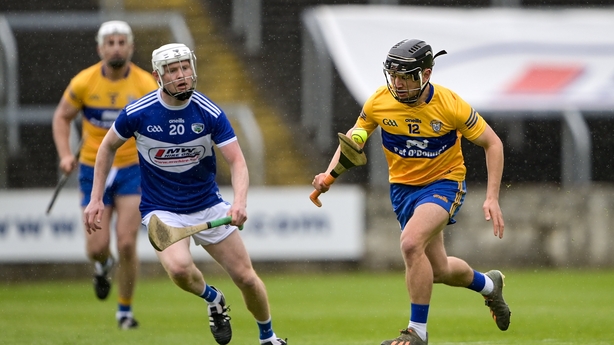 "Once they were nominated as close contacts, it was effectively out of our hands or anyone else's hands.
"She did speak to the consultant on it and he wasn't prepared to change his mind on it. So that begs the question, is everyone a close contact or how do you define that?
"So look, we're trying to follow the rules as best we can and we'll continue to do that but we would like a bit of direction on those rules and a bit of clarity on what is a close contact and what is a casual contact in a GAA setting."
In regards to events on the pitch, relief was the watchword for Lohan with the win over Laois their first of the campaign after defeats to Wexford and Antrim.
"It is relief just to get that win because anyone who's in this game, they're in to get results and to win matches and when you don't get results it's not great," he said.
"You want to be getting those results, you want to be getting those wins and we weren't doing that. It's good to get a win."
Clare hit 20 wides during the win over however but the manager felt it was at least a sign that the Banner were not shy in attempting to score points.
"If we put a positive spin on it, we were getting the shots away and we do need to get the shots away," he said.
"We do need to start scoring more if we're to compete at the highest level and the level we want to get to."