One winter's night in 2019, a group of Women's Gaelic Players Association members met at the Louis Fitzgerald Hotel in Dublin to discuss the future of their group.
"There were a number of issues to be discussed that night," says Maria Kinsella, who was then the WGPA Chair and now acts as co-chair of the GPA's national executive committee since a merger between the associations.
"One was identifying our key strategic aims. Securing government funding for female GAA players was one of our top priorities."
The push has been relentless ever since.
Kinsella has built on the good work of her predecessor Dr Aoife Lane to strive for equality for female players.
Today, they finally got there.
Late last year, having surveyed 534 members for the Levelling The Field report - the largest study into the experiences of female inter-county players since the Making Things Better report in 2014 - the WGPA found themselves with a clear agenda to push ahead with.
Some of the key report findings included that female athletes were training five to six days per week, with seven hours of contact time per training day.
Most respondents were so tired from the mental demands that they struggled to work and study.
93% of players were not in receipt of any travel expenses and up to €200 per week was spent per player on fuel costs to accommodate training. Three-quarters of those surveyed paid towards physio services, with 69% of players forking out for gym fees and just over half paying for medical treatments.
A 2018 Economic and Social Research Institute (ESRI) report had already shown that female and male players trained on 5.6 v 6.1 days per week for 2.7 and 2.9 hours respectively. With this data and the Levelling The Field report, the WGPA was able to demonstrate that training commitment of male and female players was comparable.
What was not equal, however, was reimbursement.
Under the current state funding model for elite GAA athletes, male players receive €1,200 from the state while female players got just €400. A total of €3.7m was paid out by the Government to support Gaelic games players last year, with €3m being made available for male players and teams, and €700,000 for female players and teams.
This will all change in 2021, however, following today's confirmation by Minister of State for Sport Jack Chambers, himself a member of St Brigid's GAA club in Dublin, that women Gaelic Games players will receive the same amount of funding as their male counterparts.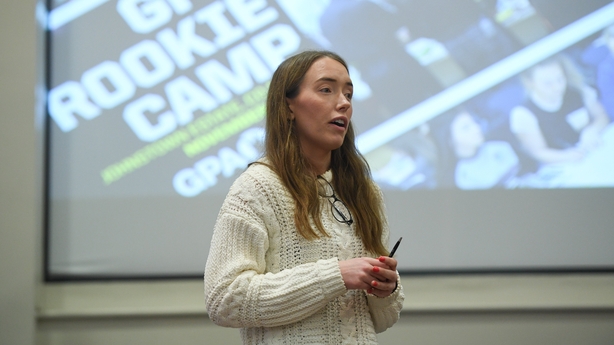 The allocation for female players will now be trebled while the male amount will remain the same: €1,200 for both.
"It's just huge," Kinsella says.
"It's the fruition of a number of years of work. This is not an overnight or even an 18-month thing. Ever since the 2017 Government grants were issued, we have seen how they have had a tangible impact and how minimum standards in team and individual preparation have increased.
"Our funding is now trebled and it's a landmark day across women's sport in this country, I hope, not just in GAA.
"The demands on female inter-county athletes are right up there with the males. The effort is equal, and it is great today to see this recognised.
"These players are role models in communities, they wear the county jersey, and they are now getting the same level of government support."
Kinsella says the merger with the GPA in December has had a massive impact.
"Who would have thought that we would have achieved parity after just five months?" she says.
So, what's next?
"How we spend this money is one thing, but the strategic aim is to make the biggest impact we can. This is too big an opportunity to let go and we will hopefully get a significant bounce of development from this.
"Hopefully too today's news will help us retain young players as they make their way up along and will drive participation at grassroots."