Sean Finn is delighted to be back hurling. He is even happier that the return has coincided with the summer months rather than the usual "cold and miserable" rump of the winter.
The sustainability of modern inter-county demands are in the spotlight, and one of the biggest lessons he has learned during the pandemic has been that fit young men don't need to flog themselves in between competitions.
Following Limerick's All-Ireland title triumph last December the All-Star took an extended break, and has a refreshed appetite for the game as a result.
Two-time Liam MacCarthy-winning manager John Kiely, it appears, does not share some of his football counterparts' belief that amateur players must train constantly to get the edge on the opposition.
"We were lucky to get to the All-Ireland in mid-December, so for the first couple of months I took a complete break," Finn a trainee consultant with PwC told RTÉ Sport.
"I didn't pick up a hurley for quite a long time, even until the beginning of April.
"I did very little exercise. I just found a break from exercise and the whole training regime was as beneficial as actually going out training myself. I really enjoyed the three or four months and I can feel the freshness now.
"That has definitely stood to me over the last couple of weeks when we have turned our attention to going back training. I'm looking forward to going back rather than having laboured the last couple of months.
"I think the days of four or five months training before the first league game are hopefully gone. I don't think there's a place for it anymore. To get fit, I think six weeks is plenty long enough if you apply yourself right.
"Of course there are going to be exceptions, if some lad is prone to putting on weight and stuff over the couple of months, but you can tailor programmes. There are S&C coaches who can do that to fit their need.
"For the modern player, I think four to six weeks is plenty. I'm happy with the lead-in to the league."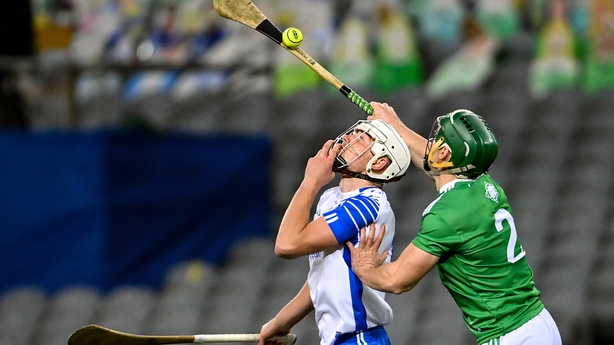 That's not to say that Finn sat on the couch eating takeaways for three months instead but rather he embraced exercise for its own benefits rather than focusing on then-hazy dates for the return to the field.
"The nature of fellas that are playing at that level we are at the moment, they are going to do a bit in the gym, for their head as much as for GAA, they're going to do a bit of running," he said.
"I spent a bit of time back in Doonbeg. My girlfriend has a house back there so I spent three or four months back there, spent a lot of time in the sea swimming, well away from a hurley and a sliotar.
"I've done a bit of that over the last couple of months but did I train with the focus of being ready for now? I didn't really. I took a complete break and it has really stood to me.
"I'm lucky I have great family and friends around but there are times when you would be low that you can't get out. Exercise is a good way to release that tension that might have built up over a couple of days."
Limerick embark on their quest for a third league crown in a row having only been allowed to resume group training on 19 April.
We need your consent to load this Instagram contentWe use Instagram to manage extra content that can set cookies on your device and collect data about your activity. Please review their details and accept them to load the content.Manage Preferences
Finn expects some inevitable rustiness as they face into five weekends in a row of league action - starting with Munster rivals Tipperary this Saturday (Live on RTÉ2) - before a Munster championship semi-final in early July.
"We all would have trained a bit over the last two and a half weeks but you can't really replicate a game scenario," said the 25-year-old. "You need to be playing competitive games to get used to that.
"So I have no doubt the first couple of league games will be maybe hairy in terms of hurling and some element of fitness and then that, over a couple of weeks, will begin to improve.
"But I do think the four-week lead-in to the league we got is sufficient to get us to a level that allows us to be competitive and then leading into the championship. We got plenty of work done. Even after two weeks, I feel like we've been training for the last month and a half.
"Player management has been there the last number of years where teams are tracking players' loads, how they're feeling, both on and off the field. A lot more attention will be on it now with the increased load the next couple of weeks.
"But there's a panel of 35 to 38 players, those players will be used. And that improves the panel as well. because you'll be calling on lads for the championship as well. It's important they get good game time.
"The first game is going to be a test, especially with the mileage on the clock, just getting miles into the legs.
"Tipp are always going to be good. They're a hurling county and they have young lads coming through, same as ourselves. We can only wait and see. We'll be looking to get a performance out of ourselves rather than focus on Tipp."
"A lot of forwards can actually play for a free and drop the head"
This weekend's fixtures will be the first under the new hurling 'black card' rule, which punishes certain fouls preventing a goal-scoring chance inside the 20m line with a penalty and 10 minutes in the sin-bin.
There are quite a few nuances to this regulation, not least that the card shown is in fact yellow, the foul is punished regardless of whether it was considered deliberate (as applies in football) and that it only covers pull-downs, trips and 'careless' use of the hurl.
"It might be worth having a discussion with the couple of defenders we have at the moment just to see their approach around it and to be cognisant of it and just to know the rules," said Finn, selected as the best right-corner-back in the country for the last three seasons.
"From what I understand, it's going to be quite hard to manage from a referee's perspective. A lot of forwards can actually play for a free and drop the head, and in one sense could be coached to win frees. That can be difficult as a defender to avoid that because you can be sucked into it unintentionally.
"We'll have to see how it goes in the league. It'll certainly be a hot topic of conversation over the next couple of months.
---
Read next: Hurling's new rule - the referee, defender and forward perspective
---
Like the final itself, the aftermath of Finn's second All-Ireland triumph has been very different to that breakthrough win in 2018.
Gone were the months of club functions and school visits, which he admitted could be "tiring" for players. Instead he recently got to have a "low-key night" with just the trophies and his family.
"We didn't get the cup into the dressing room obviously after the game, the All-Ireland final.
"We were lucky in one sense to get the three or four days to celebrate as a group after the game and then obviously the lockdown pre-Christmas came and that was it.
"You hardly even heard or spoke about the All-Ireland final three weeks later because you weren't meeting anyone, only your family. They were sick of talking about it."
Can we expect yet more silverware for the Treaty men in 2021?
"I've always said, if we perform to the level we expect of ourselves and that we can perform at, we'll be there or thereabouts in beating any team around," he said.
"Of course there's going to be a tag on our back at the moment after coming off the back of that All-Ireland success, similar to Tipp last year after coming off 2019.
"If we get our preparation right, don't get complacent, don't sit back on our laurels and admire what we done last year, I think we'll be in a good position."
Follow the weekend's hurling with our live blogs on RTÉ.ie and the News Now app, listen to live commentaries on Radio 1's Saturday and Sunday Sport, watch coverage of the Allianz Hurling League clash between Limerick and Tipperary on Saturday GAA Live on RTÉ2 and RTÉ Player from 5pm. Watch a round-up of all the weekends fixtures on Allianz League Sunday (9.30pm)