Last week's GAA congress voted to introduce a new rule in hurling penalising the denial of goal-scoring opportunities (within the 20m or semi-circle) by a pull-down, trip or careless use of the hurl with a  penalty, yellow card and 10 minutes in the sin bin.
A similar change in Gaelic football has confused matters somewhat, as the football rule was grafted onto the existing 'black card' rules for cynical play.
Regardless of the motivation of rule-makers, the word 'cynical' does not appear in the hurling rule, which instead simply lays out punishment for the three types of fouls above, deliberate or not, when they prevent a goal-scoring chance.
"It's something that we have been looking for," three-time All-Ireland final referee James Owens told Radio 1's Saturday Sport. "We're going to try our best to implement it the best way we can.
"For me, and having spoken to a couple of the referees during the week, we would be looking at the pull-down and trip especially as straightforward enough.
"If a player is in on goal and he is taken down, the majority of those cases will be dealt with with a yellow card and penalty.
"There are different types of 'careless use of the hurl', which might warrant (only) a yellow card or a sin-bin so that one will have a small bit of (ambiguity).
"It's the defender that's going to be under pressure because he's going to have the decision whether to pull him down, trip him or let him go by."
Owens observed that other types of 'cynical' fouls, such as holding the opponent and grabbing the jersey or hurl, are not covered by the new rule, and indeed are not even punishable by a yellow card.
---
Listen to the debate in full
We need your consent to load this SoundCloud contentWe use SoundCloud to manage extra content that can set cookies on your device and collect data about your activity. Please review their details and accept them to load the content.Manage Preferences
---
Jackie Tyrell, who won nine All-Ireland titles as a corner-back with Kilkenny, fears that the double punishment of penalty and sin-bin is "too radical" and that physical duels between defenders and attackers will be neutered as a result.  
"Is there cynicism in the game? Absolutely. This rule will address it but I feel it's too harsh," he said.
"It's a very possession-based game now. Ten minutes on 14 players is very harsh for the crime.
"This rule will hold the Cathal Barretts, the Sean Finns, the Daithi Burkes back a couple of percent. Cute forwards are going to play to this.
"I would hold off the sin-bin part of it and trial it in the league next year. It's too radical too soon.
"I think we should look (instead) at an automatic penalty anywhere inside the 45, at the referee's discretion."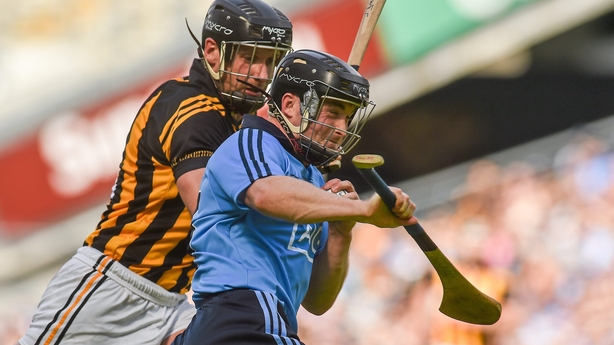 However, former Dublin forward David 'Dotsy' O'Callaghan believes that the rule change will encourage more skilful defending rather than simply pulling down an opponent.
"Everyone loves the physicality of hurling and we don't want to take that out of it," he said.
"But what's creeping in is rugby-style tackles and arms being wrapped around. It's horrible to watch.
"Equally, there should also be a punishment for a forward stopping a defender coming out with the ball as well.
"From an overall game perspective, I think when a team are on the attack and trying to score a goal, that is where you will see expert defending without the fouling.
"The likes of JJ Delaney getting a last-ditch hook against Seamus Callanan (in 2014) to nearly win an All-Ireland for Kilkenny.
"We all love to see that as well."