GAA Director of Player, Club and Games Administration Feargal McGill said that the Association needed another three weeks in the playing calendar to have facilitated a backdoor for the All-Ireland football qualifiers.
McGill has been one of the key drivers in the GAA's ability to successfully adapt and tweak its games fixtures programs to reflect Government restrictions and public health advice.
For him, one of the disappointing facets of formalising the revised roadmap was not being able to stage a qualifier system for Gaelic football, nor being enough space to implement the Tailteann Cup – the new second-tier championship.
"You needed another three weeks - it's as simple as that," he said, "Otherwise, you would have been cramming games on top of each other. There were two things that influenced it: you were going to have to take that time off the club season which you didn't want to do or you were going to have to shorten the league season further.
"To the vast amount of counties in football the league is the more important competition. There were three things up for grabs - the qualifiers or Tailteann Cup or the other two, which was to maintain the number of games in the league and then protect the club window. That's what it came down to. I wouldn't say it was close.
"We felt the end of August was the latest we could with the inter-county. You could have squeezed them a little tighter? I'm not so sure. But you also have to remember you have to look at players as well and look at the fact you can't just churn them out and whip them for a period just to have a nice-looking championship."
The revised roadmap allows a four-week lead-in for football counties and a three-week preparation period for top-flight hurling counties.
McGill says the short lead-in time for hurling counties was not an issue for them when he was creating the updated fixture plan.
"It was actually something that was suggested to us by hurling counties because they felt satisfied with three weeks in order to get five games, so we tested the water and there was support for that. They are reasonably happy with the trade-off and their lead-in time."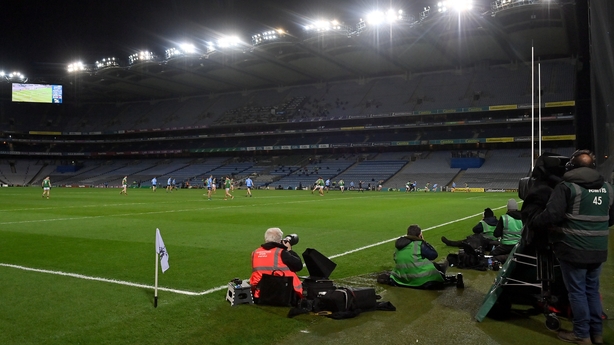 On the issue of limited crowds potentially attending games later this year, McGill said there were too many variables at play to offer any opinion on that issue.
"It's a question for Government and health experts and we will take our lead from whatever is allowed," McGill said.
In regard to adult clubs all commencing activity uniformly across the country, McGill said: "That is a matter for each county. As soon as the government relax, give us permission to allow clubs begin training we are not going to hold anyone up. Once the government gives permission it is up to counties to draw up their own fixture programmes."
Meanwhile, GAA president Larry McCarthy says that any future breaches of training protocols before 19 April, when inter-county training is allowed to resume, will have an impact on the Association's return to play journey.
"Any breach will put it in jeopardy," he said.
"Our Management Committee is currently investigating the Monaghan issue and we will play a sanction after investigation.
"We have applied a sanction in the Dublin case, and we are happy with the one we applied.
"Breaches damage our reputation," he said.