Minister of State for Sport Jack Chambers believes that the latest inter-county training rules breach, by a group Monaghan footballers, will cause anger amongst those who have made great sacrifices throughout the Covid crisis.
Chambers said that any breach of public health rules is unacceptable and that he has been assured that the GAA are investigating the matter.
Monaghan GAA admitted a breach of Covid-19 regulations after it was discovered some members of their senior inter-county team took part in a group training session. 
The county's management committee have suspended manager Seamus McEnaney for 12 weeks with immediate effect and said they will fully cooperate and comply with any Croke Park investigation.
"The latest reports will cause great anger to all those who have been adhering to the rules and have made great sacrifices," said Minister Chambers, in a statement released to RTE.
"Any breach of the public health rules like this is unacceptable. This undermines the public health messaging when our GAA stars and sports teams should be supporting them and leading by example as role models. 
"My officials from the Department of Sport have been in touch with the GAA to reemphasise that all breaches undermine the broader public health messaging. The GAA will now be fully investigating this incident to establish the full facts. 
"I expect the GAA will also now be directly engaging with all the county boards to seek assurances that counties are fully complying with the public health restrictions.  
"Any breach needs to be fully investigated with appropriate sanctions for those who are found to have undermined the public health guidelines.
"The GAA also needs to re-emphasise to all county boards that there must be full compliance with the restrictions between now and the 19th of April when the phased return to sport is due to recommence."
Earlier, Tomás Ó Sé and Seán Kelly backed team punishments for counties caught breaching rules against collective training, which is forbidden by both the GAA and government Covid-19 restrictions until 19 April.
"Maybe if they had come down tougher on Down and Cork, you wouldn't have had the issues with Dublin and Monaghan later on"
Monaghan's move to ban McEnaney followed in the footsteps of Dublin GAA suspending Dessie Farrell for 12 weeks, after the precedent of central suspensions for Down football manager Paddy Tally (eight weeks) and Cork football boss Ronan Sweeney (12 weeks) for organised team gatherings in January.
Sweeney and Tally were both punished under the GAA's rule 7.2e, 'Misconduct Considered to have Discredited the Association' but the same rule can be applied to suspend, or even disqualify, teams as well as individuals. Guidelines suggest a minimum of eight weeks 'where suspension is appropriate'.
"The timing of it is terrible. We're so close to the edge of it," five-time Kerry All-Ireland winner Ó Sé told RTÉ Radio 1's Today programme. 
"The big difference between Cork and Down earlier in the season compared to Dublin and Monaghan is that the Dublin and Monaghan issues happened on GAA grounds.
"Maybe if they had come down tougher on Down and Cork, you wouldn't have had the issues with Dublin and Monaghan later on. Teams would think twice about it.
"The precedent doesn't allow that now but maybe if the team was held back from collective training another two weeks before everybody else, hurt the team more so than just the manager, it might be a deterrent."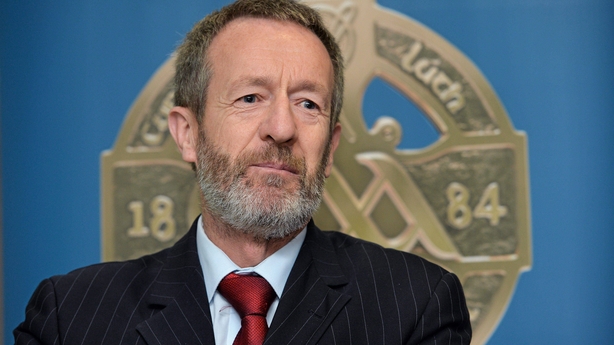 Former GAA president Seán Kelly agreed.
"It's terrible to see it happening, officially organised, in a GAA club, by a county team. It's not good enough and the GAA will have to look at it," he said.
"I think it (the alleged Monaghan breach) was before the Dublin training session. I doubt if any took place since because of the consequences and the high-profile reaction.
"While it's difficult for a manager to be suspended, for breaches of this nature they are all adults and we all have to comply with regulations.
"I think the GAA will have to say that anything of this nature that happens again, the team itself will have to be penalised.
"Saying you can't start training until two or three weeks after other counties would be a good place to start.
"It would send out a positive signal to those that abided by the rules."
Both men said that delaying the wider return to action would be unfair to teams that had respected the results.
"If the GAA was to come out and say 'We're not going to come back because of what's happening" then I think it would be very tough on the teams that are doing their best to make sure they do everything right until that return," said Kelly.