I'm emergency (first reserve) again this week.
It's disappointing. You want to be in the team.
You don't get a chance to play or prove you're on the right track. It gets very frustrating because while it's great that you're first in if anything was to happen to any of the girls, which you don't wish on them at all, it means you can't play any local league instead.
So you're missing out on a weekend game, and preparing for a game you more than likely won't play in. Then you have to do extra conditioning and work on the Monday to make up for that.
It has been out of my control. I wasn't taken out of the team because I was performing badly, it was because I got injured and ended up missing a couple of weeks.
I've had zero side-effects since but the concussion has cost me a few games. I've just been unlucky that I got injured and haven't been able to work my way back into the squad.
The girls that slotted in have done a very good job so it would be harsh on them to be taken out when they're playing well, but it's frustrating on my end when it's not related to my form.
The pressure is on me time-wise though. We have our last regular season game next weekend so it's close to the business end of things.
If we end up winning the next two games, it's very hard to change a winning team, barring injury.
It's a credit to the girls and how well they are playing and training. It's a very hard squad to break into because of the talent that's here. I'll just have to keep working hard and hopefully take the opportunity if it comes.
As a player watching on, you want your team to play well and everyone to come through injury-free, but then that means you won't be getting a game. It's a difficult spot to be in but you have to put your own feelings aside and play your part, whether that's sitting on the sideline or pushing other people to perform at training.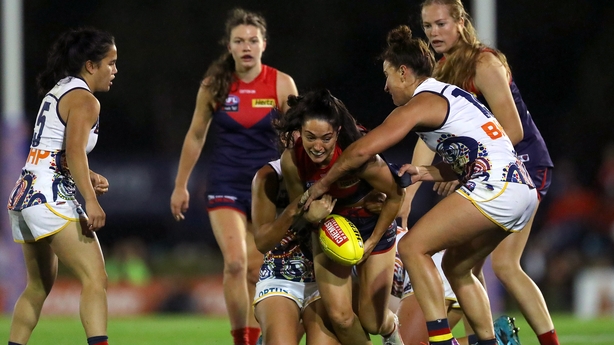 It was a difficult experience not playing in Melbourne but at least I was able to be with the girls for the weekend and be part of that bonding that happens on away trips, because you spend so much time together.
Last weekend was our second defeat of the season. Melbourne were very strong and really outplayed us on the day but it was probably the kick that we needed at this stage of the season to realise we have to perform every game.
Lauren Magee and Sinead Goldrick did very well. The conditions were very wet, which obviously suits the Irish girls. It would have been my first time playing in proper wet conditions and you'd generally go for smaller players that are good on the ground. The Sherrin is like a bar of soap when it's wet.
I'm sure our coach thought about it, but it wasn't enough to get me over the line I'm afraid.
We're fourth and still within a shout of the finals, but we have to win one of our last two games to cement that.
We play the Bulldogs on Sunday, the only other winners of the Premiership. They are in form and in the mix for the finals spots. It's a must-win game for both teams. A win will almost guarantee our place in the last six.
We need your consent to load this Instagram contentWe use Instagram to manage extra content that can set cookies on your device and collect data about your activity. Please review their details and accept them to load the content.Manage Preferences
Paddy's away day
We had training on St Patrick's Day and all the girls wore something green, which to me was really special, that they all made the effort to support my heritage.
Our captain Chelsea Randall organised scrunchies, tutus, hats and face paint, and everyone had something on for the whole session.
It was really nice as there isn't that much of a St Patrick's Day celebration in Adelaide, the Irish population isn't that high and it was a normal Wednesday here.
Bríd Stack
I was very disappointed for Bríd to hear her news that she will miss the rest of the AFLW season as her recovery from a neck fracture continues. She was really pushing hard to try and get back for some part of the season. The way she was playing in that trial game from day one, I was super impressed at how quickly she picked up on the game and how much of an impact she was having for her first ever showing.
I don't know what her plans are, but hopefully she'll be back for next season if that's what she wants to do.
The roar of the crowd
We're at home for our last two games. There should be a few thousand fans at Norwood Oval but probably about half of what would have been allowed before Covid. More supporters have been allowed in as the season has gone on. It has also been the first year of paid ticketing, ($10 for adults), which I think has been a good thing for the AFLW.
I'm used to not playing in front of crowds back home so it doesn't really make a difference for me, but when you're winning and scoring goals you can really feel the buzz. They love their football in Adelaide.