It's been a big relief to get back to full training this week having watched the team pick up another great win on the road on Sunday.
I only had a light week's training under my belt as I followed return-to-play protocols after passing a concussion test with our team doctor, so I knew I wouldn't be ready for the trip to Brisbane Lions.
As the girls were earning a really good victory against a previously undefeated Brisbane team, I was in Adelaide following the action on TV. It was brilliant to see us get back on track following a loss to Fremantle in the previous round and it sets us up nicely for this weekend's home game with St Kilda.
This squad is in a good place right now - and it's going to be tough to get back into it. It's hard to break into a winning team when they're performing and working so well as a unit. All of the girls did the business.  
We'll never get sick of this 🤩🎶🗣#crowsaflw #weflyasone pic.twitter.com/X0pLAEpAns

— Adelaide Crows AFLW (@CrowsAFLW) February 21, 2021
Right now my focus is on tuning myself up to the level I was at before suffering a head injury against Great Western Sydney.
I was only away from the squad for a week but it felt like a lot longer. You feel like you're missing so much, that loads of time has passed, and I suppose that's true when you consider the pace the season tends to go at. There really is no let-up. It's great to be a part of it again.
This week was important because I got back to full-contact tackling - a test I had to come through to really prove to myself I'm absolutely 100% again.
In training we always split into three groups. You work on ground-ball technique, aerial marking and then tackling. By chance the tackling drill came last for me so I was building up to it throughout the session. Getting that first hit was a good moment - I did it and thought straight away, 'yep, the body is fine, I'm good to go'. 
I'd felt grand anyway but getting that first tackle out of the way without any issues did put my mind at ease, I must say.
I won't be in the panel for Sunday's clash with St Kilda. Instead I'll be lining out for West Adelaide Football Club against Norwood in the South Australian National Football League [SANFL].
A lot of AFLW players in this part of the country are also aligned with an SANFL club. The seasons run in tandem so if you're not in the AFLW side and in need of minutes, it's common to go and and play with your SANFL club.
It's disappointing not to be in the Crows squad but this is an opportunity to lace up the boots again, which I'm grateful for. It's a chance to show what I can do. 
It is quite a strange situation to be going into though, given that I don't really know any of the West Adelaide girls. On Thursday I went to their captain's run to meet and greet my new team-mates. It was a case of saying, 'hello, I'm Ailish and I'll be playing with you tomorrow!' 
It is a bit daunting rocking in and I am aware I'm probably taking someone's place who's been training with the them the last couple of months and throughout pre-season, but everyone was really nice.
They embraced the fact that I'm coming in to play so hopefully I can repay them with a strong display. 
'Cooling down' as the brutal heat eases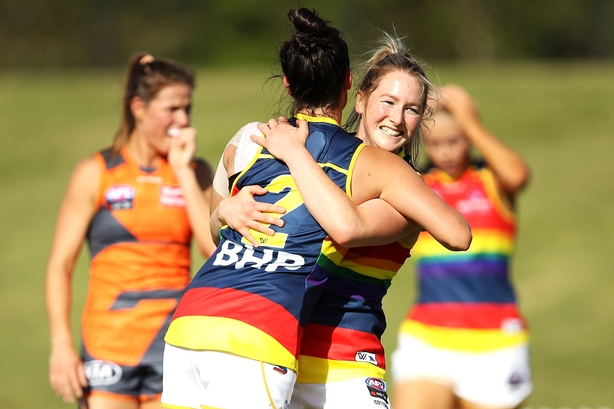 I've been in my element this week in the 'colder' weather. It's been about 22, 23 degrees in Adelaide, which suits me just fine. A lot of the players have been giving out about how chilly it is and saying the summer is over!
I just wish it could stay like this all the time; it's perfect weather for me. 
When the temperatures do creep into the high 20s and into the 30s, there's no way of adapting to it if you're used to an Irish climate. It's normal here to train in 30 degrees - I think it has to hit over 35 before a session gets moved indoors.  
That's the nature of it because our season falls in the summer. There's pros of course. It's great to play on good hard ground in the sunshine. When the ball gets wet it's like a bar of soap, just impossible to hold on to.  
In Gaelic football you slog through the league to get to the Championship; it feels like a hard plod through those months but the promise of big summer days sustains you. I don't know how you'd get through the league if you didn't have that carrot of the Championship to aim for, that promise of brighter days to come that keeps you motivated when it's lashing rain and you're covered in muck.
Here, we're lucky that we don't have to brave the elements of a harsh Irish January but there's no denying the heat can be brutally tough. 
I spray my entire body with sunscreen before I go out to train or play a game and then hope for the best. Some of the girls use zinc oxide sunscreens, which don't scrub off when you sweat. 
Luckily I haven't got a scalding yet; the inter-change system means you come in and out of games and having that gap in the shade of the dugout really helps.
I'm playing under the lights on Friday night so there'll be no need for the sun screen. A win and a solid performance would go down nicely as I take another step back to normality.