Gearóid Hegarty says it was a surprise to see senior inter-county Gaelic games lose its elite status, but the Limerick half-forward is expecting its return sooner rather than later.
In 2020 the 'elite' designation meant that both club and inter-county competitions could take place, but it was removed earlier this month. As things stand with the country currently living under Level 5 restrictions, no collective training can take place.
Last year some parts of the club season were never finished after the GAA ceased club activity in early October. GAA director general Tom Ryan wrote in his annual report released this week that although he regretted not being able to run off championships in all counties, that cancellation was "largely our own fault".
The inter-county season was a different story and it went off mostly without a hitch last year, in terms of Covid-19 cases, with far few players involved. According to Ryan, this is the association's logic for running off county championship before club ones in 2021 so as to limit contacts.
Outgoing GPA President Paul Flynn argued on RTÉ's coverage of the of the PwC All-Star Awards on Saturday that inter-county football and hurling is "as elite a game as you have on this island".
For Hegarty, speaking after winning the PwC GAA/GPA player of the year award, the decision to change the status was a strange one.
"I didn't see many cases linked to GAA teams last year, especially inter-county," he said.
"It did take me by surprise, hugely. I just don't understand these decisions, they don't give you any reason as to why they make these decisions. Whether they should or shouldn't, I don't know, but I think a bit of transparency behind some of the decisions they make would be nice.
"By all accounts, I've heard through the grapevine it is going to change. That's not from any official source but hopefully it will change and we can get back training and give people something to talk about that isn't case numbers and coronavirus because it's such negativity.
"Hopefully we hear some positive news sooner rather than later."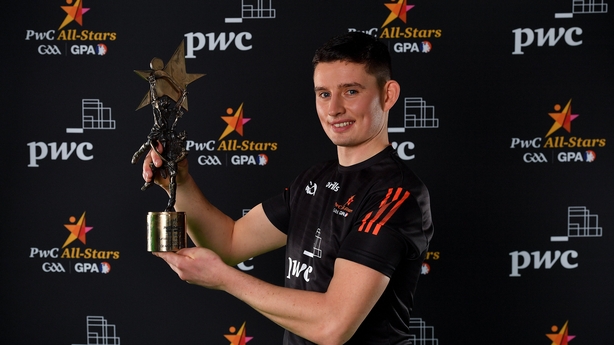 The return to training will be an important moment for players after a frustrating start to 2021.
Initially 15 January had been the set date for a return to collective training for the GAA's top teams, but that was pushed back to this month as Covid-19 case numbers remained high.
The association further delayed the decision to allow training to begin ostensibly because the level of transmission was still too dangerous in society, but the loss of that elite status shortly afterwards was unquestionably a blow for all concerned in Gaelic games.
Limerick's December All-Ireland success meant that they enjoyed their Christmas period with an extended break. Before the case numbers began to climb again, some counties would have been aiming to hit the ground running for that expected January return.
That disruption, according to Hegarty, could add to the exasperation that players from other counties might feel but he says he has tried to make the best of a bad situation.
"We were lucky, I heard that some teams were back training before the All-Ireland was even over this year," he pointed out.
"That would be a tough position to be in, because you know yourself, the stop-start is never good. So we were given a break until the start of February, and we were pencilled in to go back training at the start of February, which was a lovely break.
"Obviously, plans for going back training were shelved. It's been nice, myself and my girlfriend went down to Ballybunion. We went down around New Year's, and we stayed down for like six weeks.
"We were teaching from home down there. Just working away during the day, and going down to the beach with the two dogs and pucking around and having a bit of craic, going for a few swims, just relaxing and chilling out.
"And it was a nice change of scenery just to get away and reset. But as I said, I'm looking forward to getting back.
"I thought John Horan was excellent on the All-Star programme over the weekend in terms of what he said. It shortened the winter for everyone, the 2020 season. It was just a thing for people to talk about rather than talk about coronavirus case numbers.
"So hopefully they get that looked after sooner rather than later, and we can get back training because we're nearly into the start of March now."
GAA President John Horan says there will be a programme of games at club and inter-county level in 2021 once they get the green light, while outgoing GPA CEO Paul Flynn says inter-county games should be categorised as 'elite' sport pic.twitter.com/jjGGkF6fZW

— The Sunday Game (@TheSundayGame) February 20, 2021
Whenever teams are allowed back, this Limerick team are undoubtedly writing their own prominent chapter - perhaps the most successful one - in the history of hurling in the county.
In the 1930s the Treaty county reached four All-Ireland finals in a row, winning two of them. The team of the 70s won an All-Ireland before losing the final the following year.
And while 2020 was all about Tipperary trying to do back-to-back titles for the first time since the 1960s, Limerick have never managed consecutive titles.
It's a statistic that the St Patrick's man is well aware of.
"If you look back through the history books, I don't think Limerick have ever won back-to-back All-Irelands," he acknowledges.
"If you think about it only Kilkenny and Cork have, since 2000, won back-to-back off the top of my head. So it's a tough thing to do. It's something that's a huge challenge that is ahead of us in 2021.
"Personally, I love a challenge. I love trying to do things that have never been done before. I'm confident the lads are in the same position. We probably won't discuss it too much. It's a new year.
"My father always says on the 1st of January every year he used to go training because there's no All-Ireland champions on the 1st of January. 
"As far as I'm convened there's no All-Ireland champions at the moment. Everybody is starting on a clean slate. Everybody wants to win the All-Ireland and everybody is going to put in that hard work. May the best team win."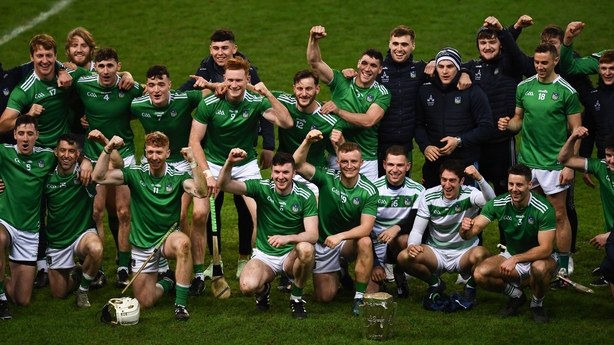 Whatever the year holds for Limerick, there's one man who won't be there with them.
Physio Mark van Drumpt died last week after a long battle with cancer. He had been involved with senior inter-county teams in the county for 13 years - first spending five years with the footballers, before being involved for eight years with the hurlers.
Hegarty first got to know the Dutch man after injuring his ankle playing for Limerick's Under-21 hurlers when the denied Clare a four-in-a-row of Munster titles back in 2015.
A specialist in Santry advised surgery on the injury suffered in that provincial final, but Van Drumpt disagreed.
"We were playing Clare in Ennis and they were going for four in a row and I got a real bad injury in my ankle. The specialist that I went to see in Santry was mad for me to get surgery in the few days after the game. There was three weeks between every game at Under-21, I always remember.
"He couldn't enforce it more that he didn't believe that I needed surgery. He was going against the specialist opinion that I needed surgery. He said, 'if you need surgery by the end of the year by all means you can go for surgery but I don't think you should go for surgery now. Try rehab it as best you can and see what happens over the next couple of days and weeks.'
"We were playing Galway in the All-Ireland semi final and he did an unbelievable job to get me where he did and he got me back for that game.
He was such a battler, an incredible person and full of craic
"He looked after me so well and it's always something that I remembered. And that was probably my best game in the Under-21 that year against Galway in the semi final. I never went for surgery in the end so he was proven correct in his opinion there.
"He went over and above what he needed to do for me in that moment and he always did that from then on. In 2016 a load of us came onto the panel and he's been with us ever since.
"He's been fighting a savage battle with loads of ups and downs. He was told eight years ago that he had max two years to live. He was such a battler, an incredible person and full of craic. Mark was always someone you could go have a bit of craic with before training - getting strapped or rubbed or whatever.
"He was dealing with lads with injuries at their worst times and he was always such a great guy to be dealing with and unfortunately he took a bad turn in the last six months or so.
"Even the lead-up to the All-Ireland final he was with us on the Friday night. He was with us at every training session. As somebody said other people with his sickness wouldn't have been able to get out of bed and he was still coming to training with us.
"It was sad to see the deterioration. Cancer took over in the last couple of months and it was quite sad. Obviously it was extremely sad that he passed, but it was nice to go to his funeral in difficult circumstances and give him a great send-off over the weekend.
"A young man leaving a young family behind."