GAA director general Tom Ryan admits that the Allianz Leagues are in danger of not being played but says that it is too soon to reveal the association's fall-back plans.
Level 5 Covid-19 restrictions, and the decision not to exempt inter-county teams from them, have pushed back the football and hurling competitions from their scheduled start at the end of February, with no new start dates in sight for what were originally planned as six-week events.
Teams will require a number of weeks collective training before competitive matches so the details of the Government's revised 'Living with Covid plan' next week could decide whether there will still be time to play the leagues before county and club championship campaigns.
"The league as the most imminent competition is the one that's going to be under the most pressure," said Ryan at the launch of his annual report and the GAA's 2020 accounts.
"If we can do it at all, we'd love to do it.
"Obviously, as you start pushing things back, a week here, a week there, it's all cumulative. It does mean that you have to look at alternatives. We have alternatives already considered. There's really no point airing those now. All we know for definite is most of them are going to turn out to be obsolete and defunct anyway.
"Last year at short notice we were able to decide what we were going to do, we are able to communicate it, we were able to plan it and we were able to get it up and running.
"We want to be playing but we don't determine public policy. We implement it. As things stand at the moment, we can't play.
"I can understand that when you consider the sheer scale and duration of the Allianz League, that's a lot of people, it's a lot of travel, all of those people are like ourselves embedded in communities and so on.
"It's disappointing because that's our raison d'etre but we will be back. A bit like last year when we get the chance to do it, we'll do it well, we'll do it properly, we'll do it safely. I can't honestly tell you when that's going to be. I hope it's not too long."
"There probably will come a time when we'll have to consider all the options ahead of us and make a call on things"
Finance director Ger Mulryan suggested in his annual report that the 2020 approach of running club before county might still be an option.
However, Ryan observed that the logic of of running the inter-county season first still stood as club competitions would involve far more more players and would not be possible under high-level Covid restrictions.
"The thing about the club side of things really, that would call for a far more accommodating public health scenario because you're talking about hundreds of thousands of people at that stage," he said. "I do understand we've a huge responsibility to those people too.
"The reason we were going with county first was we really did anticipate that was the element that was going to be most practical to implement because it was a smaller number of people. I still think that's probably the case.
"I don't foresee that changing in the next couple of weeks, next few weeks. But there probably will come a time when we'll have to consider all the options ahead of us and make a call on things.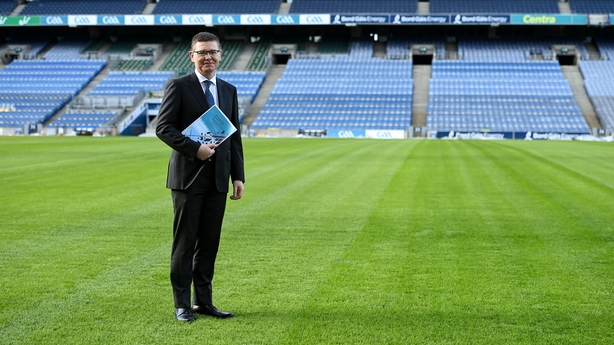 The issues raised in tackling Covid on one island with two governments have been well documented.
Ryan stressed that the GAA is keen to maintain a 32-county approach when it comes to regulations.
"We try really hard to keep things on a common footing all over the island, for all manner of reasons," said Ryan.
"There were times you'll remember last year when the six counties were a little bit ahead of the 26, there were times when the opposite applied. There were times when we could have had spectators in the six counties, when we weren't able to have them in the 26.
"What we did was we tried to apply the same measures, the same standards to everybody. And that would still be the default position today. It's important that we stick together and advance together. That would really be the preference still."