Brid Stack says she was left feeling aggrieved by the tribunal process examining the serious injury she incurred on her AFLW debut and spoke of the "sinister" blowback she received on social media in the aftermath.
The 11-time All-Ireland winner with Cork suffered a bad neck injury in the final quarter of AFLW debut for the Greater Western Sydney Giants following a collision with Ebony Marinoff of the Adelaide Crows.
Stack lay prone on the pitch for 40 minutes before being taken to hospital by ambulance, after which it was confirmed she suffered a stable fracture of the C7 vertebrae.
Marinoff was originally suspended for three games following the incident but the Crows successfully appealed the ban, arguing that Stack had been the "moving party" when the collision occurred.
The Cork player acknowledges that Adelaide Crows were entitled to appeal the original ban but she admits she resented the narrative that was advanced in the course of their appeal.
"Sanctions are doled out based on the severity of the injury as well. Hence why this case went straight to tribunal without appeal," Stack told Today with Claire Byrne on RTÉ Radio 1.
"It was initially thought she would get a three-match ban. A lot of that was down to the severity of the injury.
"When it went to tribunal, they appealed it. Look, they were well within their rights to appeal it.
"But what I did find very, very tough to take was the narrative their legal team went with. It was easy for them to say I was new to AFLW. It was easy to slap the rookie label on me.
"But I have spoken to so many experts here, I have watched back so many times.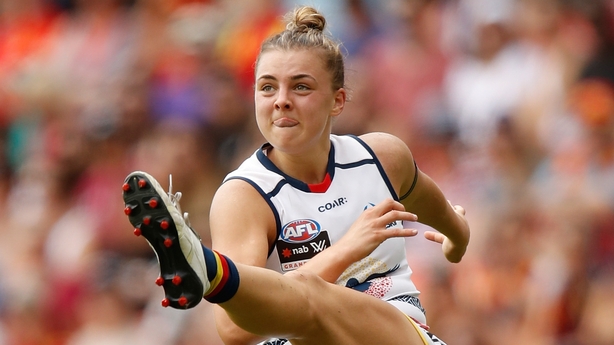 "I know the position I was in, I know that the duty of care has to lie with the tackler at all times. And I've been told that by experts, by people who've been in the game for 30 or 40 years.
"I'm very well aware I have loads to learn about AFLW. I wasn't taking anything for granted coming over here, I did an awful lot of prep at home. I definitely went out trying to impress. I was making sure I did everything to the letter of the law. So that definitely left a bitter taste in the mouth.
"I definitely felt very aggrieved by the outcome of it."
When asked if some of the adverse commentary had an anti-Irish tinge, or leant heavily on notion that Gaelic footballers weren't able to play Aussie Rules properly, Stack said she hadn't experienced any prejudice within the club - though she did acknowledge that she'd encountered some hostility on social media.
"I can only speak for the Giants club. I certainly haven't experienced any of that in the Giants set-up. I have only been greeted with a warm welcome and full support. The only side of it I did see was on social media.
"Social media can be so positive but there's also a very sinister side to it, where people feel entitled to make throwaway comments. I got exposed to a couple of nasty comments and got tagged in a couple of things I didn't need to be seeing.
"So I've definitely experienced both sides of it recently. I'm lucky that I'm a bit older, I'm a bit more resilient. I know how to distance myself from that side of things and keep on track."
Stack recalled her sense of foreboding in the lead-up to the injury and paid tribute to the Adelaide-based doctor for his handling of the incident on the day.
"We flew into Adelaide very, very late before the game. Preparations wouldn't have been what the club was used to. That's down to Covid and the restrictions the club was put under.
"It was very frantic in the lead-up to the game. They were down staff members because people couldn't travel to Sydney. Even before the game, I was a bit unnerved. And I remember saying to Carthach, my husband, that this is the sort of game where someone will get injured. It was just giving off that vibe.
"The match started, I was doing well and getting involved. I was only due to play three quarters and I ended up being put on again for the fourth quarter. The injury happened in the very last minute of the fourth quarter.
"Time was nearly up, the ball was there in the contest, I went to get the ball.
"I just got an excruciating shot of pain up my back, up my neck. I got similar pain in my arm, so much so that I thought my arm was shattered. I was expecting to look at my arm and see it in a couple of different places.
"The team doctor was there on site and he was absolutely outstanding. He was based in Adelaide because our own doctor wasn't allowed to fly in from Sydney. He held me in a prone, completely still position for 40 minutes until the ambulance came.
"After ten minutes, I was saying I'm grand, I can walk it off and he said no. He wouldn't let me move. I definitely owe that man a massive service. He was absolutely unbelievable, Dr Rob Buckley."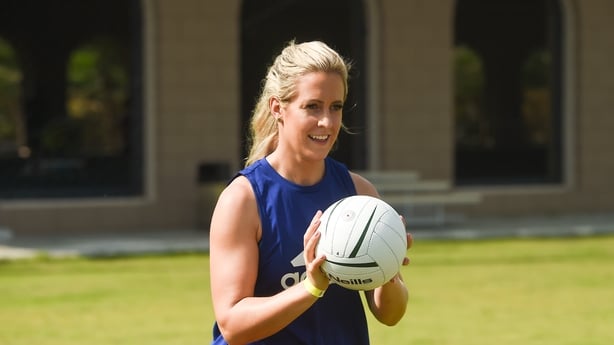 While initially told that her season was definitely over, the 2016 Footballer of the Year is still holding out hope of playing again this year. She was recently allowed remove the neck brace which she's worn since the incident and has an upcoming MRI and CAT scan to assess how her arm is healing.
"My last meeting, there was some positives and obviously some negatives still. He actually allowed me to remove the neck brace which was a massive step forward.
"He's not going to allow me to return to play unless I have full function in my right arm and I can protect myself on the field of play. Tomorrow's MRI and CAT scan are going to be very, very important to see if there's some compression there and if things are healing. So fingers, toes and everything crossed."