I'm back in isolation because of the Covid-19 case in Perth.
We just about made it out. I think we left at 5.50pm on a chartered flight and the borders shut at 6pm.
We're now under a 14-day quarantine back in South Australia unless something changes in Western Australia.
It's looking positive at the moment, they've only had the one case and if there are no more after five days in WA, we can finish our isolation. Fingers crossed.
Our first batch of tests all came back clear and hopefully the second batch on day five (Friday) will too. I think we'll be tested every week in season on Wednesdays too.
The whole country has basically shut their borders to Western Australia due to one case. They had been Covid free for a really long time.
It's a sign of how fortunate Australia have been in terms of the number of cases they have had compared to European countries but I guess they want to squash it as soon as possible.
I guess it's working for them, when we aren't in isolation we are generally able to live a normal life, so you can't really complain about it.
I didn't think I'd have to face another isolation period once I finished the first round of it.
It's not ideal but at least there's more fresh air and people than last time around. That's a positive as the hotel quarantine was another level of isolation.
We need your consent to load this Instagram contentWe use Instagram to manage extra content that can set cookies on your device and collect data about your activity. Please review their details and accept them to load the content.Manage Preferences
I'm staying at Crows general manager Phil Harper's house and Anne Hatchard is here too. Phil's wife Caroline is keeping her distance from us.
We're not allowed to leave the house but it's pretty big so we have enough space to walk around and get our steps up. We also have a pool for recovery and to cool down.
We are actually flying out to Sydney today to quarantine there as a squad and play Greater Western Sydney on Sunday.
We were both in Perth last weekend so essentially we are moving our bubble to Sydney. It's a chartered flight so there will be no mixing with the public.
Our game against Fremantle and Sydney's against West Coast were both supposed to be in Adelaide this weekend and were postponed so this will be our rescheduled round two match.
It's also pride round for AFLW this weekend so every team will be wearing a jersey with the multi-colour.
"The strongest thing is to see yourself reflected in football, so for a lot of people, to be able to watch AFLW and to know the girls, to know their struggles, and to celebrate all the identities – it's hard to sum up what that means" - @darcyvee ??#AFLWPride #AFLW

— AFL Women's (@aflwomens) February 2, 2021
We don't know yet what's going to happen after Sydney with fixtures. We are both isolated, there are eight teams in Melbourne, the two in WA and two in Queensland.
I don't think the season will be cancelled again. There are always risks with Covid but there should be enough contingencies such as teams staying in hubs. Worst case, a few round games could be missed.
There could still be a little bit of tension with GWS over Bríd Stack's injury but we've just tried to move on.
GWS and Adelaide would have had a good relationship and some good battles so hopefully that will continue.
It's obviously very unfortunate for Bríd.
You can understand from her side that it's very difficult to know you could potentially be out for the season over a tackle.
I was right there when it happened and I saw her go down in agonising pain. It's very disappointing but hopefully she'll make an appearance back in the season.
With the Covid delays, that might give her a bit more time.
A good start
Last week was my first win in the first round since I came over in 2019 so that was great.
West Coast put up a really strong first half and we didn't really break away until the end of the third quarter. It was a battle right up until then.
I was fortunate that Erin Philipps gift-wrapped me a pass and my kick made the distance for the goal.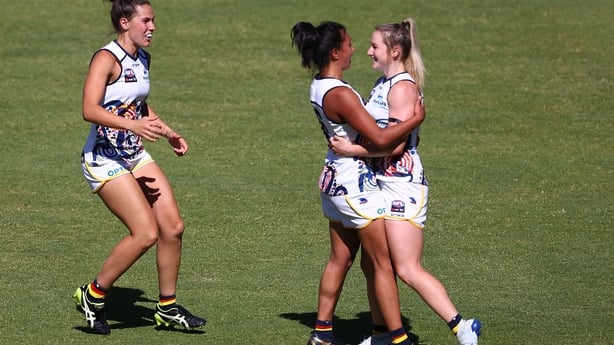 I think I got two goals last year and three the year before so one from one is a good start.
The majority of my game time was spent in the half-forwards which is probably what I am most used to and feel more comfortable in.
The two weeks not being able to run in the hotel wasn't ideal, match-fitness and the repetitive efforts of training were hard to adjust to, especially with the heat. I was blowing the whole time from the change in environment and travelling but I'm finding it a little easier now.
"I'm surprised I didn't come out like a sun-dried tomato"
It was 35 degrees on Saturday in Perth for the game. I'm surprised I didn't come out like a sun-dried tomato.
It was so hot and blue skies so there was no escaping the sun. I felt it after the game and the day after, I was completely wiped, but somehow avoided sunburn.
I sprayed my entire body with layers of sun-cream beforehand but I'd say I had sweated it off by the first quarter.
I think with the interchange system, that little break you get in the shade is just enough to avoid getting scalded.
I started on the bench but it's totally different to being a sub in Gaelic football. The players go flat to the mat from the start of the game and are constantly coming on and off.
There can be 70-80 rotations in a game and I was on in less than three minutes. So it doesn't really matter where you start.