Adelaide: no masks, few restrictions, back to normality - almost.
It takes a bit of getting used to but we get to go out and meet people, we have to plan things, we have to train.
It's a shock to the system because I'd just become so accustomed to training by myself.
I'm gradually getting used to having my freedom back and meeting friends and going for coffee, not having to walk into a shop and think, 'Jesus, I've forgotten my mask'.
The only real difference from pre-Covid times is that they've cut back on major celebrations, like Australia Day yesterday, and they didn't have a big thing on New Year's, they are avoiding mass gatherings.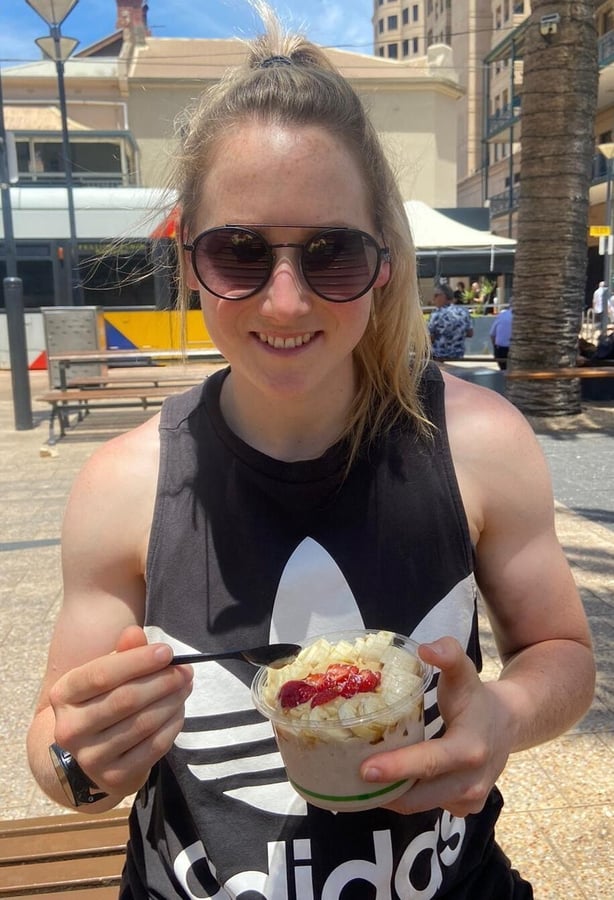 Apart from checking into places by scanning a code, everything is pretty much back to normal.
It's been a bit of an odyssey to get to this point and when I decided to return home to Ireland last April, I never thought it would be such a long and protracted journey to get back here.
I left soon after the season was cancelled and I didn't realise how bad the situation was at home.
But the Crows made it clear early on that they wanted me back so when I knew that it made the decision to return simple. I couldn't say the same of the journey.
It took me about five months to get the visa sorted out. I initially got declined at the end of September but when the new playing contract came through, I applied again and got it.
Then, of course, getting a flight Down Under was tricky as they had closed the border to non-Australian citizens.
Firstly, the Crows and then the AFLW, when they realised there were so many Irish girls coming over, sorted out the flights and hotels.
But that meant I had missed pretty much all of pre-season by the time I landed and at that stage the girls were on a Christmas break.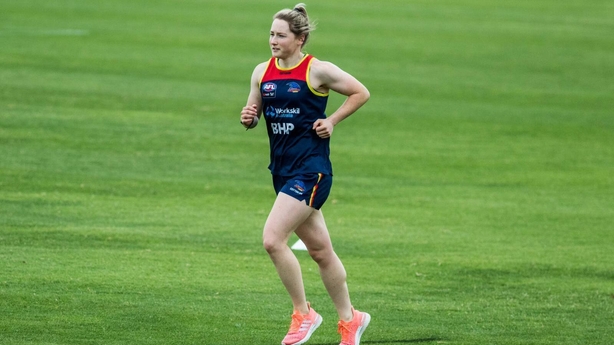 It wasn't until around 4 January that I got out on the track. Even that training was all modified because I'd been in isolation at home and then quarantine here.
The Crows had prepared a training programme for me when I was back in Ireland so that kept me sane, especially in lockdown when there's not much to do.
The team had played games over the summer and had almost a full pre-season under their belt so I knew I had to stick to the programme to be as ready as I could be. That kept me motivated.
Physically, I feel good so it's just about learning the game-play and tactics now. I'll have to be a quick learner on that front.
Quarantine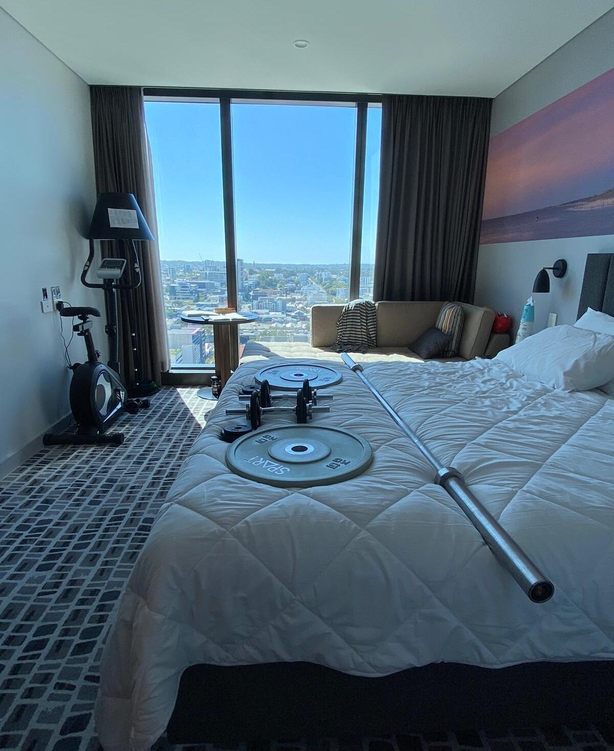 So what's it like being shut in a hotel room for 14 days?
I was originally supposed to quarantine in Adelaide but there was a late change of plan and I ended up in Perth, which actually had a stricter lockdown in place.
The first couple of days were all about recovering from jet lag, a case of grin and bear it. The training kept me sane, but I'd be a very active person so reading or watching a box-set is not my thing.
I'd try to get 10-15,000 steps a day, do extra exercises, extra core work. We had a stationary bike and some weights, which were provided by the ALFW, so that helped out.
After that, I put the bed up against the window and worked on my ball skills. I'd try to incorporate whatever was in the room to try out new exercises.
We had Facetime with the Aussie girls during the day and then later at night, when it was daytime back home, I'd have the chat with friends and family.
I went to bed early, just to pass the time.
We need your consent to load this Instagram contentWe use Instagram to manage extra content that can set cookies on your device and collect data about your activity. Please review their details and accept them to load the content.Manage Preferences
It was very restrictive. We had a window but we couldn't open it. That basically meant no fresh air for 14 days. The only time you can leave the room is to collect a meal from outside the door.
Cora Staunton was actually on the same floor as me and on occasion, by pure chance, we'd open the door at the same time and be able to say hello down the corridor.
That was literally the only human contact we had for two weeks.
Towards the end, it was getting close to Christmas and, I'll be honest, it was hard to deal with.
Along with missing the bulk of pre-season, I was also missing Christmas time with family and friends back home.
I saw pictures of families getting together and then it hits home, the realisation of spending Christmas alone in a hotel room in a foreign country became a bit daunting.
I'd been waiting since the end of June for a visa and flights, it felt like such a long road. I was mentally drained, and I still wasn't in Adelaide. It felt like I wasn't where I was meant to be.
Finally, I got back to Adelaide and complete freedom.
It's a massive adjudgment because you get used to lockdown life at home, where you don't have to make plans, you don't have to meet up with people but I'm certainly not complaining.
Bríd
We had a warm-up game against the GWS Giants two weeks ago and you've probably seen the news about Bríd Stack, the Cork legend who is one of the latest AFWL recruits from back home.
Hopefully her recovery from a neck injury will go well and she can feature for GWS at some stage.
I was directly behind the challenge. I saw Bríd go down and straight away she was in agonising pain.
I knew there was an issue and I thought it was her shoulder because she went down holding one side.
She had lost feeling in her right arm from the fracture in her C7 vertebrae.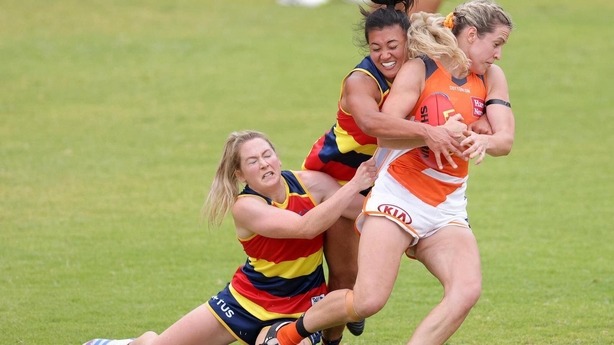 It was very scary for her and that's hard to watch, when you see someone go down injured and in that much pain.
It was in the last minute of the game and very unfortunate. She had been playing very well and slotted in well to the game.
It's very disappointing that she didn't really get a chance to play more games and show how good she can be but hopefully she'll get that chance.
Now it's down to business now for me and we get our season under way against West Coast in Perth on Saturday.
Game on!