James Horan was businesslike and matter-of-fact after Mayo's latest All-Ireland final defeat, their fifth in the last nine years.
Saturday's All-Ireland decider offered far less ceremonial glitter than we're used to, with the Dublin players gamboling around an empty Croke Park in what was ultimately a private party.
For Mayo, with no fans around the place, conspicuous displays of heartbreak were in short supply. Horan was never too free with his emotions after previous final defeats and he wasn't about to let it all out in an empty stadium.
As expected, the Mayo boss was inclined to hone in on the nitty-gritty, citing an inability to mind the ball at times, along with the relatively slight impact of the subs bench as reasons behind the loss.
"Obviously, disappointed. We did a lot of things right. We were still in it with 12 or 13 minutes to go," Horan told RTÉ Sport after the game.
"We ran out of juice a little bit and were a bit loose with possession at times and it cost us. Dublin got stronger and stronger as the game went on. Some of their subs made a big difference and they ran out winners in the end."
He was quick to dismiss the notion that Mayo had emptied the tank in the first half and had little left by the final quarter.
"I don't think it so. Ah, I just think we didn't maybe get the impact we'd like from some of the guys coming on. As I said, Brian Howard came on, (Paul) Mannion came on, they won a lot of primary possession obviously so that had a big impact on the game."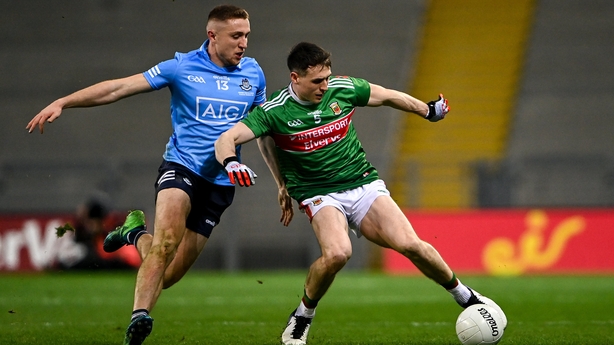 Conceding the fastest goal in All-Ireland final history did not represent the most propitious of starts but bizarrely it was the trigger for a superb opening quarter from Mayo.
Horan acknowledged Mayo's success on kickouts in the first half, an area widely cited as a weakness in advance.
"Dublin have multiple goal threats. I thought our response and composure in the first half was very good. On our kickouts and opposition kickouts, we did very well.
"We got some good scores but we missed a few chances which were dropped into the goalie's hands, which are a killer. Overall, our response to those goals was very good.
"I just felt we had a lot of good possession and some of it we lost very cheaply. That cost us.
"Going into the last quarter, it was definitely there. We made a few good plays just before the break and we were looking in a strong position.
"But Dublin were very good in the last quarter and controlled it very well. We'd a few rushed shots, there was a couple of balls bounced in the middle that we could have got. They got them."
Paddy Durcan, one of Mayo's most influential players in recent years, was withdrawn at half-time, a result, Horan said, of an injury picked up early in the game.
"It was a huge loss. The first ball he went for, he felt something in his quad. He couldn't run after that. It was unfortunate. We'd to readjust a few things and move a few players around. We dealt with that pretty well but Paddy is obviously a huge player for us."
After 2019, it was thought in some quarters that Mayo were destined for a transitional period. After 2020, with a strong championship performance and a raft of new players, the future, notwithstanding another final defeat, looks brighter.
"(We can take) a huge amount from the season. We saw the performance of Ryan O'Donoghue and Oisín Mullin today. We've had Eoghan McLaughlin, Tommy Conroy, Jordan Flynn come on as well.
"There's an awful lot of guys who've learned an awful lot in a short amount of time. Next year's season comes very quickly. So, we'll have to move on quickly."