For the first time in the 2020 championship, Dublin were sucked into a dogfight but their composure shone through in the final quarter as they overcame battling Mayo to claim a sixth successive All-Ireland title - the first of Dessie Farrell's reign. 
As both teams gathered for the second half water-break, this most novel of deciders remained in the balance.
Mayo, playing with their characteristic gung-ho athleticism and intensity, had succeeded in rattling Dublin over the course of the first 55 minutes, in a contest which had echoes of the titanic 2016 and 2017 showdowns between the pair. 
A couple of minutes prior to the second half water-break, Cillian O'Connor clipped over a free to level the match at 2-08 to 0-14. 
There had never been more than three points between the sides until that point.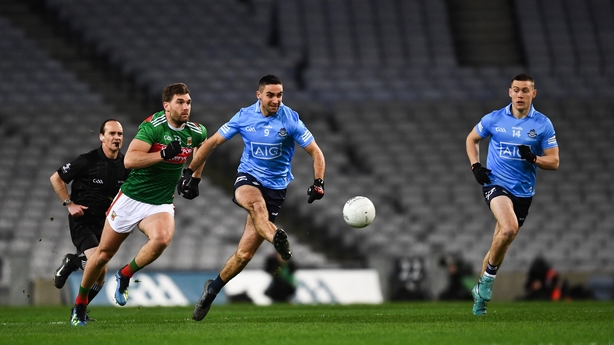 The Dubs' progress to the 2020 All-Ireland final had been serene and singularly devoid of drama, to the point where debates about the competitiveness of the championship had begun to consume the media agenda, much to the irritation of Gaelic football supporters in the capital. 
But the defending champions did look ruffled for long periods of the game, their slick passing machine creaking from time to time under the pressure exerted by James Horan's side. 
This was an All-Ireland final day shorn of all the normal trimmings but in the echoey amphitheatre of Croke Park, something approaching an occasion had, against all odds, broken out. 
But any notion of Mayo ending their interminably long wait for an All-Ireland crown was definitely and unceremoniously ended early in the final quarter. 
The defending champions, with a Dean Rock free kicking off the run just prior to the water-break, rattled over five points in a row in a critical spell which ultimately decided the contest. 
The famed Dublin bench, for so long one of the important elements of their considerable arsenal, was pivotal. 
Brian Howard and Paul Mannion, ever-present figures in the starting line-up in 2018 and 2019, both struck important points after being sprung. 
Prior to today, Dublin had won all their championship games in 2020 by double digit-margins. Repeating the feat against Mayo would see them match the Kerry side of 1979, whose narrowest margin of victory that year was 10 points. 
The whirlwind opening might have had neutrals fearing we were about to witness another procession. 
It was a nightmarish start for the Connacht champions. 
Aidan O'Shea got the briefest of touches on the throw-in but the next time a Mayo player gloved the ball, they were three points down. 
James McCarthy latched onto the break and as soon as he played a rapid one-two with Niall Scully, it was obvious the underdogs had a code red situation on their hands. 
We could have anticipated the rest. McCarthy fired a pass across to Rock, who palmed to the net. 
At 13 seconds, it is the fastest goal in All-Ireland final history.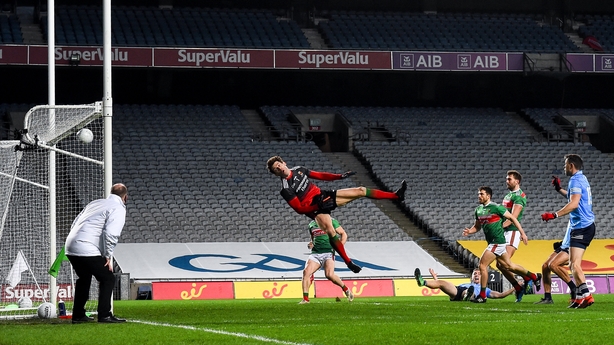 The goal had the paradoxical effect of settling Mayo. The Connacht champions responded brilliantly with the rampaging Oisín Mullin, playing in his first final, prominent in their early surge. 
He drove forward to fist over their first score, soon afterwards, claiming a Cluxton kick-out in spectacular fashion (not for the last time either), triggering a move which ended with O'Connor clipping over the equalising point.
Perhaps acclimatised to one-sided victories, Dublin initially struggled to adjust to Mayo's intensity. The state-of-the-art Dublin machine appeared to have some gremlins in the opening stages. 
Con O'Callaghan, who would soon spark to life, casually gave away the ball from a sideline. Moments later, James McCarthy stroked a lazy crossfield ball into Cillian O'Connor's arms and the in-form attacker gladly curled over a point. 
The Dubs hit back with a couple of pointed frees from Rock and their first from play through Sean Bugler but they struggled to cope with the wave of Mayo attacks. 
Conor Loftus eschewed a goal opportunity from a tight angle, opting to fist over. Lee Keegan then charged up the Hogan Stand sideline, tossing a pass inside for Ryan O'Donoghue to fire over. 
While Tommy Conroy was a bystander in the inside-forward line, Cillian O'Connor's strong form continued. 
The westerners were making intelligent use of the mark, and when the Ballintubber player availed of the new rule just after the water-break, Mayo, after a sucker-punch of a start, led by two points. 
This wouldn't last long. O'Callaghan, sluggish early on, bared his teeth on 23 minutes. 
Collecting possession outside the 21 metre line, with the Mayo defence seemingly well-set, O'Callaghan displayed his verve, quickness and imagination, working an elaborate one-two with Scully, before fisting another goal past David Clarke. It was Dublin's eighth goal of the championship and their fifth using the fist or palm.
They almost had a third goal when Tommy Conroy slipped, possibly being thrown by John Small's swift sidestep, the centre-back drilling a shot just over the bar.   
Ciaran Kilkenny, subdued early on, curled over the final score of the first half, remarkably his first against Mayo in the championship since 2015. 
Two points separated the teams at the break but Mayo received a fillip right on half-time. 
Robbie McDaid popped a pass to the onrushing Jonny Cooper and bumped into Kevin McLaughlin, the Mayo wing-forward hitting the deck. 
Cooper's score was chalked off and while McDaid pleaded that McLaughlin had engineered the collision, Coldrick insisted it was a body-check and branded the black card. 
The niggle between the sides, a constant theme running through the past decade, was evident in the tunnel at half-time. 
Things got a little heated between both sides as the Dublin and Mayo players headed in for the HT break @RTE2 @RTEplayer #DUBvMAYO

Follow updates right here: https://t.co/GgvUsjcTXn #rtegaa pic.twitter.com/mNoIpnrbJH

— The Sunday Game (@TheSundayGame) December 19, 2020
The champions started the second half reasonably brightly despite their numerical disadvantage, Scully and Brian Fenton clipping over fine scores to push their lead out to three points. 
Mayo refused to go quietly. They chipped away at the lead as the contest grew more tense and claustrophobic. 
Lee Keegan, surging forward to support an attack, was hit with a shuddering frontal challenge from Mick Fitzsimons, which ref David Coldrick dubiously adjudged a fair shoulder. 
Aidan O'Shea began to cause problems for Jonny Cooper at full-forward, winning a couple of frees. 
The second such free had O'Shea pleading for the Dublin full-back to be shown a card - presumably black in colour - after he won a crossfield ball, rounded Cooper before being bundled to the ground. There was plenty of chat in the aftermath but Coldrick was happy to award the free and flash a yellow card.
Sensing the danger, Dessie Farrell whipped off Cooper, replacing him with Colm Basquel. 
Mayo had ground their way back to level pegging, with Stephen Coen swerving over a delightfully struck mark and O'Connor notching two more frees (taking his overall tally to 0-09).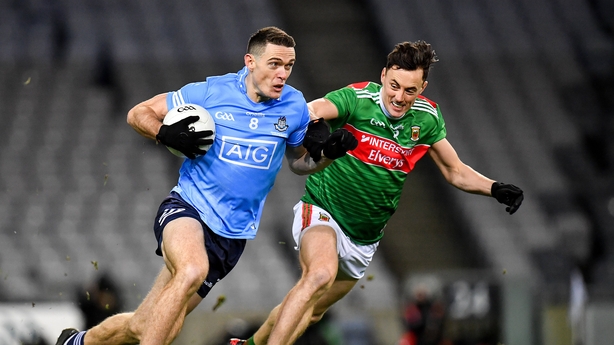 But Dublin once again had the full compliment on the field and, with their bench coming to the fore, they made the winning burst.
The quietly industrious Scully earned a free, which Rock stroked over to restore the capital's advantage, while Kilkenny, beginning to find more space, cut in from the left, to curl over a trademark score to double the lead.
Perhaps the second half's most inspirational score came from Howard, introduced for Bugler at half-time. After a patient move, he let fly a swerving shot from the right hand side which crept inside the near post. 
Paul Mannion, devastatingly effective against Mayo last year, has sat on the bench for most of the 2020 campaign but after being sprung for Paddy Small with 20 minutes remaining, he curled over a free from a tight-ish angle. 
A straightforward Rock free stretched the lead out to five points with less than 10 minutes left.  
As a scoring burst, it didn't quite match last year's 12 minute spell after half-time but it was enough to more or less complete the job here. 
Having been so competitive for so long, Mayo's race suddenly looked run and sloppiness began to creep into their passing and handling.
Darren Coen raided forward to slip over a neat score but that was it for Mayo.
The champions unsurprisingly spent much of the closing 10 minutes engaging in prolonged bouts in keep-ball, though Ciaran Kilkenny found the space to land his third of the game with four minutes remaining. 
Mayo spent the five minutes of injury-time attempting in vain to rustle up a goal which wouldn't come. Even if it had, it would have only been scoreline dressing. 
The moment Dublin sealed the six-in-a-row #DUBvMAYO #RTEGAA @RTE2 @RTEplayer

Post-match reaction right here: https://t.co/GgvUsjcTXn pic.twitter.com/BWTxh8sDzv

— The Sunday Game (@TheSundayGame) December 19, 2020
The five-in-a-row was greeted as historic; the six-in-a-row inevitably feels more humdrum. 
The GAA deserves credit for the smooth running of the championships, but there's no question the final day experience was a more hollow affair than before. Inside the ground, one felt even more acutely than at home, the absence of the crowd. In 2020, the best way to experience the All-Ireland championships as an event was to watch on TV. 
For the Dubs, this is little concern at this point as they toast a sixth successive crown and an eighth in ten years.
Seven of their number - Cluxton, McCarthy, Michael Fitzsimons, Kevin McManamon, Cian O'Sullivan, Philly McMahon, Michael Dara Macauley - now hold eight All-Ireland medals, equalling the football record set the Kerry quintet of the 1970s and 80s - Spillane, Sheehy, Moran, Power, Ó Sé. 
For Mayo, it's a tenth All-Ireland final loss since 1989. The Connacht champions' wait goes on. 
Dublin: Stephen Cluxton; Michael Fitzsimons, David Byrne, Jonny Cooper; Eoin Murchan, John Small (0-01), Robbie McDaid; Brian Fenton (0-01), James McCarthy; Niall Scully (0-01), Ciaran Kilkenny (0-03), Seán Bugler (0-01); Paddy Small, Con O'Callaghan (1-01), Dean Rock (1-04, 4f).
Subs: Brian Howard (0-01) for Bugler (35), Paul Mannion (0-01, 1f) for Paddy Small (50), Colm Basquel for Cooper (53), Cormac Costello for Scully (70)
Mayo: David Clarke; Chris Barrett, Oisin Mullin (0-01), Lee Keegan; Patrick Durcan, Stephen Coen (0-01, 1m), Eoghan McLaughlin; Conor Loftus (0-01), Matthew Ruane; Kevin McLoughlin, Ryan O'Donoghue (0-02), Diarmuid O'Connor; Tommy Conroy, Aidan O'Shea, Cillian O'Connor (0-09, 5f, 2m).
Subs: Michael Plunkett for Durcan (35), James Carr for Conroy (49), Darren Coen (0-01) for O'Donoghue (57), Jordan Flynn for Loftus (61), James Durcan for Eoghan McLaughlin (73).
Referee: David Coldrick