Mayo's All-Ireland dreams are over for another year as Dublin made more history as they won a sixth All-Ireland title in-a-row at Croke Park. Here's how we saw it.
DUBLIN
Stephen Cluxton 6.5/10
Cluxton had a difficult second quarter as Mayo won two of his long restarts in-a-row while one of his short efforts failed to get past the 20m, line resulting in a throw-up. Was much tidier in the second half as he claimed his eighth All-Ireland title, although there will be no seventh All-Star. He's unlikely to care too much about that.
Michael Fitzsimons 6/10
Showed a bit of sloppiness that Dublin rarely possess, nicely visualised when he let a simple Stephen Cluxton kick-out right through his legs. Landed a huge hit on Lee Keegan. David Coldrick said it was fine, but it was a yellow-card offence all day long.
David Byrne 7/10
Found Cillian O'Connor too hot to handle on occasion, but not many can shut down the Ballintubber ace. The steadiest of the full-back line though and got forward brilliantly late on to set up a Ciarán Kilkenny score.
Jonny Cooper 5/10
Had a certain score taken away from him following Robbie McDaid's silly black card. Gave away two frees close to goal in the third quarter and somehow escaped a card when fouling Aidan O'Shea. No shock to see him replaced just before the second-half water-break.
Eoin Murchan 7/10
Took 17 minutes before he made one of his trademark bursts forward and Murchan became more visible as the game progressed. Made good yards as usual for Dessie Farrell's side and was always a useful outlet when they were under pressure.
John Small 7.5/10
Forced a very good turnover on Ryan O'Donoghue early on and later in the half came forward to blast over when half a goal chance had opened up. Broke a kick-out away from Aidan O'Shea for a Dublin point at a crucial stage of the second half and in the 78th minute he was still throwing his body on the line as he denied Kevin McLaughlin a goal.
Robbie McDaid 6/10
Had been moving the ball well but his first half was ruined by a silly black card that saw Dublin not only miss out on a certain score, but start the second half with 14 men. Was steady either side of that incident but quieter than he has been all year.
Brian Fenton 8/10
Really came to the fore with a brilliant second half after an unusually quiet first 35 minutes. Showed good strength to shake off Diarmuid O'Connor for a 42nd-minute score and took a superb midfield mark a minute later. Repeated the dose with another brilliant fetch right after Mayo had cut the gap back to four points.
James McCarthy 8/10
Changed this All-Ireland final in just 13 seconds as he won the throw-in above Aidan O'Shea, broke forward, took the return pass and fed Dean Rock for the quickest goal in All-Ireland final history. It was an all-action first half and although he was quieter in the second half, he still was a key reason why Dublin lifted Sam yet again.
Niall Scully 8.5/10
The unsung hero of this Dublin team, Scully had a huge final and had a big hand in both of their goals. Kicked a fine score to start the second half and was absolutely everywhere. A potential Man of the Match even if he does tend to make the most of contact on occasion.
Ciarán Kilkenny 8.5/10
In the first half with Paddy Durcan following him, Ciarán Kilkenny reverted back to his play-making role than the more direct style we have become accustomed to this season. That said, he was struggling to make a huge mark until Durcan's withdrawal at half-time. In the second half he seemed to enjoy much more freedom and made the most of that with a couple of nice scores to go with his point at the end of the first period.
Seán Bugler 6.5/10
Replaced at the break but hadn't actually done a lot wrong. Recycled the ball well and showed good awareness to create space to curl over an 11th-minute point.
Paddy Small 6.5/10
Won an early free that Dean Rock converted but a quiet enough final for the Ballymun man and he was replaced by Paul Mannion in the second half.
Con O'Callaghan 8.5/10
The decision to pair Oisin Mullin against him looked a masterstroke early on as the Mayo man got on his bike and caused issues from an offensive point of view. However, O'Callaghan soon came right into the contest and his goal was a superb piece of individual thinking and finishing as he fisted to the net after a neat one-two with Niall Scully. Bad handling did prevent another goal chance into the Davin Stand end, but a fantastic showing overall.
Dean Rock 7/10
For a man who had a goal to his name after just 13 seconds, Rock actually had a quiet enough final. Still, when he was called upon for frees he was unerring and he landed four of those across the 70 minutes.
SUBS
Brian Howard 8/10
The best of the subs introduced for either side. As well as a super score after patient build-up play by Dublin, he gave them a real platform around the middle and helped initiate their period of dominance in the second half.
Paul Mannion 6.5/10
His first shot of goal trailed wide but he did land a super free and looked very lively in his 25-odd minutes on the pitch.
Colm Basquel 6/10
Dublin had exerted their dominance by the time he came on and he helped to keep the ball moving.
Cormac Costello N/A
Brought on in additional time.
Philly McMahon N/A
Brought on in additional time.
MAYO
David Clarke 7.5/10
A lot had been made of his kick-outs pre-match but they were very good, especially in the first half. One short restart did cause a bit of panic, but Eoghan McLaughlin got him out of trouble. No chance with either goal.
Chris Barrett 7/10
Steady performance from Barrett and no obvious mistakes, he kept Dean Rock quiet as the game sort of passed the two of them by, first minute aside of course.
Oisin Mullin 7.5/10
Made a tremendous start to this final as he grabbed Mayo's first score while a fantastic fetch in the middle led to the side's third score. Was probably Mayo's best player in the first half and one of their top performers overall.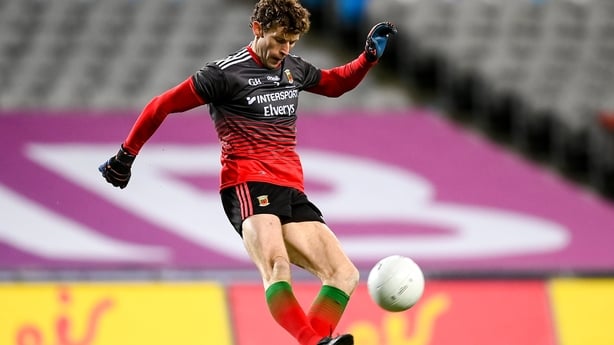 Lee Keegan 7/10
Stayed close to home for the first 25 minutes and it's hard to escape the notion that he was wasted. Went on the front-foot as the game developed and his side-step to get away from James McCarthy and Ciarán Kilkenny to set up Ryan O'Donoghue's point in the 31st minute was excellent. Momentum was stopped a bit by a controversial hit from Michael Fitzsimons in the third quarter.
Paddy Durcan 7/10
Durcan's half-time exit was a massive blow to Mayo's ambitions. He had tracked Ciarán Kilkenny up to that point and had kept him fairly quiet. The Dublin player had a massive second half, but it's unlikely that would have happened if Durcan had lasted.
Stephen Coen 6/10
Mixed the good with the bad. His positioning was a bit suspect at times and Ciarán Kilkenny spun him far too easily for a second-half score. Did pick up a few breaks though and his pointed mark with the outside of his foot caught the eye.
Eoghan McLaughlin 6/10
A more conservative performance than we are used to this season from McLaughlin. Tidy in possession and did get David Clarke out of trouble at one stage, but was quiet enough overall.
Conor Loftus 7/10
Loftus was given license to roam forward and he fisted one effort over after a strong supporting run in the 13th minute when he maybe could have went for the jugular. Seemed to tire in the second half and was substituted late on as Mayo tried to find a way back into the contest.
Matthew Ruane 6.5/10
His athleticism caused problems in the first half but, like most Mayo players in that central area, saw his influence diminish in the second half as Dublin took a firm grip on proceedings.
Kevin McLoughlin 6.5/10
Typically committed display and ran himself into the ground, but did cough up possession a bit too easily on occasions. Won a few breaks from kick-outs off both Clarke and Cluxton kick-outs.
Ryan O'Donoghue 7/10
A strange outing for the youngster. He kicked two great scores from play in the first half but his inexperience showed at times too as he took the wrong option on a number of occasions. Didn't look happy coming off but he will be a key forward for Mayo for years to come.
Diarmuid O'Connor 8/10
O'Connor made mistakes, such as letting Brian Fenton brush him off easily for a point and putting an easy pass over the sideline, but nobody on the pitch put in the effort that he did. O'Connor was making crucial blocks at the back, fetching ball in the middle and riding tackles to set up scores in attack. Fatigue and mistakes were inevitable given his exertions. 
Tommy Conroy 5/10
It just wasn't Tommy Conroy's day as this final completely passed him by. When he did get on the ball he looked nervous and he only lasted 49 minutes. Still, what a find this lad has been for the Westerners.
Aidan O'Shea 6/10
If Mayo were to have any chance then it probably needed a monster display from Aidan O'Shea. It just didn't come. He was beaten to the ball in the air by James McCarthy for Dublin's early goal and he fouled Niall Scully to give away another score after John Small broke a ball away from him that he should have won. Did cause panic around the square early in the second half and was fouled for two easy frees, but strangely Mayo didn't try out that tactic more.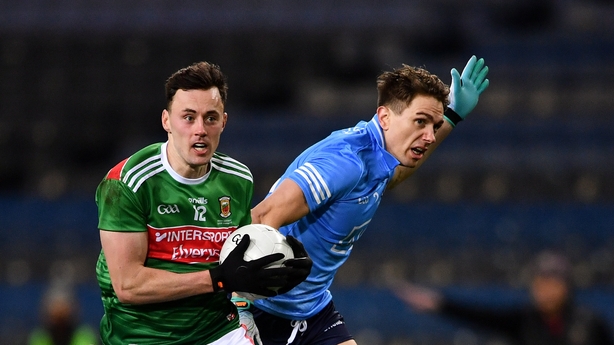 Cillian O'Connor 8/10
Cillian O'Connor had a quieter second half after moving further out the field, but he caused Dublin and David Byrne all sorts of problems in the first half. Finished the contest with nine points, including a mark and two from play, but Mayo will be disappointed that they didn't make greater use of him after the break.
SUBS
Michael Plunkett 6/10
Came off at the break for Paddy Durcan but struggled to stop the Blue Wave in the second half as Dublin made their move.
James Carr 5/10
Sent on for the final quarter to try and force something but couldn't really make an impact.
Darren Coen 5.5/10
Kicked a nice score but then took a few shots from ridiculous angles that were never going to trouble the scoreboard.
Jordan Flynn 5.5/10
Helped in the final 10 minutes as Mayo got their hands back on the ball, but the game had all but slipped away by the time he came on.
James Durcan N/A
Brought on in additional time.