In keeping with his zen persona, Dessie Farrell was the embodiment of reserved composure in the immediate aftermath of his first All-Ireland win as Dublin senior manager.
And it was composure he credited with helping the Dubs over the line after they withstood a characteristically spirited assault from Mayo.
The Dubs had make light work of every opponent thus far in the shortened 2020 championship, their 11-point victory over Westmeath in the opener in O'Moore Park proving their tightest encounter until this evening.
But Mayo, the capital's gnarly and resilient nemesis over the last decade, once again made life uncomfortable for the champions, before a late scoring burst saw them run out five-point winners.
"I just think the composure and poise at the end saw us out," he told RTÉ Sport straight after the match. "They're an experienced bunch of players and they were able to find a way.
"Mayo are unbelievably competitive, the intensity they bring to the game, but we knew that in advance so it was always going to be toe-to-toe
"In tight games like that, it's the hop of the ball that makes the difference. Thankfully, we came out the right side."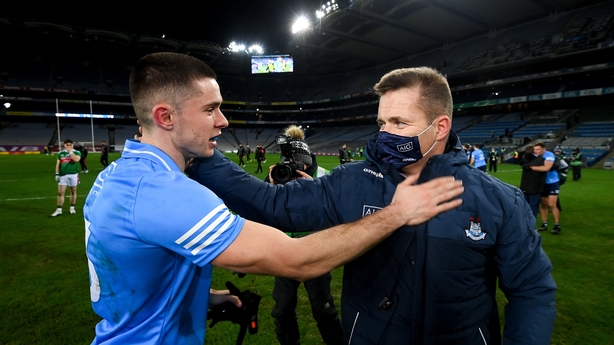 While the five-point flurry between the 52nd and 62nd minute proved decisive, Farrell is more inclined to zone in on the period immediately after half-time, when Dublin navigated a tricky spell when they were numerically disadvantaged.
Wing back Robbie McDaid had been black carded right on the stroke of half-time, barging over Kevin McLaughlin in what was deemed a third man tackle, after laying the ball off Jonny Cooper.
This, Farrell admitted, provided he and his management team with a poser at half-time, as they prioritised navigating that 10-minute spell without suffering on the scoreboard.
"We spoke at half-time about how important it was not to capitulate at that stage," Farrell told reporters at the back of the Hogan Stand, sometime after the trophy presentation.
"Because up until that half-time, we were struggling with their high press. We knew they were going to go toe-to-toe.
"They're very good at bringing that high-octane, intense type of a game. It was very, very challenging for us. It was going to become more so in the second half when we were a man down.
"They were able to get themselves re-organised at half-time, you would have thought, to have a right good go.
"It was probably to do with the fact that we had managed the first quarter (of the second half) reasonably well.
"There was a sense then that we were back to full compliment, we were 15 v 15, we had some fresh legs to come on off the bench. That was the time for us to push on. That's what we spoke about and thankfully that's how it materialised.
"We banged heads on it as coaches and then turned it over to the players in terms of what we wanted to do and how we try to manage our way through that.
"Getting out the other side of that probably provided us with the platform for victory."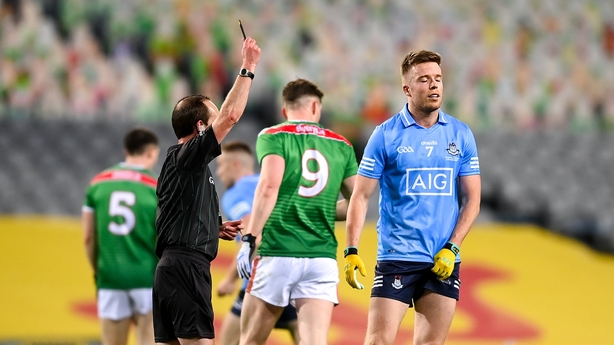 When the defending champions did hit for home in the closing stages, two benched stars from last year, Brian Howard and Paul Mannion, were key.
"It was a big call to keep some of those great players on the bench, the service they've provided, the talent that they have.
"But we set our stall out at the start of the year that we needed to evolve as a team. And that was part of it, introducing some fresh faces, some more competition, keeping everyone on their toes. Thankfully, it worked out okay."
Facing the unenviable task of taking over from Jim Gavin, in the wake of Dublin's five-in-a-row, Farrell has succeeded in keeping the trophy glut coming.
Self-effacing to the last, he throws the spotlight on the players, and has a word for their families, watching at home, after this most difficult of years.
"Obviously, there's a bit of relief in there. Thrilled for the players. I'm so happy for them, it's been a long, long year.
"They've got the result tonight and it's just reward in terms of how they applied themselves throughout the year.
"They've stepped up at different stages when it was needed. It's a big night for them and their families.
"It's a big night for the players' families. It's unfortunate they couldn't be here. It's thanks to families, the love, the support, the guidance and mentorship throughout the years that allow them to be in this position tonight.
"We remember not just the players' families, but also the families of those who have suffered throughout the year and have lost loved ones during the year. We remember them tonight and hope there's better days ahead for everybody
"But tonight, we've very happy for the lads."