In the strangest of championships years isn't it fitting that the two teams that have given the country the greatest entertainment in the last 10 years will take centre stage again?
Dublin would have been expected to get there.
Mayo I'm not so sure. I was thinking about this all week, when do Mayo not show up?
In the last 10 years they've come out and competed, they've won, they've lost and they've come back again. They always show up, they always give it their all.
---
Read more: Mayo's shot to nothing in a strange year
---
That's why they're there. There's this dark, endless desire in them to succeed and that's the reason that they'll always have a chance.
I said it earlier this year that I couldn't see - nor would I even entertain - the notion of Kerry being beaten by Cork. But they did, it happened.
Is it possible that Mayo could win? 31 counties would love it, but I can't see it happening.
I think Dublin will focus in on certain areas of Mayo's game and hit them as hard as they can - a lot harder than Tipperary, Roscommon or even Galway did.
David Clarke's kick-outs have not been sorted and they're a serious issue for Mayo, as they were against Tipperary.
What compounds it is that out around the middle of the park you've Conor Loftus and Matthew Ruane, who have done well, but have they got what it takes to live with Brian Fenton, James McCarthy or Brian Howard?
Will Mayo try to shake things up by brining Aidan O'Shea out, taking away from their forward line, and thus allowing the Dubs to play a sweeper in front of Cillian O'Connor and Tommy Conroy?
Mayo have a lot of quality and tough men in their defence, but they looked rudderless at times against Tipperary.
---
Read more: Dublin v Mayo - the defining rivalry of the day?
---
The Munster men ran at them and Mayo were opened up 10 or 11 times. Tomorrow you'll have Con O'Callaghan, Ciarán Kilkenny, Paddy Small or even Fenton running at you.
Dublin's handling, their awareness, their aggressiveness, their composure - they're streets ahead of what is out there.
James Horan is a brilliant manager and I've great time for him. He's built a new team, but we're all expecting Oisin Mullen, Tommy Conroy, Eoghan McLaughlin and Ryan O'Donoghue to slot in and take over from where Andy Moran, Jason Doherty, Keith Higgins and Séamus O'Shea left off.
That's a very big ask and I don't think they've been tested to the level that Dublin will bring.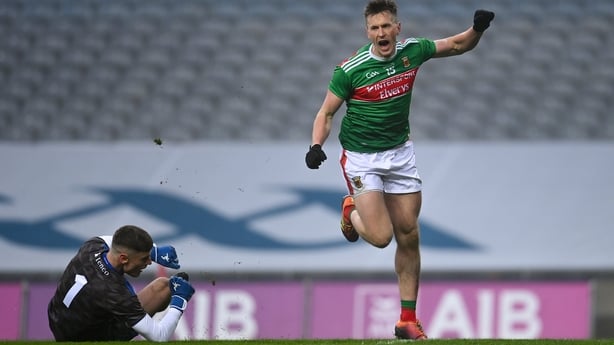 Cillian O'Connor is another issue. He gave one of the great semi-final displays, but he'll struggle to back that up this weekend. Dublin hammer the hammer better than any team, and he will not get the room he got against Tipperary.
That's before you even look at match-ups and trying to deal with Fenton, O'Callaghan, Kilkenny, and even Cluxton's kick-outs.
Everyone talks about Mayo's work-rate and their turnovers, with them scoring 3-12 off them against Tipperary. Dublin have scored just as much and they're the one team that match Mayo's work-rate.
If you go through the team man-on-man you can make a case for Mayo, but Dublin collectively are a better team.
Verdict: Dublin
Tomás O Sé was speaking on RTÉ's Morning Ireland
Listen to the RTÉ GAA Podcast at Apple Podcasts, Soundcloud, Spotify, or wherever you get your podcasts.
Watch the All-Ireland senior football final between Dublin and Mayo live on RTÉ2 from 3.40pm Saturday, listen to live commentary on RTÉ Radio 1 or follow our live blog on RTÉ Sport Online and the RTÉ News app. Highlights on The Saturday Game (9.55 pm RTÉ2).