Mayo prepare to go at it again this weekend. Another blasted All-Ireland final.
Mayo have been boasting about their aversion to the hype for many years now. Every Friday before the All-Ireland, Willie Joe Padden is interviewed on the Six One from Belmullet, saying, "well Marty, the build-up is very low-key here this year" as a red and green painted sheep reverses out of frame behind him.
This time, however, it's far more difficult to do hype. For years people have wondered what'll happen when Mayo actually finally do win the All-Ireland for real.
Many have pictured a 'Last Days of Rome' type scenario, a carnival of euphoria akin to Woodstock or V-J Day in Times Square or a Sopot pub in 2012 after John Delaney has just walked in.
An unprecedented rolling orgy of celebration and hysteria that carries on well into the middle of the subsequent year's championship. Popular mythology always had it that Mayo would be doing well to field at all the year after winning the big one, though this hypothesis probably doesn't chime with the mindset of current era inter-county footballers.
On the Monday, David Brady would take a call from Drivetime, saying "you know, it's like we don't how to celebrate down here, everyone is just taking it easy but enjoying that quiet sense of satisfaction" while in the background, an inebriated fan strips on the roof of the team bus as it crawls at the pace of coastal erosion through a sea of drunken revellers on the main street in Charlestown.
None of this can occur next week, in the event that the unthinkable happens.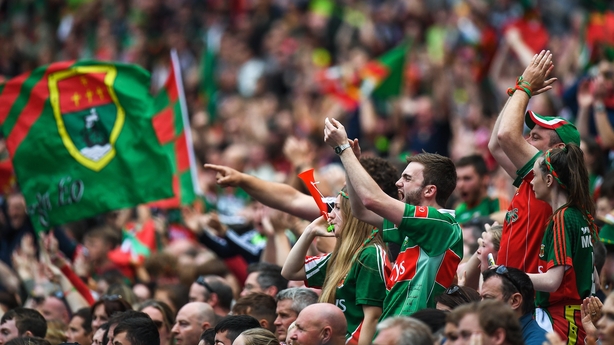 Maybe it's this realisation that gives 2020 a more relaxed vibe than your average Mayo All-Ireland appearance.
It could change closer to throw-in but the Desperation Index doesn't seem to be clocking the same numbers it did in 2013 or 2016. They won't be free to celebrate this properly even if they do win it.
If Mayo do lose this All-Ireland final, as is widely anticipated, then it will be their tenth All-Ireland final loss since 1989. TENTH! It's the kind of finals record that might make Jimmy White wince in sympathy.
The record has long been a source of hilarity and schadenfreude to their bitterest opponents, whether that be Roscommon lads inclined to boo Andy Moran or the younger Galway crop who have forgotten the spirit of geniality that attached to that rivalry in the Ja Fallon-Liam McHale era.
Even folk from the 'minnow counties' feel entitled to taunt Mayo about their final misfortune. As we know, you're far more open to bar-room slagging if you get to finals and keep losing them than if you never got within an ass's roar of them in the first place.
Then there's the Dubs too, for whom familiarity has indeed bred contempt. There's been plenty of contempt in recent years, most of it coming, strangely, from Dublin, the side which keeps winning the finals. (Even when they're playing in Omagh, Dublin fans are still thinking about Mayo.)
The official line is that Dublin fans didn't mind Mayo claiming their even share of Hill 16 from 2013 onwards but, anecdotally, we're told it's the chutzpah with which the Mayo boys muscled in that riled some Dubs. Concrete examples of obnoxiousness are fairly hard to come by on this one ('standing there on the Hill - in Mayo tops and everything!' is as much as I can remember hearing about this.)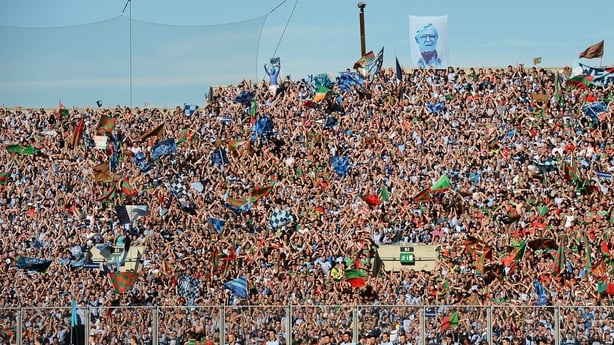 Elected reps are usually perfectly bland in their pronouncements on sporting matters but Sinn Fein TD Chris Andrews tried to start the ball rolling on the slag-a-thon by tweeting "Hopefully Mayo bottle another final on the 19th."
The truth of the matter is that this rhetoric feels a little dated at this stage.
The increasingly fatalistic narrative about Dublin's dominance is placing Mayo's final performances in a different, more favourable light.
The perception now is that they were doing well to get so close to Dublin all along.
In fact, it's become necessary for the anti-Dublin radicals to elevate Mayo to the status of a Hall of Fame team, and to see their various one-point defeats as a series of miraculous feats against the odds, like little Croatia getting to the World Cup final.
We need your consent to load this SoundCloud contentWe use SoundCloud to manage extra content that can set cookies on your device and collect data about your activity. Please review their details and accept them to load the content.Manage Preferences
Whether one agrees, the 'bottler' thing is certainly overdone at any rate.
As Kevin McStay noted this week in his stirring Irish Times article, Mayo weren't favourites for any of the nine All-Ireland finals they've lost since 1989.
Not clear favourites anyway. Kerry and Mayo were probably regarded as much of a muchness heading into the 1997 final, though this was based on the notion that Mayo would recover their form of the previous year. And the manner in which the team gutted Donegal in 2013 convinced some that day of deliverance would arrive that year.
For every other final, Mayo were clear underdogs in the lead-up (though we may have to concede that they were probably favourites with 20 minutes remaining in the '96 final - had betting-in-running websites been in operation at the time.)
Anyway, let us try and reverse out of this discussion. Too many pub conversations on Mayo football descend into exhaustive rankings of which loss was actually the toughest to take.
If they do lose, one imagines 2020 won't rank high.
After last year's 'end of an era' semi-final defeat, Mayo possibly didn't expect to be back in a final so soon. They've gotten an infusion of young talent and the future looks bright(ish) again. There will be no sleepy transitional period.
As James Horan told the poor reporters, standing in the bitter cold at the back of the lower Hogan after the semi-final, the young lads - Mullin, McLaughlin, Conroy - "don't give two continentals about the past" and he's promised a gung-ho, frenetic approach in the decider.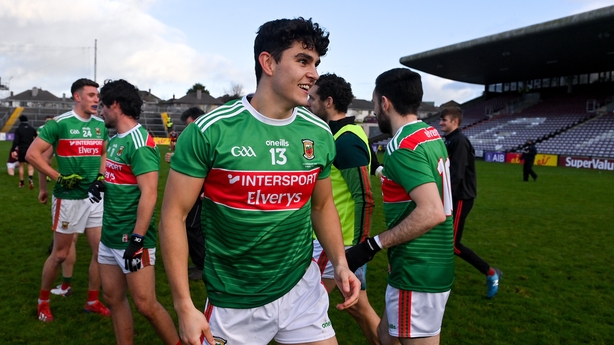 The 'quest for the holy grail' fan experience is one best designed to encourage fanaticism. Mayo are an extreme example of this phenomenon at play.
'Mayo4Sam-ism' feels like a public religion down there. I've met Mayo people who seems to use the phrase 'Mayo 4 Sam' as a standard farewell (usually said in a flat, default tone), no matter the time of the year or whether Mayo are still, in fact, in the championship.
It will be bitter-sweet and ironic if Mayo, famously the most devoted and fanatical fanbase in the country, finally win their All-Ireland with no supporters present.
But after 69 years, they'll take any All-Ireland. After all, the All-Ireland medals handed out this weekend won't contain an inscription detailing the size of the attendance at the final.
Watch the All-Ireland senior football final between Dublin and Mayo live on RTÉ2 from 3.40pm Saturday, listen to live commentary on RTÉ Radio 1 or follow our live blog on RTÉ Sport Online and the RTÉ News app. Highlights on The Saturday Game (9.55 pm RTÉ2).
Follow All-Ireland senior football final between Dublin and Cork with our live blog on RTÉ Sport Online and the RTÉ News app (from 3pm Sunday) or listen to live commentary on RTÉ Radio 1. Highlights on The Sunday Game (9.30 pm RTÉ2).