In the cold light of day, Cian Lynch is among a select crop of players who is in the privileged position to draw comparisons between different All-Ireland hurling title wins.
Having "got the monkey off the back" in 2018, Sunday's final victory over Waterford elicited different feelings of joy for the Limerick star as he and his team-mates got hold of the Liam MacCarthy Cup for the second time in three years.
"It's that dream you dream of as a child winning an All-Ireland and that dream never dies, especially for any young hurler or camogie player or any sport it may be," he told RTÉ's Game On.
"You always try and live your dream and at the moment, we're living our best dream and it's just great to be in this position. So we're forever grateful."
The context of a year when the championship itself was under threat from the Covid-19 pandemic is also weighing heavily on Lynch's mind.
"Absolutely delighted. It's surreal in the current climate. We're just absolutely grateful that we were able to get through the whole championship and come out on top yesterday. So it's an absolute honour," he said, before touching on how the post-final vibe has differed from their breakthrough triumph two years ago.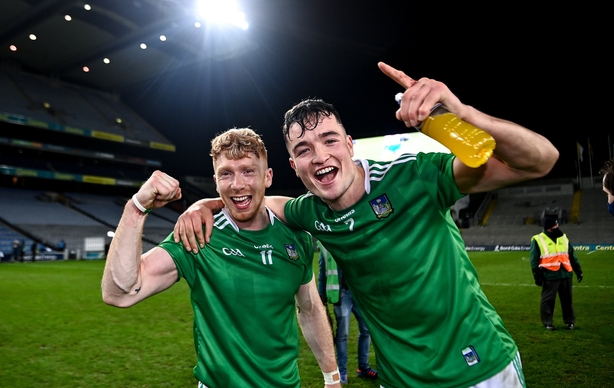 "It's a total contrast to 2018. After the All-Ireland 2018, you were going straight to the banquet, then coming back to Limerick on the Monday for a massive homecoming.
"Whereas now, we actually embrace each other, go home to our families and you take that extra time to appreciate what's after happening and appreciating what you've done for families that have had a tough year outside of Covid itself and indirectly affected by Covid, it's just been a long year.
"To be able to provide a bit of joy and a bit of happiness across the country is special and it's why GAA and sport in Ireland is huge."
In light of the pandemic, he added that it's important to remain "extra vigilant over the next few days and weeks" in regards to how to celebrate the triumph.
"Please God in the new year, when things clear up hopefully, we'll be able to enjoy it together, not only as a team and management but as Limerick city and Limerick county and come together and do it in an orderly fashion," he said.
"But at the moment, embrace each other in the safest way and we appreciate everything the Limerick people have done for us."
Lynch also paid tribute to his late uncle, explaining that he was on his mind during the final and that "it really opens your eyes and shows how much sport can put a smile on someone's face in a time where it might feel dark".