For Limerick fans raised on the heartbreak of the 90s and 2007 this must all seem like a mad, wonderful dream.
Back-to-back Munster and Allianz League titles. The chance of a second All-Ireland title in three years and a final that, for a change, they are hot favourites to win.
What has changed? A lot.
A long-term development strategy embarked upon in 2011 has yielded a steady stream of underage talent.
Manager John Kiely took over for 2017 and rebuilt a team that had peaked with a memorable All-Ireland semi-final defeat to Kilkenny three years previously.
The secondary school principal accelerated the introduction of players he had managed to U21 success in 2015 and was able to add more from the 2017 vintage like Aaron Gillane.
His vision was of a young mobile team that guarded possession carefully and outworked the opposition.
Speaking after Kilkenny ended his first championship campaign with a three-point qualifier defeat, Kiely bemoaned his side's wide count and said: "We created loads of chances and were possibly even too direct with the ball. We didn't play it through the lines a bit."
By the following year the players had got the message, and gained revenge over Kilkenny in the quarter-finals, reeled in Cork in the semis and held off a late charge from Galway to reach the promised land.
There may have been an element of fortune in the 2018 triumph but over the last two years, Limerick have set the standard in terms of athleticism and tactics.
In last year's semi-final, a slow start against Kilkenny - attributed by some to having had double their opponents' lead-in time of two weeks - cost them dearly.
Since then they have been remorseless, winning every game in 2020, even when not playing particularly well.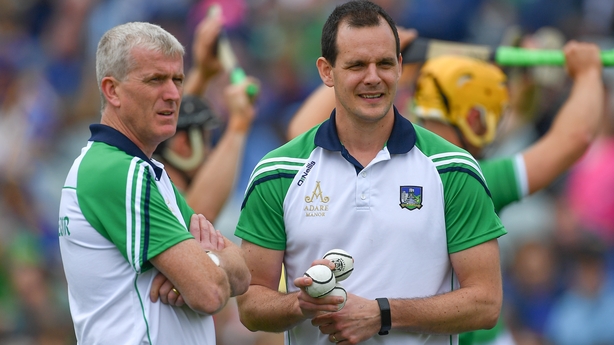 If Kiely has brought the leadership, motivation and overarching philosophy then the man in charge of the details - like how to negate opposition sweepers - has been head coach Paul Kinnerk, who Kiely brought on board from the start.
The PE and Maths teacher was just 23 and injured when his Shannon teaching colleague Seán Stack asked him to help out with the Sixmilebridge U21 hurlers in 2009.
Sixmilebridge were surprise county champions and the following year Kinnerk came on board with the Clare minors, who won Munster and reached the All-Ireland final.
Meanwhile, he was embarking on a relatively brief inter-county football career with Limerick, whose manager Maurice Horan gave him time to pursue his coaching ambitions.
Kinnerk was part of the management team that led Clare to three U21 crowns in a row between 2012 and 14, and coach to Davy Fitzgerald's All-Ireland champions in 2013.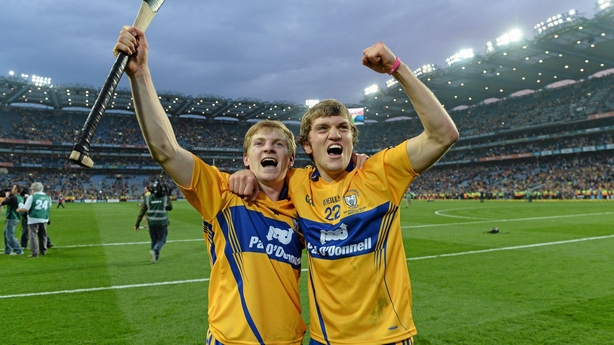 Podge Collins came under the Monaleen man's tutelage at school in St Caimin's and at all three levels for the Banner.
"From when he got his hands on us as 17-year-olds he was very important to all of Clare's success through that era," Collins tells RTÉ Sport.
"I don't think anyone could question that he was a contributing factor at minor, U21 or senior.
"One thing I find Paul does very well is manage the player-coach relationship. He has a way of having complete authority when he's on the field and talking to the team and then can still have a good relationship with players off the field. He has a good way with people.
"That helps him as a coach but it's more that he has such a good understanding of what he's trying to explain to players.
"He sets out his principles, gives you a good understanding of what he wants you to do and gets you to follow him. Players can buy into it very easily."
"It's the way coaching is going for the future of sport in Ireland"
Kinnerk is a passionate believer in 'game-based coaching' over drills in isolation, so much so that he completed a PHD on the subject this year.
"He incorporates game situations into your training, and repeats them over and over as to how you want to deal with the situation," explains Collins, who expects that Kinnerk has further refined his methods since his last season with Clare in 2016.
"He applies coaching points as to how he wants the players to play out situations, narrowing the field into different sections, creating situations for players quickly and continuously and putting them into pressure.
"You might have a 3 on 1 or a 3 on 2 and you're trying to play the ball out to a delivery zone or a scoring zone. You might be in a small box, 4 on 3 or 5 on 3 and you have to move the ball to a certain position.
"They might only happen in a game a couple of times but it's getting you used to those high-pressure intense environments, that no situation is unfamiliar to you and you'll be a bit more comfortable and make the right decision.
"At training it's very easy to talk to a player about what the coaching and management staff want him to do.
"He's studying this constantly. It's the way coaching is going for the future of sport in Ireland."
We need your consent to load this YouTube contentWe use YouTube to manage extra content that can set cookies on your device and collect data about your activity. Please review their details and accept them to load the content.Manage Preferences
Paul Browne, one of the survivors of the 2014 'defeat in the downpour' to Kilkenny, who retired last year, told RTÉ Sport earlier this year of his experience of Kinnerk's sessions.
"His trainings are incredible," he said. "The way they're laid out, the way one drill flows into the next drill, the way every night has a meaning and a purpose to what you're trying to do.
"Every time you're in a drill, if you don't see it he'll explain it to you, but most of the time you know why you're doing it.
"We would have done a lot of what Paul calls 'applied skills under pressure', and Paul would always be of the mantra that he'll put you under so much pressure in training that you will never see it in a match."
Former Limerick captain Donal O'Grady only hung up his hurl at the end of 2015 but was shocked at how rapidly the team's methods have evolved since his time as a player.
O'Grady now knows why Brian Geary, who he replaced as selector his year, warned him to "come to training full of energy".
"It's been a big learning curve for me coming into this set-up," says O'Grady. "Being a selector or a coach or whatever you want to say with Limerick now is fully hands-on with the drills and constantly scrutinising players and trying to push them and I'm finding it very enjoyable.
"They're probably into year four of their development. Just to see their physique and the speed they move at and whole set-up at training and everything, it took me a couple of weeks to get used to it.
"The whole scientific approach to training now has gone to another level as well. All that is incorporated into Paul Kinnerk's methods with training. It's just all a totally new level for me, looking in anyway, and obviously other counties are at that level as well."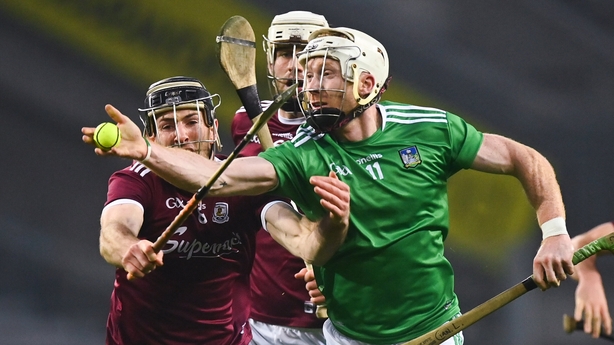 Collins, a dual player with Clare when such a thing was permitted and a footballer this year, doesn't think football has overly influenced Kinnerk's approach to hurling but he certainly see his former coach's imprint on how Limerick play.
"Having a good understanding of both sports may have helped him with his coaching but I don't think his hurling coaching was overly influenced by his football background with Limerick," he says.
"Davy Fitz has no football background and he has Wexford carrying the ball up the field.
"They seem to be having a lot of success but there's no questioning the talent of the Limerick players and there's a great management team around him.
"John Kiely, Alan Cunningham, Aonghus O'Brien, Joe O'Connor, Mikey Kiely, they have some great people involved.
"I think they probably have a good team around him as well but I do see his stamp on the team.
"Paul is the type of the coach that would try and adapt his game plan to the certain players he has on the field.
"They play to a certain way that suits them and he plays a massive factor in that design of play."
Even before returning from over the Shannon, Kinnerk had helped to establish the Limerick football academy and is also involved with its hurling equivalent.
Speaking after the All-Ireland win in 2018, he suggested that his interests lay more in long-term development and coaching than being a senior manager, who he compared to a CEO in terms of responsibility: "They're managing the equivalent of a small business. They're managing a big group of people and then there's a different layer and another different layer and it's relentless.
"They have so much to deal with these days that if I was ever to go into management I'd have to sacrifice the coaching side of things and that would be something I wouldn't be prepared to do."
For now, at least, he is happier to be the general to field marshal Kiely, who he describes as having "all the traits you want to see in terms of the leadership qualities he brings, the organisational qualities".
With both men on the sideline, Limerick are a formidable force. They could be so for many years yet.
Watch the All-Ireland senior hurling final between Limerick and Waterford and the Joe McDonagh Cup final between Antrim and Kerry live on RTÉ2 from 12.30pm Sunday, listen to live commentary on RTÉ Radio 1 or follow our live blog on RTÉ Sport Online and the RTÉ News app. Highlights on The Sunday Game (9.30pm RTÉ2)