Are there are any true dual counties anymore? Where football and hurling have equal esteem?
Galway might have the best claim but, with a few notable exceptions, players there tend to concentrate on one or the other depending on geography.
Both codes have had close to equal appeal in Cork at certain times. Jimmy Barry-Murphy, Ray Cummins and Brian Murphy won All-Stars with both sizes of leather in the 70s but since players have had to make a choice, they have tended to go with hurling, as Aidan Walsh and Eoin Cadogan did in recent years.
The Dublin hurlers would surely have reached an All-Ireland final by now if they had had the likes of Diarmuid Connolly and Con O'Callaghan on board, while Podge Collins lining out with Clare is a rare example of a high-profile player choosing football over hurling in the Banner county.
This year's Munster SFC champions Tipperary are certainly regarded as a hurling stronghold - they are third in the roll of honour with 28 All-Ireland titles - though it might surprise you to learn that the Premier County's success in football is not unprecedented, but rather the spring following an extended hibernation.
The first president of the GAA was Maurice Davin from Carrick-on-Suir, an internationally renowned athlete who wrote the first set of Gaelic Football rules for the Association in 1885 - off-the-ball wrestling was only [officially at least] prohibited the following year.
Tipperary won three of the early All-Ireland football finals, in 1889, 1895 and 1900. A fourth title followed in 1922 – actually the 1920 final, delayed by the War of Independence – but they haven't reached the decider since.
The Premier County did win Munster again in 1922 and 1935, breaking a seven-game losing streak to Kerry, but until last month's triumph over Cork, there had been only seven provincial final appearances in the intervening 85 years, all ending in defeat.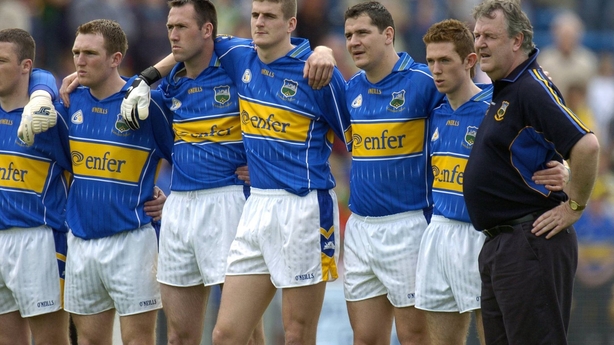 Former International Rules selector Séamus McCarthy played football with Tipperary in the late 70s and early 80s and has managed the county at all levels.
The Galtee Rovers man had two spells in charge of the senior side, including leading them to Tommy Murphy Cup success in 2006 when two-time All-Star Declan Browne was captain.
"It was fantastic. To win after that many years, you often wonder, was it going to happen," McCarthy admits of the long-awaited Munster title.
"But this is a special group of players. They have won a minor All-Ireland and got to an under 21 All-Ireland so the chances were they could actually make that breakthrough.
"We've had a few near misses. Trying to take out Cork and Kerry is nearly impossible for anybody, let alone for one of the weaker ones."
Of the second-tier competition, returning next year rebranded as the Tailteann Cup, McCarthy says: "All those things are building blocks along a road.
"It was great at the time, we enjoyed it, and it also gave a profile for the next generation."
Current Tipperary manager David Power is also the man who led the county to that surprise minor triumph in 2011 when they beat a Dublin side featuring future senior stars like John Small, Jack McCaffrey, Cormac Costello, Paul Mannion and Ciaran Kilkenny.
He took over after 2019 from Kerry native Liam Kearns, who admits to having "mixed emotions" watching the group he led for four years finally get over the line in the province.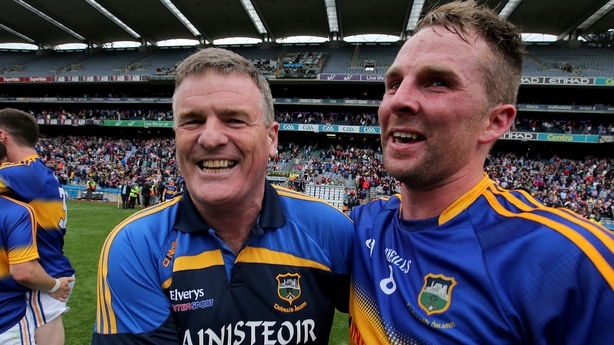 "I felt the dream of winning a Munster title was fading maybe and we had become static rather than progressing," Kearns says of his decision to step down last year, also citing the then travel plans of key men. 
"But when you make decisions you don't know what's going to happen. Nobody foresaw a pandemic coming and Micheal Quinlivan and Liam Casey returning to play. And then Colin O'Riordan was the icing on the cake.
"When the draw came out it was very favourable in terms of avoiding Kerry or Cork (before the final) for the first time in 11 years.
"In the strangest year that has ever been, it was Tipperary's time. The stars aligned."
Kearns recalls the shock of losing some big-name players ahead of his maiden campaign in 2016 - which nevertheless in resulted a first ever All-Ireland quarter-final appearance, and victory over Connacht champions Galway.
"When I arrived in I thought I had a load of underage stars from the teams that had gone so well in previous years but Seamus Kennedy and Steven O'Brien went to the hurling and were massive losses.
"Colin O'Riordan went to Australia just as I went in. A couple of older fellas were so disappointed that we were losing the young players that they pulled the plug as well.
"At the end of the league in 2016 we lost another four or five and had the bare bones, and yet we went all the way to an All-Ireland semi-final.
"We did progress but it was very disappointing we didn't get back to a Munster final. They did it this year and thank God. The players have a Munster medal now and they so deserve it."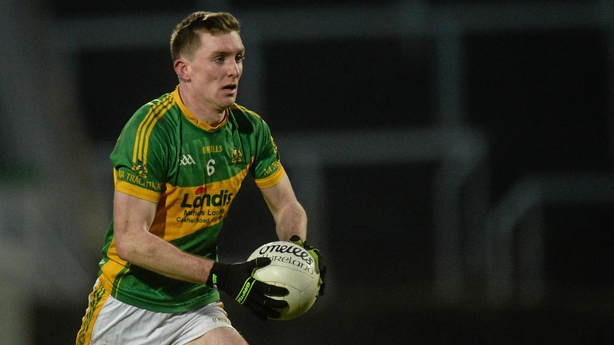 Speaking before winning last year's All-Ireland hurling final, Kennedy, from the football heartland of South Tipperary, gave some insight into where priorities lie among players in the county.
"As soon as I got the call to see if I wanted to come or asked to be part of the Tipp hurling panel, it was a no- brainer for me," said the 2015 Munster club football champion.
"Being from Clonmel I probably played far more football than I have hurling growing up,
"Even though I grew up in Clonmel, playing with Commercials we were very successful, the only thing I wanted to do was playing hurling for Tipperary.
"Would I have liked to be playing the football? Absolutely if it was possible to do both but I just don't think it is."
Kennedy played for the footballers in 2015 before switching codes and is among many in recent years to have tried their hands at both county panels but sticking with hurling if they are successful there.
John McGrath started the 2011 minor football final triumph and was a sub in the U21 defeat to Tyrone in 2015 before making his name as part of the hurlers' march to glory in 2016.
Steven O'Brien and Bill Maher were likewise veterans of 2011 and '15 who spent time on the hurling panel before switching back.
This year, John Meagher is particularly unfortunate. Like his clubmate McGrath, he lost both the Tipp senior football and hurling finals with Loughmore-Castleiney, and last year's football full-back played just 20 championship minutes for the hurlers as their title defence ended at the quarter-final stage.
"Tipperary are a hurling county and I don't think that will ever change"
Kearns, now managing Roscommon club Clann na nGael, is pragmatic about hurling's primacy in the county but believes that the the current crop's achievements have re-established respect for football in Tipp.
"Tipperary are a hurling county and I don't think that will ever change," he says. "The tradition is there and hurling is always going to be number one.
"But I think the football is now a solid number two, whereas prior to 2016 I would say it was considered a very poor relation.
"There are counties with huge football traditions that haven't been in semi-finals in decades.
"This team have gone to an All-Ireland semi-final twice in five years, from Division 3, in a hurling county.
"In my opinion that is a phenomenal achievement. If they were in any other county they'd be feted."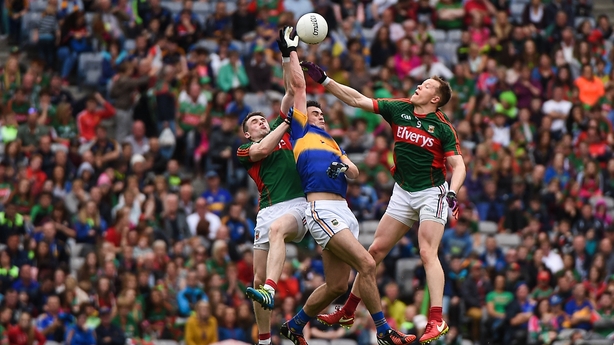 In their first league game after 2016's last-four defeat to Mayo, the Tipp footballers attracted 722 paying spectators to Semple Stadium to watch them face Antrim. The All-Ireland champion hurlers had ten times as many (7,254) for their opening home match against Clare.
That illustrates the disparity in the teams' followings and abilities to generate resources but Kearns insists the authorities in Tipperary were always supportive.
"We wouldn't be the same but we were treated well by the county board, I wouldn't have any problems," he says. "Everything I asked for we got.
"But there is a hurling supporters club there that pumps €100,000 into the hurlers every year. There would be a small amount going into the football from the Friends of Tipperary football.
"In hurling counties, the main resources go into the hurling. That's the reality."
Tipperary have forced extra time against Limerick after this superb free from Conor Sweeney deep into added time.

Watch all the weekend's action on The Sunday Game @rte2 from 9.30pm #rtegaa pic.twitter.com/5Bk3CYJ8WT

— The Sunday Game (@TheSundayGame) November 7, 2020
McCarthy believes that football is now holding its own in Tipperary, with a core of former college players and stars like Conor Sweeney and Michael Quinlivan who would make any panel in the country.
"I have no hang-ups about the football-hurling thing," he says. "I'm on the side of the fence that says play every game.
"There are a lot of good footballers in Tipp and a lot of good footballing clubs. We should be able to be competitive.
"For the first time in years we have a lot of Sigerson footballers playing for us. They are rubbing the shoulders with the very best. Conor Sweeney (2013 finalist), Michael Quinlivan (2014 winner) and Jack Kennedy (2019 winner) played for UCC, Steven O'Brien (DCU, 2015) and Liam Casey (UCD, 2018) won it.
"They are all top-class fellas so there's no reason for us to feel inferior to any of the big teams now.
"I do think the hearts and minds will fall in behind the footballers now. People are quite willing to support you but you've got to give them something to support as well.
"This team will garner a lot of support. A majority of the supporters might love to see Tipp hurlers winning but I feel there is a degree of esteem there now for both teams."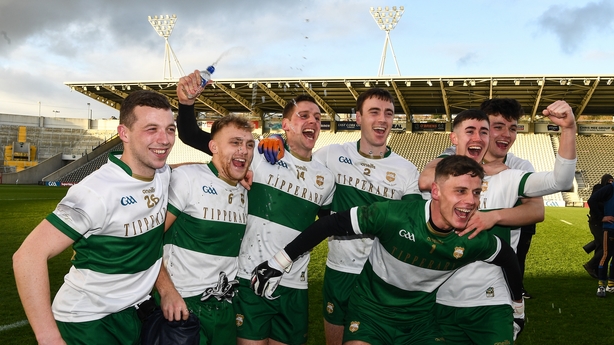 Mayo ended the fairytale journey in the 2016 semi-final, needing a late goal to put Tipperary away, and they are the opposition again on Sunday.
The semi-final pairings are exactly the same as in 1920 when Tipperary won through to a decider with Dublin, their most recent All-Ireland appearance. What are the odds of a repeat final a century on?
"Tipperary will have no fear of Mayo and they enjoy Croke Park," is Kearns' verdict. "They're in a nice position here where they are underdogs again.
"Last time they were in Croke Park we beat Galway and gave a great account of ourselves in the semi-final.
"We've been keeping the best of company over the last four years. They are a very experienced team at this stage and it will stand to them.
"They have secured their legacy now, winning that Munster title. It's a bonus territory now but at the same time it's a glorious opportunity.
"I'll be rooting for the boys and I hope they pull it off."
Watch Dublin v Cavan (Saturday 5.30pm) and Mayo v Tipperary (Sunday 3.30pm)  live on RTÉ2, listen to live commentary on RTÉ Radio 1 and get live blogs, reports and reaction on RTÉ Sport Online and the RTÉ News app. Highlights on The Sunday Game, 9.30pm RTÉ2