Donegal have sights on the big prize
31 August 2014. That date will evoke happy memories for all Donegal fans as Jim McGuinness' side left Dublin bewildered in the All-Ireland semi-final. The Dubs have not lost a championship match since. We could see another semi-final pairing involving the counties on 5 December, with both favoured to win their provincial titles next weekend.
Donegal have met Dublin a few times in championship since that August day from six year ago, but have been kept at arm's length in their quest to cause more upsets. This year, Declan Bonner's side look well equipped to go toe-to-toe with any opposition that stands before them at Croke Park.
Michael Langan pointed within seconds of the start against Armagh in the Ulster semi-final. Donegal were on a firm footing right from the off, knowing that Orchardmen could have presented a banana skin to derail their ambitions.
Not to be.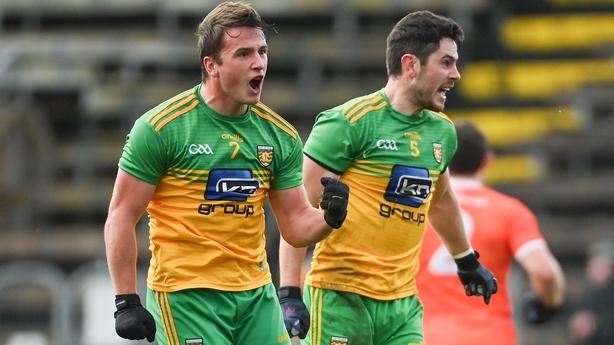 Donegal reeled off eight points on the spin in an opening half where their ball-carrying ability, workrate and physicality was just too much for McGeeney's men. Michael Murphy set up Peadar Mogan for the game's only goal - the latter surging forward from his half-back position to send a bullet past the Armagh keeper. 
In total, Donegal has 13 different scorers on view. Paddy McBrearty caught the eye when introduced for the final 20 minutes, as did Oisin Gallen. All told, an excellent day at the office for the reigning Ulster champions, in spite of injuries to Stephen McMenamin and Hugh McFadden.
Declan Bonner was happy afterwards, though in keeping a lid on things, he told RTÉ Sport: "There's definitely room for improvement and we'll go back and analyse."
No doubt, Bonner's side were like a coiled spring ready to propel at the sight of Armagh jerseys at Breffni. They did so with telling effect. Cavan are next in the firing line. No disrespect to Mickey Graham's side, but thoughts of the wide, open expanses at Croker most now be foremost in the Donegal minds. They won't mention that but that day is coming soon.
As for Armagh, wounds will be licked. "For the first time this year, I thought we were very, very timid, very meek, didn't have a go at them. Standing still, soloing the ball. Really disappointing stuff". The words of Kieran McGeeney to the assembled press afterwards.
Life in Division 1 next spring should leave Armagh better prepared for dealing with future onslaughts.
Three-week break comes at right time for Mayo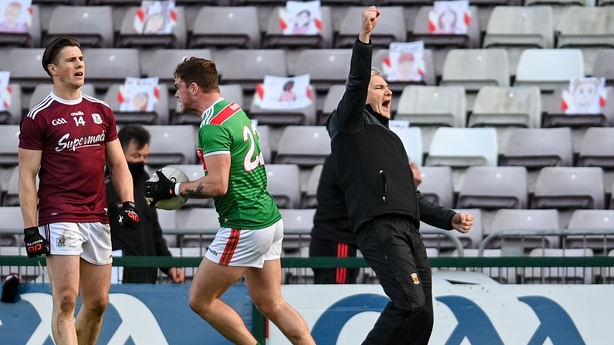 History has taught us that there is often a world of difference between provincial combat and what unfolds at Croker when the All-Ireland series gets sorted out.
Cast your mind back to 2012 when Mayo won a scrappy Connacht decider against Sligo. They were much improved when accounting for Down and Dublin at Croker en route to reaching a Sam Maguire showdown. They didn't nail the big prize - but they were competitive on the big stage.
On the evidence of their Connacht final win over Galway, this year's Mayo are a bit behind Dublin and Donegal in the race for Sam, but we'll wait to see what shape they're in when they hit the Croke Park sod on 6 December. With Kerry out of the equation, they'll fancy themselves against Munster's best. In what is a condensed championship, Mayo must be delighted that they have three weeks to find another gear. 
They have things to work on. Against Roscommon and Galway, they could have put the game to bed inside the first 20 minutes if they were more accurate in front of the posts. The Tribesmen dominated affairs around the middle during the opening half at Salthill.
👀 "In a mad year, wouldn't it be like Mayo to take Sam at Christmas?" #RTEGAA #GAA pic.twitter.com/6pTJlIasGJ

— The Sunday Game (@TheSundayGame) November 15, 2020
With Aidan O'Shea picked to start on the edge of the square, it wasn't long before he moved out the field. Where is his best position? If Mayo do reach an All-Ireland final, surely a more fluid Mayo attack will result in having O'Shea in around the house.
One big plus for the performance of Eoghan McLaughlin. Rampaging through the heart of the Galway defence, he teed up sub Bryan Walsh for a fisted point, while earlier bringing the best out of Bernard Power in the Tribesmen goal. Overall, Mayo's new guns in the shape of Oisín Mullin, Tommy Conroy Matthew Ruane, Bryan Walsh continue to impress.
Positives then for the Connacht champions who held on to win by a point, but in truth were a few points more better off than their neighbours.  
Too many unforced errors cost Galway badly on a day when a certain rustiness was apparent from the off. The fact that they could have forced extra-time if a couple of Shane Walsh frees from the sideline had gone over speaks volumes for their character. 
Pádraic Joyce questioned a few of the refereeing decisions, but was more irked by some of the handling that led to Mayo scores. You suspect that 2021 can't come soon enough for Joyce and his team as they seek to make amends for a frustrating end to this year.  
Breffni rise from the ashes again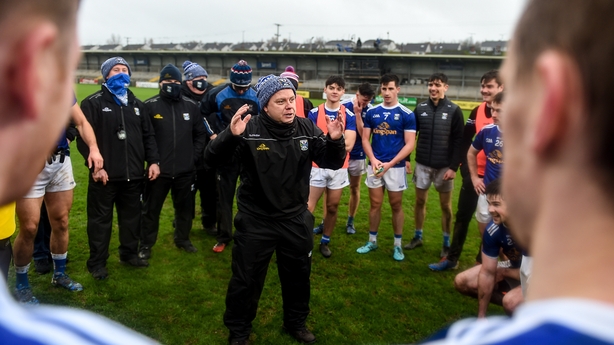 Relegation from Division 3 of the league is perhaps a distant memory now as Cavan prepare for a consecutive Ulster final appearance. As they did in previous games, and in particular the preliminary round win over Monaghan, Mickey Graham's side again had to stir themselves in the second-half to get past Down in the semi-final at the Athletic Grounds. 
Jerome Johnston, Caolan Mooney and Daniel Guinness were Cavan's tormentors-in-chief from the off as Down built up an eight-point lead at the break.
Whatever was in the Cavan tea during the half-time discussion worked a treat. A penalty converted by Marty Reilly and Conor Madden's introduction to their attack was key to Cavan's surge as Down lost their way.  
A Thomas Galligan point had the Breffni level on the hour. Further points from Galligan, Killian Clarke and Gearoid McKiernan gave them a cushion that they would protect to the final whistle. 
And so Cavan must now prepare for a sixth game in as many weeks when they take on Donegal next Sunday. Quite simply, they have to buck the trend. They must come out of the traps to keeps things competitive, and that's no easy task.
Looking ahead, Mickey Graham is only too well aware what an early slumber would mean when he spoke to RTÉ Sport.
"We leave ourselves a mountain to climb in the second half of matches, and today was no different," he said, "but you are not going to get away with that against the machine of Donegal.
"If we let them do that they will put us to the sword, so we have a lot of work to do."
Goal machine Meath where they want to be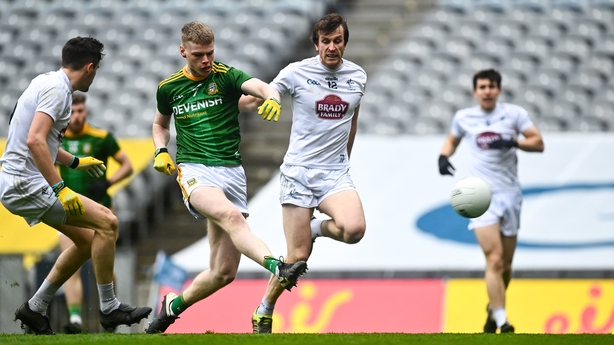 And so Meath have rattled in 12 goals in consecutive games to set themselves up for a crack at Dublin in the Leinster final. Not a feat you would think that was achieved too often in championship football.
Trailing by six points at half-time, and with just four points on the board, the Royals looked on the verge of a disappointing championship exit against Kildare in the Leinster semi.
On the resumption, the goals flowed, five in all, from Mathew Costello, Jordan Morris Cillian O'Sullivan Joey Wallace and Jason Scully. The Lilies were slack in the concession for two of those green flags, but in the end they can have no complaints in going down by nine points.
Meath's relegation from Division 1 of the league did have a few bright moments. They are a side going in the right direction and are the best of the rest in Leinster. They won't fear Dublin next Saturday evening and are well capable of producing more than respectability.
Harte of the matter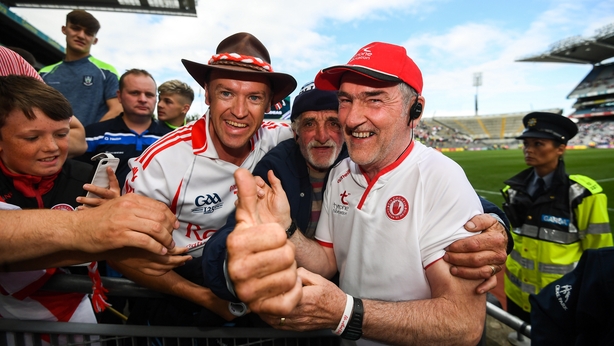 The championship weekend began with Mickey Harte's announcement that he was stepping down as Tyrone manager after 18 years. Much has been written and said on Harte's contribution over the years. 
Seán Cavanagh has All-Ireland. Allianz League and Ulster medals to his name, all won under the stewardship of Harte. Yet, Cavanagh did reference other medals in his cabinet that were won when speaking on The Sunday Game.
"I have to be very thankful for the good days, through the 2000s we had three All-Irelands, we had a National League title.
"I was lucky enough and honoured to captain a side more recently to a couple of Ulster [titles]. 
"Mickey is and has always been a serial winner and he imposed that on ourselves. He demanded the best of us no matter when and what we were playing - I think I have 10 McKenna Cup medals whether I like them or not."