Dublin manager Dessie Farrell is looking forward to the challenge of taking on old foes Meath in next weekend's Leinster SFC final.
The Dubs demolished Laois on Sunday afternoon and, after a slow start, went on to win by 22 points at Croke Park.
A good defensive structure from Laois, as well as some brilliant shot-stopping by goalkeeper Niall Corbet, left just the bare minimum between the sides at the first-half water break.
But a goal for Sean Bugler after 25 minutes gave the defending champions the shot in the arm they needed to disappear into the distance.
"We're obviously happy with the result and look forward to the Leinster final now," he said afterwards.
"All we can do is take each game on its merits, and we have to prepare accordingly. You never know when there's going to be a banana skin presented to you.
"So we've to be diligent about getting ourselves right and just take every game as it comes.
"We wouldn't be happy with what we were doing in the first quarter - turning over a lot of balls and (we) just didn't come out of the traps the way we would have liked.
"So that's definitely something for us to look at."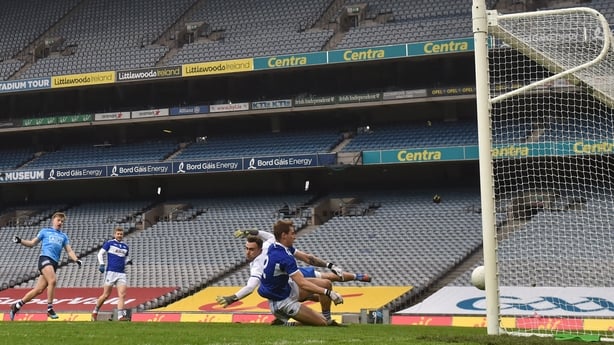 It's the old enemy Meath in the decider for the fifth time in the last 10 finals. But you have to go back to 2001 for the Royals' last win in a Leinster final over the Metropolitans.
They have hit 12 goals in their two championship games so far, including five against Kildare in the earlier game on Jones' Road.
And Farrell admits it's something they'll have to look at ahead of the game
"Very fondly," is he how describes his memories of the Dublin - Meath clashes he was involved in as a player.
"Meath, we didn't get to see any of it. They've been performing really well of late. We played them in the league a couple of weeks ago in Parnell Park and they will probably feel hard done by that they didn't come away from that game with something.
"They're in a good place, and have racked up some really good scores. And in this game, scoring goals at the rate they're scoring definitely warrants attention, that's for sure.
"So we'll be under no illusions as to what lies in wait for us next weekend."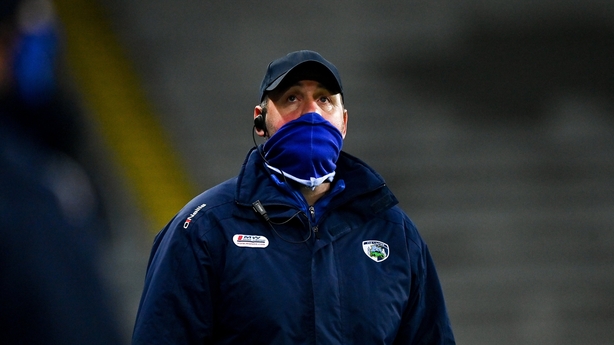 Laois manager Mike Quirke said it was a wake-up call for his players, seeing the standard they will need to get to in order to compete at the highest level.
The O'Moore Men held their own in Division 2 of the Allianz League this year, before coming back to beat Longford in the provincial quarter-final last weekend.
The Kerryman highlights some missed earlier opportunities that needed to go in for them to stick with the Dubs, but concedes that the Boys in Blue are simply at a different level.
"Given the way we played in the first quarter we were unlucky not to be leading the game (at the water break)," he said.
"We had a goal chance, and other opportunities that we didn't take. We had close to the same amount of shots as they did in the first-half, and we went in eight points down.
"It's incredible, and it's testament to the amount of work they've done to be that accurate in attack. We did really well with our kickouts in the first half, we forced a lot of turnovers.
"We were really pleased with most aspects, bar the scoreboard.
"You can see how far ahead of us they are in terms of their physicality, and in their game play, and in terms of how they offensively move the ball.
"They're after winning five All-Irelands in a row and we're happy to have stayed in Division 2. We're trying to build a team that competes at this level, and obviously they're the pick of the bunch.
"We could have put 15 men behind the ball, and tried to keep it to 10 points, but we wanted to have a bit of a go, but it probably didn't manifest itself in the way that we would have liked."