Cork's win yesterday has given this year's All-Ireland football championship a shot in the arm.
In a year when Covid-19 looked like it might prevent the championship from taking place, Mark Keane's late, late goal left Kerry no time to turn things around at Páirc Uí Chaoimh.
Oisin McConville told RTÉ's Morning Ireland that it has opened up one side of the draw completely - surely it's Mayo's All-Ireland to lose now?!
It got us thinking though, what have the biggest surprises of the 21st century been in football, so far?
2002, Dublin 2-11 Meath 0-10, Leinster SFC semi-final
Believe it or not, there was a time when Dublin didn't win the Leinster SFC every year.
In fact, after 1995, when they beat Meath in the final by 10 points, the Blues would fail to lift the Delaney Cup in the next six campaigns.
The introduction of the backdoor, and a 2001 All-Ireland quarter-final against Kerry suggested that perhaps the Dubs were heading in the right direction. But those two epic games in Thurles weren't enough to save Tommy Carr's job.
He was replaced by Tommy Lyons, the man who had led Kilmacud Crokes to All-Ireland glory on St Patrick's Day 1995, the first time a side from the capital had claimed the title in 19 years.
An indifferent league campaign was followed by a victory over Wexford which left few people expecting much from the Metropolitans.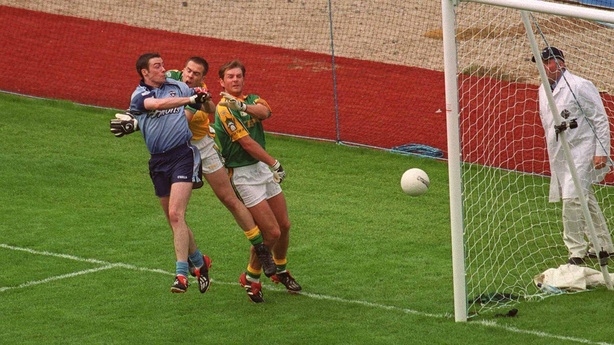 They were set to face a Meath team managed by Sean Boylan. While it had been three years since their last All-Ireland title, they had annihilated Kerry, the team who beat Dublin, in the previous year's semi-final.
They were on the way back down the mountain, but few expected them to be caught out by Dublin for the first time in seven years.
But the Dubs burst out of the blocks, and never really looked back. Ray Cosgrove, who would be named the player of the year after hitting 6-23 that summer, scored two goals and Meath simply couldn't live with Lyons' cubs, despite a strong third quarter.
To some extent, the result, combined with the loss to Galway the previous September, was the end of a great era for Meath who've only won one Leinster title, and appeared in one All-Ireland semi-final, since.
2003, Laois 0-16 Dublin 0-14, Leinster SFC semi-final
That provincial victory the previous year ultimately ended in an All-Ireland semi-final defeat to Armagh, with Ray Cosgrove's late free against Armagh coming back agonisingly off the post.
The feeling was though that the Dubs were building a head of steam, and that they could reach the promised land. Manager Tommy Lyons said when he was appointed that, "Dublin needs the GAA, and the GAA needs Dublin."
It fed into a sort of "us against them" mentality, and the hype machine was in overdrive in the capital.
Laois though had appointed perhaps the greatest manager of them all in Mick O'Dwyer, and he was the man charged with bringing on a group of players who had brought the county to three All-Ireland minor finals in a row in the late 90s, two of which they won.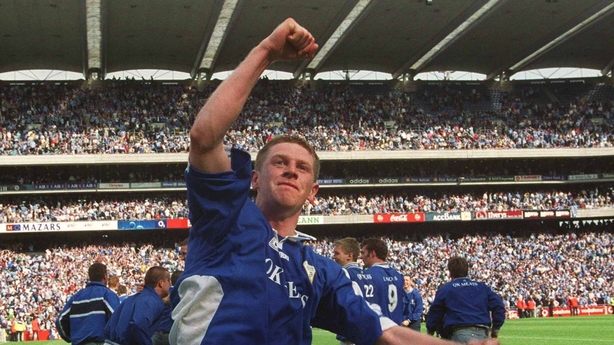 They had showed some potential earlier in the year, reaching the National Football League final with a victory against All-Ireland champions Armagh in the semi-final.
But their poor showing in the final against Tyrone had taken some of the wind out of their sails, or so the pundits thought.
That Laois team though oozed class. A pre-leg break Brian 'Beano' McDonald, Damien Delaney, Ian Fitzgerald, Tom Kelly, Fergal Byron between the sticks, amongst many more, as well as some fella called Ross Munnelly (does anyone know what became of him?).
Laois led by two at the break, and a prophetic Colm Parkinson told RTÉ Sport's Eithne O'Brien that, "I think we're a better footballing team.
"Dublin are hyped up by the media. We knew coming up here that if we rattled them, that they'd be over-confident, that we'd be able to get a run on them. That's the way it's going.
"So hopefully in the second-half we'll be able to drive it home, and I can't see us losing from this point, to be honest with you."
And that they did, pulling five clear by the hour mark as the Dubs' wides pilled up. Laois saw it out and would go on to claim a first Leinster title in 57 years, beating Kildare in the final.
Can the class of 2020 repeat the trick on Sunday?
2007, Sligo 1-10 Galway 0-12, Connacht SFC final
By the time Sligo reached the Connacht final in 2007, five years had passed since their last run to the decider, and their journey to the All-Ireland quarter-final, when they took eventual winners Armagh to a replay.
Even in 2007's Connacht semi-final against Roscommon, the Yeats County looked to be in big trouble when goals from Karol Mannion and Cathal Cregg either side of half-time pushed the Rossies six clear.
Sligo found something that day though at The Hyde, restricting the hosts to a single point for the rest of the game while hitting 0-09 more themselves.
They were into a final, but with Galway waiting for them, they were certainly the underdogs. In fact, in their previous two Connacht successes, they had beaten Mayo in the final.
Sligo simply didn't beat the Tribesmen in Connacht finals, having lost deciders in 1922, 1954, 1956, 1965, 1971, and 2002. The role for them on the day was to turn up and collect their runners-up medals.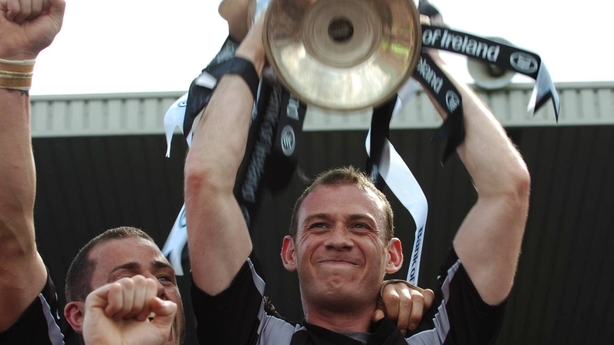 But they hadn't read the script, and they burst out of the blocks to move two points clear in the opening few minutes.
Galway responded well to take the lead in the tenth minute, and they moved three points clear. But Sligo battled, and Eamonn O'Hara's 24th minute goal put them two clear at the break.
They would score just one point in the last 20 minutes of play, but it was all they needed as an effort deep into stoppage time by Ja Fallon drifted wide of the left post.
Sligo had a first title since 1975, and just a third overall.
The team lost their next game, an All-Ireland quarter-final against Cork at Croke Park, and they haven't managed to claim the Nestor Cup since, despite three more appearances in the final.
2013, London 1-12 Sligo 0-14, Connacht SFC quarter-final
London first entered the Connacht Championship in 1975, but until 2013 they'd only won one game. That was a 1977 quarter-final against Leitrim, which led to a 16-point semi-final mauling against Galway.
That all changed in 2013, when they reached a first, and to date only, provincial final.
The result against Sligo wasn't totally out of the blue. The Exiles had beaten Fermanagh in a qualifier in 2011, their first championship win in 34 years.
Although they followed that up with a qualifier defeat to Waterford, one of just four championship victories the Déise have managed this century.
They then only managed one win in the entirety of 2012 Allianz League campaign (against Kilkenny, who haven't played a senior game since), and then lost to Leitrim and Antrim in their 2012 championship run.
The 2013 league brought another six defeats, with a solitary win against Waterford.
So not too much was expected of them when they welcomed Sligo to Ruislip in May of 2013.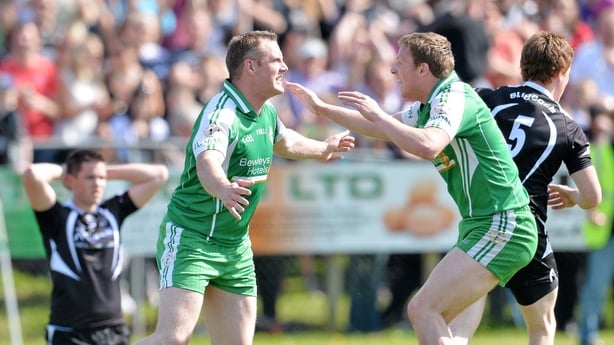 Right from the off though London took the game to their visitors.
A first-half Lorcan Mulvey goal helped them into a six-point lead and the gap was still four at the break after Pat Hughes was denied a goal for Sligo by the crossbar.
When London started the second-half like they had the first, and moved seven points clear, it looked like they might win the game comfortably.
But Kevin Walsh's side battled and gradually reeled the hosts in, to trail by the narrowest of margins in second-half stoppage time.
Mark Breheny and Hughes both had chances to draw Sligo level, but they just couldn't land the score, including the latter incredibly hitting the crossbar again. It wasn't meant to be for them, and 36 years of defeats in Connacht had come to an end for London.
Eamonn O'Hara, one of the heroes of 2007, didn't hold back when talking about Walsh's management style on that weekend's Sunday Game highlight programme.
"For me I think he lost the players throughout the year," he said.
"These players deserve an awful lot more to be quite honest. They've worked very, very hard. They've trained extremely hard, and I know that first-hand.
"They deserve better training sessions. They deserve better quality, in terms of their tactical awareness. That hasn't come.
"Kevin Walsh has a lot to answer for."
Sligo lost to Derry in the next game, a first round qualifier, and Walsh stepped down after five years in charge.
London were to create yet more history in the next game, as they beat Leitrim to book their place in the Connacht final. There though, they were brought back down to earth by Mayo, losing by 16 points.
They haven't won a championship game since.
2014, Donegal 3-14 Dublin 0-17, All-Ireland SFC semi-final
Maybe it's not right to call this one an upset - the All-Ireland winners of the previous two campaigns meeting in a semi-final.
But the bookies weren't giving Jim McGuinness' side much of a chance.
Dublin had won two of the previous three All-Irelands, the last four Leinster championships, and they were also Allianz League champions to boot.
Jim Gavin had never tasted championship defeat, and when the managers had faced off in a previous All-Ireland final, the 2010 under-21 final, a late penalty miss from Michael Murphy had helped Gavin's Blues to get over the line.
McGuinness had also tasted defeat at senior level against Dublin under Gavin's predecessor, Pat Gilroy. In a match that is best forgotten, Donegal had proved that they could negate the Boys in Blue's attacking threat.
Their problem in that 2011 All-Ireland semi-final was their total of just six points scored. Having gotten the defensive side of things right, could Jimmy fix his attack against the Dubs?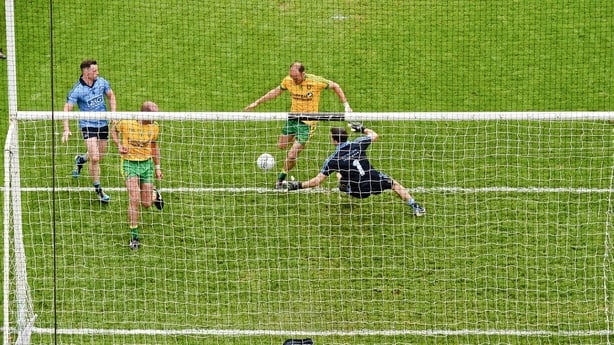 His side answered with aplomb that August afternoon.
The Dubs looked superlative in the early stages, cutting Donegal's defensive system to shreds with some exemplary long-range point taking, in particular from Paul Flynn and Diarmuid Connolly.
It looked as though the pre-match hype had been fully justified as the Blues moved five clear after 26 minutes. It might have been more, had Bernard Brogan or Connolly found the net with goal chances, but even so, gifs of Dublin's play were replacing entries for "swashbuckling" in online dictionaries the world over.
But the Dubs were open defensively, and Donegal were about to exploit it to the full extent. A Ryan McHugh goal on 33 minutes sent a shell-shocked Dublin in behind by a point at the break.
McHugh found the back of the net again just over three minutes after the restart, but Gavin wasn't for turning - his side were going to continue to play football in the style they were used to.
Colm McFadden had another three-pointer for the Tír Chonall men in the 47th minute, and it looked as though they would nearly score a goal with every attack, as McHugh went close to a hat-trick.
As the wheels came off, Dublin's shot selection began to falter and the hot favourites were goosed.
Jim McGuinness had managed to bring Donegal to another final, but it proved to be something of a pyrrhic victory, as they lost a poor decider to Kerry, and he stepped down that October.
Jim Gavin certainly took the lessons of the day on board, and Dublin never lost another championship game under his watch.
2020, Cork 1-12 Kerry 0-13 (AET), Munster SFC semi-final
And that brings us to the weekend just past, and Cork's smash and grab against Kerry.
No one on Leeside would ever say they were surprised to get one over on their neighbours in the championship, but the result at Páirc Uí Chaoimh, with all its echoes of 1983, was undoubtedly a surprise.
Kerry were seen as real pretenders to Dublin's throne and, although Cork were expected to put it up to them, Munster wasn't considered to be arena in which they would meet their end in 2020.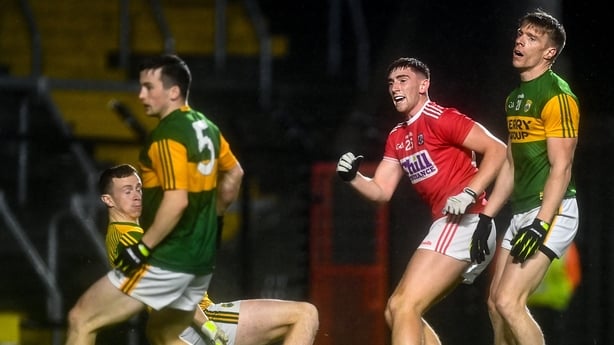 The Rebels had run the Kingdom close last year, but they spent the spring in Division 3 of the league. Most previews thought it might be a couple of years too early for Ronan McCarthy's men.
But they were dogged, and every time Kerry got a couple of points away, they responded to stay in the game.
What happens next? Well, it's the end of the road for Kerry, but you'd imagine that when this squad does come of age, they might point to yesterday's defeat as one of the harsh lessons they had to learn along the way.
For Cork, well who knows? They'll fancy their chances against Tipperary, and if they can get through, they avoid the Leinster and Ulster champions.
Anything could happen from here.