Tipperary manager David Power said his team had an "honest chat" with themselves at half-time as they over-turned a seven-point deficit to defeat Limerick after extra-time in a dramatic Munster semi-final in the LIT Gaelic Grounds. 
The Division 3 outfit trailed 2-06 to 0-05 at the half-time break but rattled off 1-06 without response during a crucial spell before the second-water break to come roaring back into the contest. 
And while this momentum subsided in the final quarter of normal time, Tipp were able to grind it out in extra-time, Brian Fox kicking the winning score to book their spot in the Munster final. 
"At half-time, we had a good honest chat. We knew we hadn't performed," Power told RTÉ Radio 1's Saturday Sport after the game.
"We said we've got two options. We can either go out there and go through the motions or just give it one right rattle.
"And by God, the first 15 minutes of the second half, they were excellent. That's probably the most frustrating thing. Why couldn't we do that the first half? But it is what it is. 
"Those kind of wins can be huge as well. The last few weekends, we've been winning throughout the game. So, this is a big, big win for Tipperary football."
Tipp's final quarter fade-out allowed Limerick to wrestle back the lead in the closing moments, teeing up the game's most dramatic moment, captain Conor Sweeney's last-gasp sideline kick to force extra-time.
Tipperary have forced extra time against Limerick after this superb free from Conor Sweeney deep into added time.

Watch all the weekend's action on The Sunday Game @rte2 from 9.30pm #rtegaa pic.twitter.com/5Bk3CYJ8WT

— The Sunday Game (@TheSundayGame) November 7, 2020
Power hailed Sweeney's attitude and his influence on his teammates. 
"He's a proper captain, that's all I'll say. He's always encouraging the young fellas, never gives out to them. He stood up there but always there 20 minutes before training, always practicing frees, practicing shooting. That really paid off for him today."
Prior to the pandemic, Tipperary were flirting heavily with relegation to Division 4. Since the re-start, they've won four games in a row, preserving their league status and progressing to a first Munster decider in four years. 
"We're back in a Munster final. Pre-Covid, I suppose things hadn't been going all that well in terms of results. But the attitude was good, training was going well. It was just turning it into results. And since we've come back, we've gathered momentum, we've two or three good challenge matches and this is our fourth (competitive) win now and that's huge."
The Munster final will take place on the centenary of the Bloody Sunday massacre in Croke Park, another match in which the Tipperary footballers were involved, where 14 people were killed.  
"It's a huge honour. We've been trying to play it down throughout because we didn't really want to be talking about it. But now that we're there, it's going to be a huge occasion for Tipperary football people."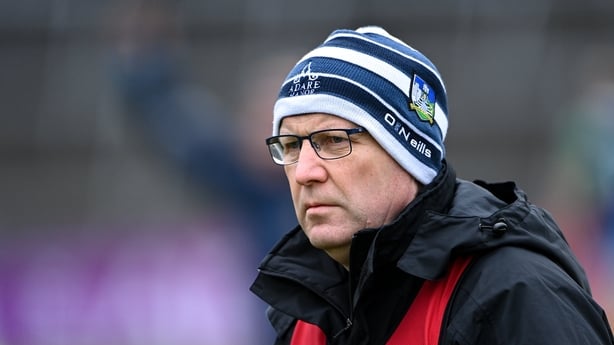 Limerick manager Billy Lee was disappointed but philosophical after their agonising loss. 
Lee's team enjoyed a strong 2020, winning Division 4 and narrowly missing out on a Munster decider and the manager was inclined to focus on the broader picture after the defeat. 
"We played good football," he told RTÉ Sport. "We're trying to get the lads to enjoy themselves when they're inside with us and work hard. And there's no substitutes for either of them. And if you do that and you're enjoying the company, it becomes easy working. 
"We just encourage them to play football and be the best they can be and wherever that takes them, so be it. 
"It's very, very unfortunate but there was always going to be disappointment the way that game was shaped up. It was going to be Tipp or us. The losers are devastated and the winners are triumphant and that's sport. 
"Tipp were always going to get a period of dominance, every team gets a period of dominance. But they probably made a bit of hay then and got a quick start in the second half. 
"When it came down to it, we probably had a few more gilt-edged chances, I think, that we didn't take in the second half. But look, Conor (Sweeney) stepped up and got a screamer. It was Maurice Fitz like. And they hit the post in the second half and got a goal out of it.
"So, maybe they had that fraction of luck. But credit where credit is due, Tipperary move on and we're out and you just move on with it. 
"I think there's going to be a bit more progress in these guys. We've just got to keep pushing hard and working hard. There's only six inches between the rear end and the top end. We won't forget that either."