Limerick earned their ticket back to Division 3 thanks to a strong first half at Markievicz Park.
They were eight points up at half time, but they were made to sweat by Sligo's second-half recovery in the north-west.
In the end they did enough to get over the line as Hugh Bourke notched a vital 1-03 and Iain Corbett also impressed.
Limerick's opening score should have been a goal. Centre-back Corbett powered through but somehow blasted an effort over for his side's first point after two minutes.
The visitors' goalkeeper Donal O'Sullivan then made a brilliant block to deny Paul Kilcoyne's goal-bound shot after Sligo's best move of the opening half.
But this was one of the rare encouraging moments for the hosts during the opening period as wind-assisted Limerick took over.
Limerick led 0-04 to 0-01 by the 15th minute as points from Sean McSweeney and Hugh Bourke increased their tally, the latter's point effort was a shot at goal while under pressure from Sligo full-back Eddie McGuinness.
Hugh Bourke's well-finished goal after 23 minutes, following Cillian Fahy's fine pass, confirmed Limerick's dominance and it helped them lead by eight points at the break, 1-09 to 0-04.
Limerick, indeed, could have had two further first-half goals. Hugh Bourke saw an effort thwarted by Sligo custodian Eamonn Kilgannon and Sean McSweeney's cracking effort came off the crossbar.
Sligo's only score in the first 28 minutes was Sean Carrabine's fine effort from play and two of their next three points came from Red Og Murphy.
Sligo, for whom Brian McGowan was lively, were hampered with the enforced withdrawal of Liam Gaughan, their top scorer in this campaign, late in the first half.
Such was Limerick's control that a black card for Sean McSweeney made no difference.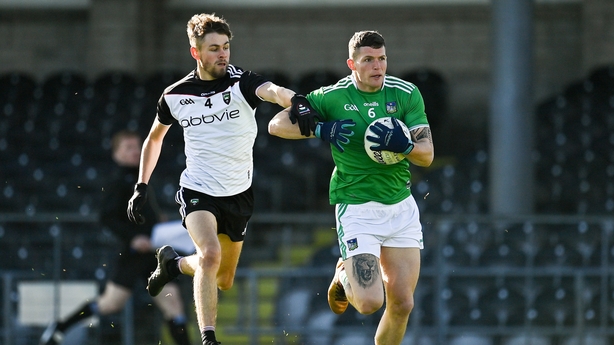 Sligo, backed by the breeze in the second half, tacked on a few scores through Red Og Murphy but there was no danger at this stage of a surprise recovery.
Limerick yet again went close to a goal but Iain Corbett's effort was scrambled off the line by Ryan Feehily, the former Connacht Rugby Academy player.
When Limerick extended their lead to nine points, 1-13 to 0-07, after midfielder Darragh Treacy powered through, the game appeared over in terms of it being a contest.
But Limerick failed to score for the next 10 minutes as Sligo suddenly found another gear, scoring 1-03 without reply. The key score of this mini-revival was an excellent goal by Pat Hughes.
Limerick responded in the closing stages as goalkeeper Donal O'Sullivan converted a long-range free and a '45', but they were kept on their toes by a defiant Sligo.
The hosts got the difference down to two points in stoppage time and were just a goal away from ruining Limerick's day – and season – but the Munster side held on.
Sligo: Eamonn Kilgannon, Nathan Mullen, Eddie McGuinness, Sean Murphy, Ryan Feehily, Paul McNamara, Darragh Cummins, Patrick O'Connor (0-02, 0-011f), Paul Kilcoyne, Mikey Gordon, Liam Gaughan, Sean Carrabine (0-04, 0-01f, 0-01 '45'), Red Óg Murphy (0-04, 0-03f), Pat Hughes (1-02), Brian McGowan.
Subs: Barry Gorman (0-02) for L Gaughan (27mins), John Francis Carr for D Cummins (28mins), Brian Cox for S Murphy (47mins), Gerard O'Kelly-Lynch for P Kilcoyne (47mins), David Quinn for P O'Connor (66mins).
Limerick: Donal O'Sullivan (0-02, 0-01f, 0-01 '45'), Sean O'Dea, Brian Fanning, Paul Maher, Tony McCarthy, Iain Corbett (0-02), Gordon Brown, Darragh Treacy (0-02), Tommy Griffin, Peter Nash (0-01), Hugh Bourke (1-03, 0-02f), Sean McSweeney (0-02), Adrian Enright, Cillian Fahy (0-01), Killian Ryan (0-02).
Subs: Michael Donovan for B Fanning (34mins), Tommie Childs for A Enright (ht), Darren O'Doherty for P Nash (50mins), Davy Lyons for T Griffin (57mins), Cian Sheehan (0-01) for S McSweeney (66mins).
Referee: Liam Devenney (Mayo).