Fermanagh captain Eoin Donnelly has spoken out about the lack of support his county received from the GAA after 10 of their players went down with Covid-19.
Donnelly's side were relegated to Division 3 of the Allianz Football League today after they were narrowly edged out by Clare in Ennis, losing 1-11 to 1-09.
Fermanagh's preparations for the crunch game were thrown into disarray after 10 of their team tested positive for coronavirus, while seven more were deemed to be close contacts and had to self-isolate.
Nevertheless, Ryan McMenamin's charges still managed to bring 26 players to Cusack Park and despite many players being nowhere near their peak, ran Clare close.
Donnelly, who works in a hospital himself as a physiotherapist and is acutely aware of the danger of Covid-19, felt that his county were left to fend for themselves by the GAA.
Fermanagh had made a request to the Central Competitions Control Committee to have the game postponement, which Clare were amenable to, but were rebuffed by the CCCC.
Speaking after the defeat, Donnelly was unable to hide his disappointment with the GAA and their decision makers.
"The whole situation of the last few weeks, we parked it before we came down and we decided that we were here to compete.
"Our medical staff were 100%, they checked in with the boys all the time which is probably more than could be said for the GAA themselves. I don't think we got a lot of support for ourselves."
He added: "I work in the Ulster Hospital on the respiratory ward so obviously we treat Covid patients, we see them coming in and obviously we've seen an increase over the last while," he told RTÉ's Sunday Sport.
"Obviously there's been more and more cases coming up and ourselves in our squad, we were affected quite significantly over the last two weeks with 10 players testing positive and then another seven being considered close contacts.
"It completely wiped out our squad over the last while and we weren't able to have any collective training as a group over the last while.
"In fairness to the management they probably could have tried to cut corners and get boys out on the field and be selfish and think about the last two league games but they were spot on.
"They followed advice to the letter of the law, our doctor Niall, led it brilliant and everyone had to be looked after and that's what we did, we followed it as it was.
"On the back of that obviously it was disappointing that when we requested the game maybe be postponed to a time that suited Clare, and Clare were accommodating, it's disappointing that our request was denied."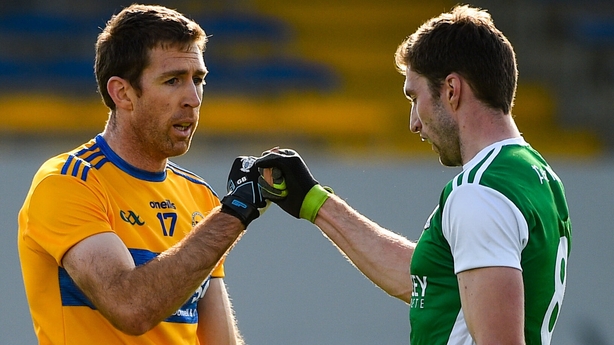 Donnelly admitted that some of his team-mates were still feeling the after-effects of Covid and he was clearly unhappy with what he viewed as a lack of support from the GAA.
He said: "We were able to get the boys out on the field today but these are boys, that some of them in the best case scenario, might have just been locked in the house for two weeks. Some of them have had symptoms and been fatigued and lethargic and everything that goes along with that.
"Fair play to the boys, they could have easily said 'I'm wiped out here, I can't do anything here' but they wanted to give everything for Fermanagh so they came down and gave it their all.
"It was a game we could have won, we lost by two points in the end and we had goal chances. We put Clare to the pin of their collar and it's disappointing that we didn't come out with a result," he said.
"Subsequently the GPA have come out and put a few more requests in place for the GAA to follow up with teams and have rapid testing. That was all stuff we couldn't avail of, whether because we're not high profile enough or it hadn't been set-up.
"I don't think the GAA were in touch with our players as much as we would have liked, it was just a case of 'get on with it' and bring up a few younger lads and that."