Leitrim manager Terry Hyland has said that it is "unusual" that only a few county teams have reported significant Covid-19 issues ahead of the return to action this weekend.
Hyland was reflecting on Leitrim's decision to concede today's scheduled Division 3 fixture against Down in Newry due to a "lack of playing numbers available to travel."
Speaking to RTÉ's Saturday Sport, the Cavan man said that he found it strange that more counties had not reported big outbreaks.
"I do feel that it's a bit unusual that Leitrim have issues, shall we say, Fermanagh have issues and yet we have 30 other counties (without issues).
"Okay we had Armagh a while back but we don't seem to have issues anywhere else which, to me, seems a little bit unusual considering that it's a worldwide, nationwide pandemic.
"All young men who play football want to play for their county. We have a lot of asymptomatic people, we have people who have a head cold and will say 'I have a head cold, I'll not go to training Tuesday night.' Then they say by Friday 'I'm fine.'
"We just don't know and maybe it suits to just carry on."
Hyland said that four of five of his Leitrim players were awaiting testing results while a similar number were possibly facing a period of isolation as they may be deemed close contacts of positive cases. He added that the players backed the decision not to travel to Páirc Esler.
"We make a decision on what we see happening in front of us," said Hyland.
"We asked the guys out straight and we don't want to go down the route of 'well you could have had x and you could have made them do it.'
"We have been told, and we have told everybody, that you have a decision to make, what decision do you want to make?
"We asked the players out straight what do you want to do? We will respect and we will back your decision. That is what we as management are supposed to do."
Down officials were only informed of Leitrim's decision this morning just after 9am, but Hyland said that was simply due to the evolving nature of the situation.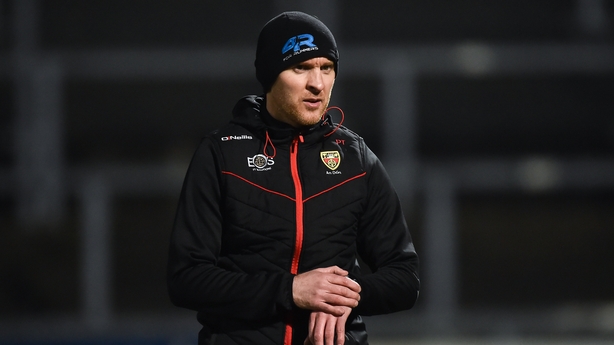 "I was asked this question yesterday and I said 'at this point in time we are still travelling.'
"We showed up a few more people yesterday, I've had two more phone calls, and we didn't really make a decision on it until 8pm or 9pm last night. We kept it is alive as long as we could."
Hyland also said that they were always going to put the safety of their players first.
"A number of issues arose coming onto the end of the week with regards close contacts of close contacts. Lads were looking to get tested and waiting on results, and we didn't have them back.
"We thought it was prudent for the safety of our players, and the safety of the people in Down we were going up to visit, to call off the game.
"We don't where we are. People would say that we might have veered on the side of caution but this is what we are being told to do."