Leitrim GAA chairman Enda Stenson admits he has huge concerns over his players lining out in matches over the coming months and that he would be "horrified if I thought one of our players was the cause of spreading Covid-19 to anybody."
The Division 3 side will play Allianz League games against Down and Tipperary before taking on Mayo in Páirc Seán Mac Diarmada on 1 November.
It means a busy period for the side after a month of training.
Concerns have been raised in the last week over the viability of playing an amateur sport as parts of the country enters Level 4 due to rising cases.
The huge surge in cases in Northern Ireland is also a factor as sides from the South travel to the North.
Counties who have fixtures in the North looked for neutral venues to be made available, but all fixtures will proceed as scheduled after a decision by the GAA's Central Competitions Control Committee 
Stenson told RTÉ Sport: "The health and well-being of our young players is of paramount to us and everybody else. That is the talk around the country. I couldn't tell you the amount of calls I've received today and yesterday from people saying, 'Why are ye doing this? Ye don't have to do this.'
"This weekend our senior men's team are in Newry, our senior ladies' team have a challenge game in another county, our minors will be somewhere else and senior hurlers in Bekan. That is four teams leaving Leitrim to play in different parts across the country.
"I cannot visit my neighbour because I can't go into their house. I'm not sure how the Government can square that. That doesn't seem to add up.  That has huge reservations with a lot of people that have spoken with me in the last few days.
"But this is where we are. A decision was made whether it was political or wherever, that games were going to be played. I am not sure and, I said it on a number of occasions, if it was the right thing to play the league.
"We had a number of reservations. But now we are going to play two rounds before the championship. If anything goes wrong in the two games, that scuppers all of GAA. Maybe it would have been better to concentrate on the championship. If you play a round of the championship, at least after the first weekend 16 teams were gone. After the second, there would be eight. You'd have a lesser chance of spreading the virus. But we are where we are."
Leitrim chairman Enda Stenson says they have four teams leaving the county to play this weekend, while he can't visit his neighbour.

He admits a great fear over Covid-19.

"I would absolutely be horrified if one of our players was the cause of spreading Covid-19 to anybody." pic.twitter.com/YfOHH5JIQ5

— RTÉ GAA (@RTEgaa) October 15, 2020
Stenson added that he has spoken to other chairpersons and "they all feel the very same way".
"I don't have an answer to which is right or wrong, but I know a lot of people are not happy with what is going on."
It was a trail of thought shared by Kerry's 2009 All-Ireland winning captain Darran O'Sullivan.
This weekend Kerry resume their Allianz League campaign with the long journey to Monaghan and O'Sullivan feels safety for family and work colleagues, never mind the players themselves, is a huge concern.
"I genuinely don't think it's an argument anyone can win, either for or against," he told 2fm's Game On. "You want to see it [league and championship] going ahead, but with the restrictions that are out there for everybody, I can't see sense in how you are expecting lads to put themselves at risk.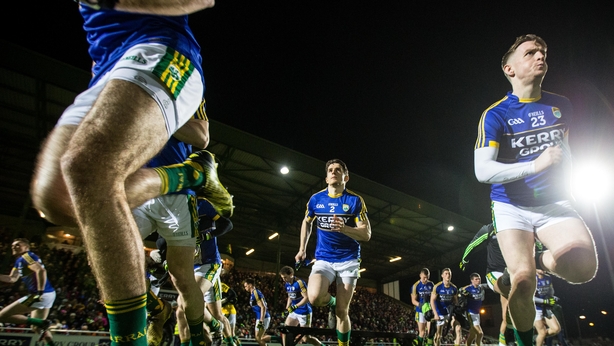 "People will say they are willing to take the risk, but I think if you are to look at it on a bigger scale, it's more than just the players, it is their families, their work colleagues. 
"I was looking at it from the point of view if one of my colleagues, say like Kerry now going up to Monaghan at the weekend, would I feel safe with him or her coming in the next day? 
"My honest answer would be no."
As Leitrim prepare for their league fixture, the chairman said his county will play their games and he has assured players that they can opt out of playing if they do not feel comfortable.
One feeling in the back of his mind, however, is the possibility of GAA activity spreading Covid-19 and causing illness to family members, school children and others.
"There is nobody under pressure to go," he added. "None of our players have been put under any pressure by management or county board. If the players are happy to go, then as chairman as the county board I will be there as well.
 "The championship is fixed. The call I make is not going to change that decision. We are concentrating on going to Down and our players coming back safe. We welcome Tipperary here the week after and then look forward to the championship when it comes.
"I hope for the sake of everybody that we all come safe and well out of it and particularly…..players have to go back home and a lot of them may have elderly parents.
"A lot of them may be school teachers and a lot of them may have young children. I would absolutely be horrified if one of our players was the cause of spreading Covid-19 to anybody. It is a huge worry. You have responsibilities when you are chairperson of the county board. But that's what it is."