The Gaelic Players Association says that a significant number of their members do not want to proceed with the 2020 championships – unless the implementation of Covid-19 protocols is improved.
A ballot of inter-county players was taken by the GPA on Tuesday, with a 76% response rate from members in 48 hours which clarified the views of 1,695 players.
More than half - 52% - of inter-county players who responded to the survey want the championships to go ahead.
A further 24% of respondents want to proceed, but only if improvements are made to the implementation of coronavirus protocols and arrangements.
That leaves 24% of players who do not want the championship to proceed.
The organisation's national executive committee unanimously agreed that the inter-county season should proceed, subject to additional safeguards and supports for the welfare of its members, including stronger testing protocols, stricter compliance and oversight of protocols and the use of the safest venue for games.
It also called for the decision of any player to withdraw from their inter-county panel because of their personal circumstances to be respected.
GPA CEO Paul Flynn said: "We are deeply concerned about our member's welfare given the ongoing developments nationwide.
"The clear message from our members is we need to strengthen the protocols to protect the welfare of the players, their families and their communities.
"We also need to respect the decision of players who opt out of the 2020 season."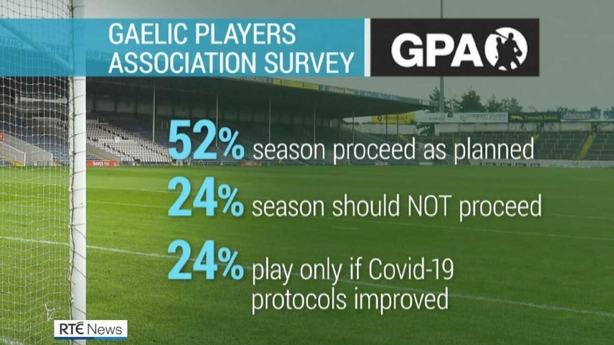 The National Public Health Emergency Team (NPHET) has recommended that the entire country moves to Level 5 for a period of six weeks, while Tánaiste Leo Varadkar today suggested that the All-Ireland Championships would be difficult to complete if the country moved to Level 5.
The survey came in the wake of outbreaks of Covid-19 cases within inter-county camps, though two counties that were hit – Fermanagh and Wexford – are both expected to field in their respective Allianz Football League encounters this weekend.
Furthermore, the Wexford county board praised the rapid testing scheme made available to them by the GAA, after 54 members of their hurling backroom were tested, with two tests coming back negative, allowing training for the remainder to resume as normal while preparations continue for their Leinster SHC opener against Galway at the end of the month.
The questions asked of the inter-county players were as follows:
In your opinion, is your county board effectively implementing the Covid 19 inter-county return to play protocols to ensure a safe training/playing environment for you?
Players were asked to indicate, if they answered no, what specific changes were required to make their training/playing environment compliant with the Covid protocols.
The second question was:
Which of the following options reflects your opinion for the upcoming 2020 season?
1 I want the season to proceed.
2 I want to play only if the implementation of the Covid-19 protocols is improved.
3 I do not want the season to proceed.