Tomás Ó Sé is hopeful that a GAA inter-county season can take place, even if the government decides to act upon NPHET's advice in moving the country to Level 5 of the Covid-19 restrictions.
The health advisory body sent a letter to government last night suggesting that the country needs to return to restrictions that were similar to those which were in place in March and April.
Under the Government's Living with Covid-19 plan, published on 15 September, Level 5 guidelines stipulate that no matches or collective training can take place, with only individual training allowed. 
The five-time All-Ireland winner told RTÉ Radio 1's Morning Ireland that there might still be hope for top-level sport in such a circumstance.
"It would be a hard sell for the Government if they asked teachers and schools to stay open, and then you can't have the elite sports people of the country Gathering, probably in healthier environments than school life.
"It'll come down to the health authorities and the government, and what they decide, with the ultimate power being held by the Government.
"You could see a situation whereby the Government might apply the Level 5 restrictions to certain areas, and allow other areas not to have those implications set upon them.
"So you could have a situation still where the inter-county teams might be allowed to train. But would that be right if the rest of us are being put into Level 5 or people are struggling with jobs?
"Does sport become irrelevant at that point?"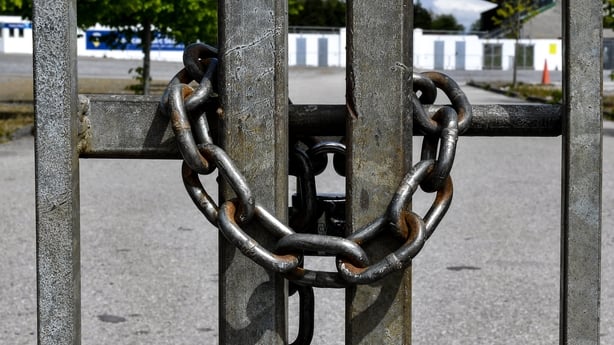 Last night's letter from NPHET seemed to take Government parties by surprise, with a meeting of the leaders of the three coalition parties and the Chief Medical Officer Dr Tony Holohan set to take place today.
The All-Ireland football and hurling championships were postponed due to the situation which prevailed in the country in spring.
In summer, the GAA announced their intention to run off an inter-county season between October and December.
The concluding two rounds of the Allianz football leagues were to take place, starting on the weekend of 17/18 October, with the provincial competitions set to be begin at the end of the month.
RTÉ football analyst Ó Sé says that if that was all to go by the wayside, it would be a "huge blow" to the GAA.
"We have to think outside of sport, and health will obviously come to the fore," he points out.
"But in terms of a sporting context, with everything we saw in the club, and ramping up for the actual championship, I think it will be very, very disappointing for everyone.
"Time was always going to be an issue, and now with this Level 5 you're talking about four weeks.
"So I suppose the big question right now is if they go ahead with this Level 5, and there is four weeks without inter-county training or gatherings, do they have the time to run off a championship afterwards?
"I suppose right now, thinking and looking at it, you'd have to say probably not.
"On the other side of that we don't know what's going to come out of these meetings. We'll always stay positive.
"But health has to be at the foremost of everybody's mind here. Certainly if it goes to Level 5, you'd have to think the worst for the championship at the moment."