Retired Tyrone star Colm Cavanagh feels that the split season championship templates are ready for implementation in time for 2021.
The GAA have been working towards launching defined seasons for both club and county from 2022 onwards, but with Covid playing havoc with life, sporting fixtures and most everything else, there is speculation that the split season may come into effect from next January.
With a compacted Allianz League already on the cards, it seems possible that a truncated 2021 inter-county championship is also on the cards.
"I like the idea of that," Cavanagh says.
"I felt this year that to have been able to have a chance to focus on the club was brilliant and it meant that you were not torn between the two at all times, training for different managers on different nights.
"But I would have thought like that for the last few years anyway," he added.
"It has taken something like Covid to bring this system to light but the GAA have the chance to address this now," he says.
"I actually think you will see better football on both sides – club and county.
"Again, I understand there are loads of challenges in running this off, loads of hurdles with timings and dates but something has to give now soon.
"I just wish, from a former players perspective, that the template had been there 10 years ago."
The Moy clubman feels that his next-door neighbour Conor McKenna is well capable of swiftly resuming his Tyrone career – but should be given space to decide when to link up with Mickey Harte's panel.
The gifted 24-year-old (below) recently called time on his AFL career with Essendon despite still having over a year to serve in his contract.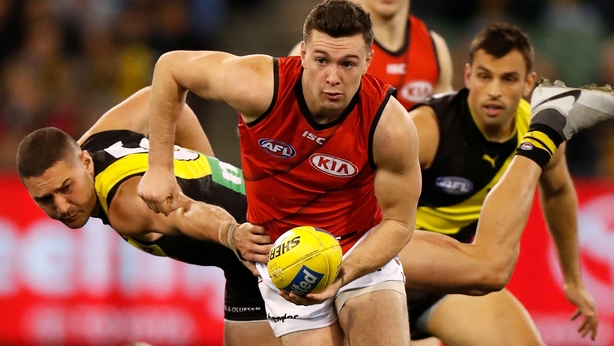 Cavanagh doesn't want to put any pressure on the incoming Eglish man to link up with the county panel.
But he says he has no doubts about his ability to hit the ground running whenever he decides to come into the fold.
"I think you must give Conor time and allow him to adjust back to life here," Cavanagh says.
"But at the same time, I know what he is like, what all the McKennas are like, they are all very natural athletes. "We played Eglish two years ago in a club game and we were cruising when all of a sudden he made two crazy runs, they got two goals out of it and nearly beat us.
"Conor still has that knack and I do suspect he could hit ground a lot quicker than people think. That's not to pressure the lad," he laughs.
As for himself, Cavanagh is eager to turn his attention to coaching after announcing his retirement from the inter-county game on Tuesday.
Cavanagh spent almost 11 years toiling in the defensive trenches for Mickey Harte's men, achieving All-Ireland glory with the Red Hands in 2008 and picking up All Stars in 2017 and 2018.
"I am very proud and honoured to have worn the Tyrone jersey for as long as I have and have had some of the best days of my life whilst wearing it," the 33-year-old said in a message posted to social media.
Cavanagh later expanded on his reasons for hanging up his boots on RTÉ 2FM, telling Game On listeners: "I was getting to the stage where the body was breaking down and I always said to myself whenever my body starts responding badly and things start getting difficult, it was the right time to do it.
"I think there's a great bunch of lads there that can step in and do a better job.
"That's what it's all about, getting the county to where it needs to be."
The Moy man will now shift his focus to imparting his knowledge to a younger generation.
"To date I haven't been too involved with coaching, with time constraints, but I think it is something I will want to get into and start going through the ranks and seeing how I can make a go of it," he said.
"Staying in GAA circles would be nice.
"Hopefully I'll take to it and team up with someone that can help me along the way."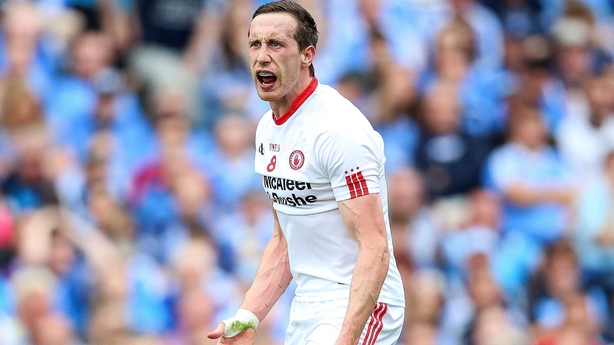 Tyrone are due to embark on their All-Ireland campaign against Donegal on 1 November.
The pandemic has wreaked so much havoc on teams' preparations that Cavanagh can envisage plenty of upsets along the way.
He said: "We're probably like every other county – disjointed.
"We're trying to get back into the swing of things. We're trying to hit the ground running again.
"One thing that I think I did read about Tyrone over the period, was that we were training away behind closed doors, which was madness, because we weren't.
"We were sticking to the guidelines. Guys were doing their own stuff at a shed out the back, doing their gym work. That's the way things were.
"Like every other county, they're starting at that bottom level, trying to get up to speed as quickly as possible and just hoping that everything is going to go as planned.
"It's going to be hard, because having trained right through from last November, you play a few games in the league, come into the Covid period and it's really very hard to motivate yourself over that period to do anything because you're wondering whether there's anything going to be happening.
"For any of the counties where players have motivated themselves to go to the gym and do their running and practice their skills, they'll definitely start off ahead of the rest. That'll vary in each county.
"There's a whole raft of factors that could be thrown in that could see the gap narrowed.
"There's a change of management for Dublin. There's a lot of arguments to say that this year it could be someone different. But who knows? Only time will tell."