Ballybay had to come from behind to draw with defending champions Clontibret in the Monaghan Senior Football Championship on Sunday.
Shane McGuinness's first-half goal had the challengers in command before the break, but Clontibret, inspired by a Vinny Corey major of their own, turned things around to lead by two late on.
But Ballybay weren't to be denied, hitting the last two scores in a 1-09 apiece draw.
"The penalty (missed by Conor McManus) and the goal came at the wrong time for ourselves," admitted Drew Wylie on RTÉ Radio 1's Sunday Sport.
"It sort of sparked a bit of life into Clontibret, and really put the pressure on. We finished strong, I suppose it's good on our behalf.
"You can play all the challenge matches you want, but until you really play the competitive championship football in your own county... that's when it really matters.
"A lot of the boys worked hard all over the pitch. We were getting good turnovers, but in saying that we gave the ball away a lot in the first-half.
"It mightn't have shown, but we heard about it at half-time. We didn't pick up where we left off in the first-half, but Clontibret are a class side."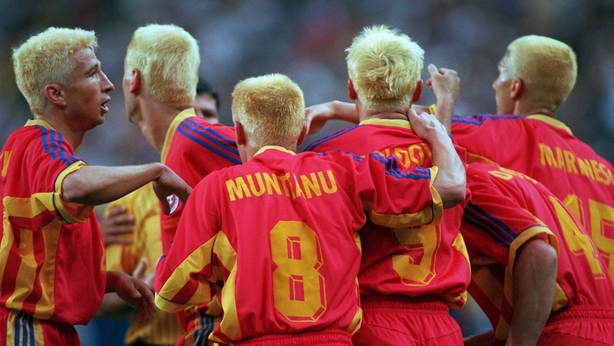 Players on both teams appeared with dyed blonde hair, but the Monaghan inter-county star explained that this was no fashion statement.
"The Monaghan senior panel, we did a shave or dye. We raised money for two very worth causes; Monaghan Cancer Services and Cootehill Holy Family School.
"Im not sure of the final figure but we raised well over €30,000. It was great that we were able to give something back."
Elsewhere, Boyle manager Basil Mannion was concentrating on the positives after his side drew with defending champions Pádraig Pearses in the Roscommon Senior Football Championship.
Boyle had a 12-point at one stage in the second-half, but playing against a strong breeze, they couldn't hold on as goalkeeper Robert Carney failed to deal with a high ball, and the ball ended up in the net.
"In every county, county champions are champions for a reason," said on the same programme.
"They have character, and they have heart. But I'd like to think we've raised the bar. We played them twice last year and that's our best performance against them. We've improved.
"If we keep improving hopefully we might see them again and we can do even better. But we'll take the point out of the game, and we'll and get four more and come out of the group.
"At the end of the day, when I go home and have a cup of tea and a slice of cake, I'll be very happy with the point today."
Mannion admitted that the sending off of Enda Smith midway through the second-half, for a second bookable offence, was a blow.
"When you lose any man against the county champions you're going to be struggling," he pointed out.
"But to lose someone of the quality of Enda Smith, especially against the breeze, when you need somebody to carry the ball, and break the line... there's no better man in the business.
"I thought we adapted well. We held out, you could say. There's a lot we can learn ahead of next week's game."