The GAA has said it will be left to individual county boards how to deal with "worst-case" scenarios involving positive Covid-19 tests.
The Association's Director of Player, Club, and Games Administration, Feargal McGill said that while they are hopeful of avoiding situations where club championships could be in jeopardy due to positive Covid-19 tests, it will be a matter for each county to decide its own fate.
Killeshin GAA club in Laois has become the latest club to pause activities, informing its members that it will not train or compete, at both underage and adult level, until Monday, 27 July.
"This is a precautionary measure, as one of our teams has been in contact with a person who subsequently tested positive for Covid-19," a statement read.
The GAA updated their Covid-19 policy earlier this week ahead of the recommencement of the club championships around the country, though concerns grew when a number of west Cork clubs and another in Dublin paused their activities in order to comply with HSE public health advice.
The GAA has outlined the process should a player test positive, and McGill explained that it is then at the discretion of each county board as to how they proceed.
"We spoke to county boards last night and we asked them all to include something in their competition regulations to deal with the worst-case scenario," he told RTÉ Sport's Damian Lawlor.
"We think, and hope, that is highly unlikely, but we have asked counties to provide for that.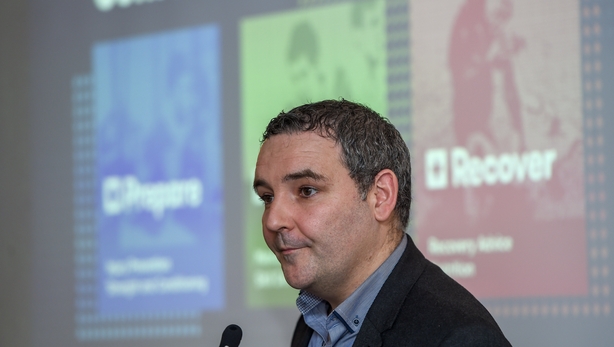 "Each county will look at their own needs in that regard and basically structure their competition and decide what is the best way in approaching that."
McGill said that the Association is "exceptionally happy" with how clubs have responded to the new landscape, but admits the future remains unclear.
"At this stage, fingers crossed, there doesn't appear to have been any Covid cases which have originated from GAA activities.
"We can't be complacent, but it is very heartening to be saying that.
"We don't know what is in front of us and it is a very fluid situation. Hopefully we will be able to run off the club activity without any hitches, but there is a strong possibility there could be hitches and we will have to deal with that if they arrive."
Earlier today GAA commercial director Peter McKenna admitted a behind-closed-doors championship is the "least preferential" scenario as they seek to play off this year's competition within the calendar year, with McGill adding that it hasn't been dealt with at any great length just yet.
"The most important thing to say is that it is a very fluid situation, we don't know what we will be dealing with by the end of October, which is when this will be relevant.
"The truth is we haven't taken a high-level decision on that just yet, but we will do when we need to."