Getting a business idea off the ground is challenging enough at the best of times. 
But throw in the restrictive impact of a pandemic and it becomes all the more difficult.
That's the challenge Wexford footballer Conor Swaine had to contend with as he looked to open his BTwenty7 cafe in Enniscorthy.
The goalkeeper, who studied engineering at DIT and Carlow IT, had first broached the idea of starting the business last summer, having held an ambition to do so for a number of years.
"I had seen that my own parents had their own business and it would've always been something I had at the back of my mind but hadn't the time to do it when you're involved in inter-county," the 32-year-old tells RTÉ Sport of the cafe which takes its name from the first letter of his baby son's first name and his date of birth, 27 April.
"I had worked for my parents' business. They have a shop and a deli in Enniscorthy and that's where we would have put the cafe.
"In my mind, it's more like an initial step at the moment and something I would want to build on. It was more of a brand idea, that I wanted to go down that route, and get my own brand of coffee.
"We already had the deli here in the shop and it was something that linked in with that and one fed off the other really then.
"The idea of having my own brand of coffee and the food already being here - it's all homemade food and then having our own brand of coffee and fresh roasted coffee weekly - so the two of those things linked in together well."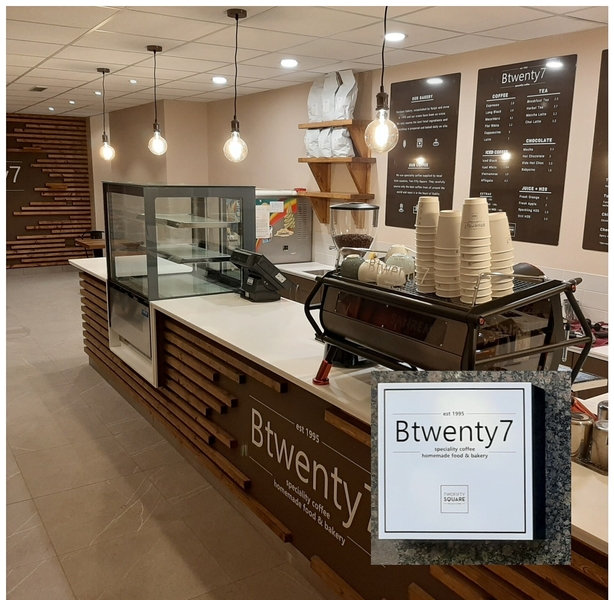 But like other business, both established and nascent, the impact of Covid-19 threw a curveball of sorts into the fray.
"At the time of Covid, we were halfway through the development of the actual building [phase]," he said of the cafe construction which is just adjacent to the shop.
"We had gone too far to turn back really but it turned out really it was almost like a blessing in disguise that people were looking for something to do and it was a new brand in town and we found that Saturdays and Sundays and days that people were walking around as the restrictions loosened. 
"We were very busy and it was great the coverage we got through social media which was unbelievable and a great help to us."
Much of that support came from the Gaelic Players Association, who Swaine had engaged with as far back as the brainstorming stage behind the business plan in 2019.
"They (GPA) just kept you focused on your end goal and Fran O'Reilly (of Amaze) would give you a text very regularly or a call and it was more like subtle encouragement at that stage," Swaine explains.
"I would've done a plan out with Fran and it was holding you accountable down to little things like giving him a date for when I would look through CVs and he'd hold you accountable to that date.
"So I would have found it very useful from that point of view and then later on after we opened, they would have pushed me towards the courses that are available to everyone - not just GPA members - but I wouldn't have known about them without their input.
Wexford footballer Conor Swaine set up his coffee shop BTwenty7 in June 2020.

After his first engagement with Personal Development Coaching, Conor received support through the GPA Business Development Programme and his coffee shop is now up & running in Enniscorthy Co. Wexford. pic.twitter.com/XTgI8naxh8

— GPA (@gaelicplayers) July 7, 2020
"[They were] courses on the likes of hospitality management and recruitment and help along those lines and then up to the other day, they would have put on social media about us opening.
"When you can get the likes of the GPA to push something for you, it's invaluable really."  
Swaine adds that perhaps many players do not realise the help and resources that are available to them.
"I still think a lot of people don't bite the bullet and get in contact with the likes of Niall [McNamee] and set the ball rolling," he says, referencing his own GPA point-of-contact as an example of those willing to lend an ear for business and personal issues.
"It's definitely something I feel that is under-utilised."
As BTwenty7 gets up and running, the club championships are starting back across the country this month, with the Wexford football competition starting back on the weekend of 23 August after most of the hurling championship has been completed.
But Swaine has been back training with his club Horeswood and is gearing up for the resumption.
"We were back training last week and it's been very good so far," he says.
"We've a couple of challenges matches now coming up and the Wexford Football Championship's not starting for another five or six weeks so we still have plenty of time.
"The hurling is on first and they are playing that to a finish. But I think it's brilliant the way we have that to look forward to now after looking for so long that there might be nothing. 
"It's a really good period for players, especially club players that you're going to be playing week in, week out.
"The way it has been for the last couple of years, playing two rounds of championship in April and then the club players are left to do what they want during the summer months, this is a welcome change from that point of view." 
Listen to the RTÉ GAA Podcast at Apple Podcasts, Soundcloud, Spotify, or wherever you get your podcasts.
RTĖ Sport · RTÉ GAA Podcast: Oisín McConville and Donal Óg Cusack on club v county strife, plus New York vision