Working on the frontline in the battle against the coronavirus presented Galway football captain Tracey Leonard with a new challenge and with it a fresh perspective on life.
Before the virus struck, Leonard helped Galway to top spot in the Lidl National Football League, with two games still to play.
Following on from the GAA's suspension of all inter-county activity in the middle of March, a decision was subsequently taken to scrap this year's league competition.
Yet, Leonard has been kept busy. As an outpatient nurse at University College Hospital Galway, the Corofin native was redeployed to carry out Covid testing.
Reflecting on that role, she told RTÉ Sport's Darren Frehill: "It was a different line of work for me, something that I hadn't done before, but I was happy to carry out a job that meant so much to the hospital.
"We tested hospital staff so they could get back and run their wards and clinics. It was great to be of use when circumstances were so different."
And while Leonard did miss the routine that goes with her sporting endeavours, she is keen to accentuate the positives.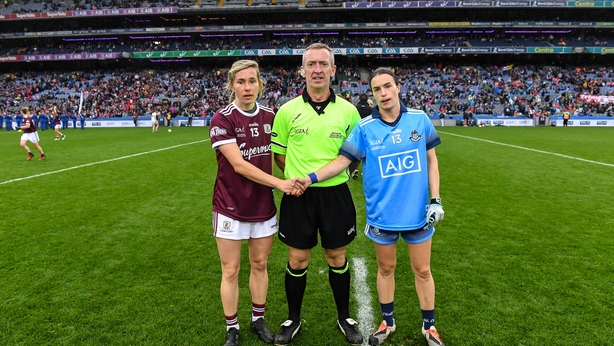 "Sport is such an important role in your life, it's all you think of, before you go to bed at night and first thing you think of when you wake up. You're planning work, gear, nutrition and for it suddenly to be taken away, it's a very strange thing.
"Since collective training stopped, I've been kept going with work. I do see another side to life that I didn't see before Covid.
"I think all these things happen for a reason and definitely for me personally, some positives have come out of it.
"I have spent a lot more time with family at home, neighbours I mightn't have seen much of. Giving time to loved ones is a big thing."
2020 TG4 All-Ireland championship draw
Later this year will see the revised TG4 All-Ireland championship get underway. Galway, who were beaten finalists last year, have been drawn in a group with 2019 intermediate winners Tipperary, and Monaghan in Group 2.
Not surprisingly, Leonard welcomes the return of competitive fare, but is well aware of the challenge ahead if they are reach another decider.
"It gives a sense of hope and a goal to look forward to. We were at the wrong end of the stick in last year's All-Ireland final against Dublin, but it is from defeats like that that you learn.
"It's a whole new ball game this year. Just because we were in an All-Ireland final last year doesn't give us an entitlement to be there this year. There will be a lot of work to do and we have two big teams in Tipperary and Monaghan first up before we can look any further."