For a while it looked like no roadmap would be put in place for club and inter-county to resume on GAA fields this year.
On Friday, the association unveiled its 'Safe Return to Gaelic Games' document, which reveals the phased approach to holding club and inter-county championships in 2020 – provided Government advice confirms it is safe to do so. 
And so, juvenile and adult club championship games can commence from 31 July, with inter-county training to resume on 14 September and a championship to begin on 17 October. 
"To be given a bit of hope now that would put a smile on your face," was how Davy Fitzgerald summed up the plan in place when speaking on The Sunday Game .
As manager of the Wexford hurlers and the Sixmilebridge club side, Fitzgerald will be in the thick of it when things resume, though he did initially feel that county should have preceded club on the resumption.
"If it's club back before county, then I'm happy, but what I had said was that from a safety point of view I thought the county might have been easier to manage with way less numbers being involved across the various squads," he outlined.
"Obviously, the GAA have this thought out so I'm more than happy. I'm lucky in that I coach my club side Sixmilebridge which I'm delighted with, so I'll be back out. Club is so important but for me once any of them (club or county) are back out I'm happy. Never once would I put club before county or county before club"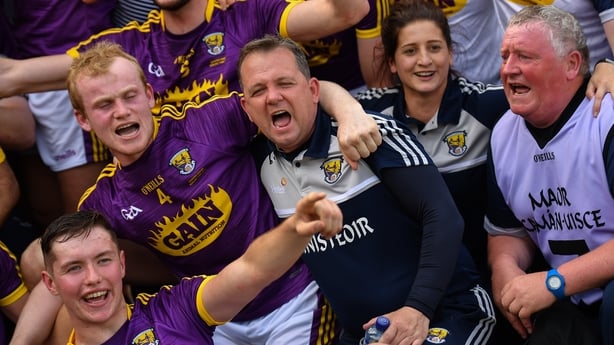 Asked by presenter Des Cahill on the tight schedule that managers will have with the players before the start of the planned championship in October, Fitzgerald added: "It will be very hard. If you have a strong dual county, you'll have to get both club championships played off in a set time, so by mid September you could still be down x amount of players. 
"The logistics will be tough, but we're just going to have to get over it and deal with whatever comes.
"To me, this year isn't about All-Irelands. Look it would be lovely to win one with Wexford; it would be lovely to win a club one with Sixmilebridge. It's about getting out and being able to participate, being able to get into our fields and being able to play a game.
"If we can do that, we're winning. We're getting a bit back. If we can achieve that it would be massive.
"But we will deal with whatever is there. Of course we would love a longer championship but or a few months it looked like there wasn't going to be anything.
"For the last couple of months, things have been tough, people have been worried about getting Covid, People have lost loved ones and our deepest sympathies, we have all been thinking of them. 
"Through all of it, the country has stuck together. We just need to finish this off. We are a resilient bunch and please God we'll be back out in the fields soon. We'll mind each other and take care of each other. Things will be good, things are looking up."