The GAA today unveiled its 'Safe Return to Gaelic Games' document, which reveals the phased approach to holding club and inter-county championships in 2020 – provided Government advice confirms it is safe to do so.
Despite the Government's announcement that organised outdoor exercise can return from Monday, the GAA is maintaining its 29 June date for a return to action.
At a virtual press conference, the Association launched a 15-page booklet outlining the road ahead.
The key points of this document are:
Walkways on GAA pitches will open from Monday, 8 June
Club gates will open on 29 June
Juvenile and adult club championship games can commence from 31 July 
Inter-county training to commence on 14 September
The inter-county calendar will commence from 17 October
A full fixture calendar will be published in August
All of the above plans are dependent on Government approval and advice.
The first phase of the Roadmap rolls out on 8 June, when GAA walking tracks may be used for recreational use in groups of four. 
No games or small group training will be permitted on GAA facilities at this stage and all clubroom facilities will remain closed.
Phase 3 commences from 29 June when all GAA pitches will open.
We need your consent to load this rte-player contentWe use rte-player to manage extra content that can set cookies on your device and collect data about your activity. Please review their details and accept them to load the content.Manage Preferences
There will be no access to GAA buildings and indoor facilities except to use sanitised toilets.
From this date, grades from under-12 and below can train in small groups – with no more than 10 including players and coaches in one area of the pitch for non-contact training under social distancing guidelines.
Players aged between 15-18 can begin training too, with not more than 10 in a group. Parental or guardian sign-off will be needed for underage training.
Meanwhile, adults can also begin training in small groups of five, whilst social distancing.
Phase 4 commences on 20 July when all forms of team and group training are permitted and resumption of club competitions for all grades can start on 31 July.
Water bottles cannot be shared, and all equipment must be washed and sanitised at the end of every session.
Contract tracing will be in place for all players and backroom members.
A Covid Supervisor will be appointed by clubs and duties will include taking temperature levels of team participants upon entry to the grounds. If the level is over 37.5 the player must return home. At this stage all participants will have to complete a health questionnaire and submit to the club's Covid Supervisor.
Anyone on the field will have to sanitise their hands upon entry and exit from grounds and clubs will be asked to display Covid-19 signage on their premises.
There will be a limit on spectator numbers in line with Government directives and spectators will be separated from players in line with social distancing requirements.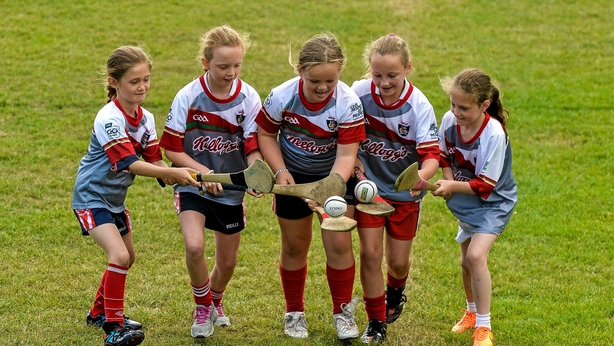 The final phase commences on 10 August when access to GAA buildings will be permitted again - where regular and effective cleaning can be carried out and where indoor social distancing can be maintained.
Contract tracing measures to be in place and sanitisers will be placed all through the facilities. Signage must be displayed, and crowds will be managed in line with agreed protocols and Government guidance.
On 14 September, inter-county training will resume - subject to no change in medical advice or research. From 17 October there will be a green light to resume inter-county championship matches.
An official statement from Shay Bannon, the Chair of the Advisory Group, read: "The Covid-19 Advisory Group was tasked with preparing a guidance document and recommendations that would inform the safe resumption of activities within the Gaelic games family. 
 "While this document provides a guide for a safe return for Gaelic Games activity, it is important to note that further, more detailed, advice and guidance will need to be provided in the coming weeks on specific areas contained within this document such as online training modules, the role of the Covid Supervisor, advice on recording player temperatures, advice on, and samples of signage and so on.
"It is also envisaged that separate and updated advice on the Safe Return for inter-county players will be published during Phase 4 and closer to the resumption time for inter-county activity. 
"The Covid-19 Advisory group makes its recommendations on the resumption of activities having studied the best advice available from the Governments and National Health agencies on the island of Ireland, as well as other sporting bodies (separate advice, based on local considerations and consistent with jurisdictional obligations will need to be provided for clubs outside of Ireland).
"The evidence and research to date indicates that the resumption of activities is a complex process, that it may not be linear and that small and deliberate steps must be taken before there can be a return to full activity. 
"The roadmap contained in this document outlines and defines a set of recommended minimum practices for the reintroduction of activities in a methodical manner which preserves player and community safety.
"The objective is to advise members and clubs on how a resumption of activities can best be achieved in a controlled and safe manner. The resumption of activity and the timing of progression between the various phases outlined may be influenced by factors outside the control of the Association.
"The guidelines, protocols and recommendations within the document are capable of evolving and staying abreast of changes in Government policy and developments within the Association. 
 "The priority at all times must be to protect the health and welfare of all those involved in Gaelic Games and to minimise the risk of transmission within the wider community."
We need your consent to load this rte-player contentWe use rte-player to manage extra content that can set cookies on your device and collect data about your activity. Please review their details and accept them to load the content.Manage Preferences
Listen to the RTÉ GAA Podcast at Apple Podcasts, Soundcloud, Spotify, or wherever you get your podcasts.