After three seasons on the Dublin panel but no championship appearances, Éabha Rutledge was starting to worry she was never going to make it.
She had made her league debut in 2015 and was travelling when the Dubs won the All-Ireland title in 2017, Mick Bohan's first year back in charge.
The Kilmacud Crokes half-forward was a peripheral figure as the Jackies retained the Brendan Martin Cup the following year and came close to walking away over the winter.
"It was my third year on the panel and I just thought, 'Look, it's not for me'," she tells RTÉ Sport. "People my age had been breaking through and I hadn't. My confidence level, it just really got very low.
"So at the beginning of 2019 I called Mick Bohan and just said that I was going to take a break, take a bit of time off the county scene...
"That (2018) was my first year with him as a manager and he was like, 'It won't take one year just to break into the team, you're going to have to give it two.' He said, 'I'll give you a week, call me back in a week and let me know.'
"I took the week to think and it kept playing on my mind that he had said after a year, you won't just break through with a new management team. You kind of do have to build on it. I thought I'd be silly just to let it go. Something that I love, why would I give up on it so easily?
"I rang Mick back and said I definitely would love to play in 2019. I'm thankful that I did now."
Not only did Rutledge finally make her championship bow, she did so in the unfamiliar territory of right corner-back, going on to lock down the No 2 jersey and win an All-Star nomination as Dublin sealed three-in-a-row. She was also named Dublin senior footballer of the year.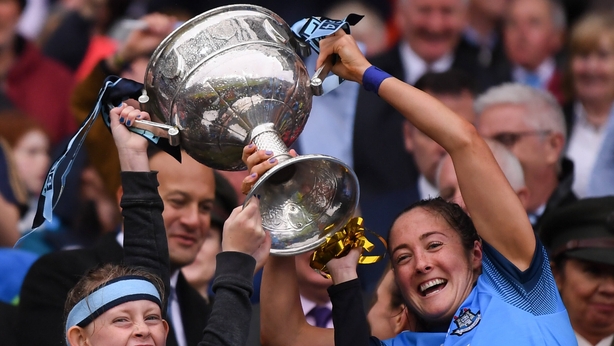 "Last year, after the league, I had a chat with Mick. He didn't think my head was in it. He said 'You know, we have to make a cut after the league and currently you're one of the names on the list. Give yourself a week, show us why you want to be here and train hard.'
"I had spoken to him about maybe changing my position. I wasn't getting on too well where I was playing or breaking through over the past three years. So I changed to a back and just loved it. My mentality changed completely. It just suited me more, playing with Dublin, to be in the backs.
"From there then, by chance, I just managed to get in the Leinster championship team and every week trained hard to keep my jersey. I was working on my footwork with the defence coaches, extra bits of training just to break in and thankfully I did.
"It was a big change in the year. At the start of 2019, I was on the bench for the League and then making my first Championship start in the summer was brilliant."
Rutledge still plays as a forward with Crokes and admits it was a challenge to adapt from poacher to gamekeeper.
"There was a lot of learning, I suppose. What helped me was that when we're training with Dublin, a lot of forwards would do defensive work as well in trying to stop the opposition backs coming out, so we have worked on stuff before like that.
"My footwork and blocking was the main thing, just trying to get that near-hand tackle in. Tackling as a forward, if you give away a free at the other end of the pitch, it's fine, but when you're giving away frees to such good free-takers now, 20 or 30 yards out, they're just going to stick it over the bar.
"My first match, against Cork in the league semi-final in 2019, I gave away I don't know how many scoreable frees. But I'd like to think they've improved over time, anyway."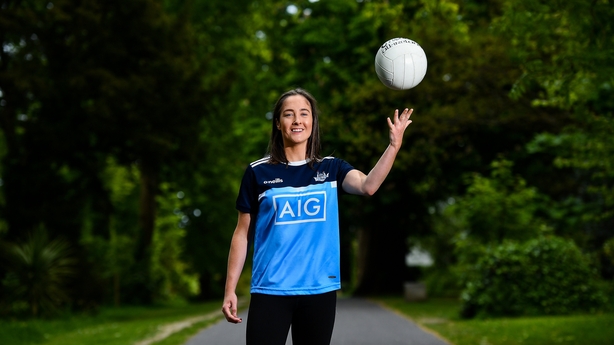 The Covid-19 pandemic came at a particularly inconvenient time for a recently established player but Rutledge, a fund accountant with JP Morgan, is following an individual training plan supplied by Dublin in the evenings, "working away on my weakness, my mobility, and just trying to keep busy."
"I was really looking forward to this championship to try and break through again and hopefully get my name down on the team-sheet again for this year," she admits.
"It is a bit of a setback but it has given us that bit of time, and trying to look at it positively it does let me improve skills that maybe I wouldn't have had the same amount of time to do if the championship was going ahead.
"I'm just trying to focus on different things I can improve and keep my fitness up so when we do get back playing, that I'm ready to go again.
She also believes that an inter-county championship can't take this year place while social distancing restrictions remain - "you don't want to be putting players and families at risk" - which might see the local club rivalry with Foxrock-Cabinteely come to the fore.
The five-in-a-row Leinster champions - featuring Sinead Goldrick, Niamh Collins, Hannah O'Neill and Emma McDonagh - beat Rutledge's Crokes (Lauren Magee, Aoife Kane and Rachel Fleming are clubmates) in their first Dublin senior final last year, having knocked them out in the semi-finals for four consecutive years before that.
"We speak about it a lot, that when we're playing club we're literally the biggest rivals ever, and then next day at Dublin training we're best friends again," laughs Rutledge.
"It's always been a sporting thing to achieve, the Dublin championship, with Kilmacud Crokes, and even then on to the All-Ireland series.
"It's always been something we've dreamed of since we were young and training away together as under-10s. You never know what can happen but I'd be hopeful."
Éabha Rutledge was speaking to the media to support the AIG 20x20 'Show Your Skills' Competition. The competition is open to women and girls of all ages, all abilities and all sports, the monthly winner will be awarded a €1,000 prize.