Mayo's Aidan O'Shea has called on the GAA to prioritise club championships ahead of inter-county games.
The coronavirus pandemic has shut down almost all sport on the island but yesterday Taoiseach Leo Varadkar, speaking on the Late Late Show about the latest restrictions, commented that we could have All-Ireland championships this year behind closed doors.
He said it would be a matter for the GAA.
The Government's roadmap paves the way for Gaelic games to resume from late July.
The GAA is looking at a massive loss in revenue should there be no senior inter-county games this year.
However, Breaffy club-man O'Shea admits that sport must take a back seat in the current environment and that if and when contact sports like Gaelic games get the green light then the club game should be first in line.
"This is an opportunity for the GAA to build back up from the club," O'Shea said on RTÉ's Late Late Show.
"If we have a championship this year, wonderful, if not, we have to move on to 2021 but get back to the club scene, get club games going. That would be massive for everyone.
"We are in a bit of a vacuum at the moment.
"It would be good from a player's perspective if the GAA came out and gave us some sort of timeline because that is the difficulty for inter-county players at the moment.
"Everybody is desperate for sport to be back in some shape or form.
"We all miss it dearly but there are bigger things at stake."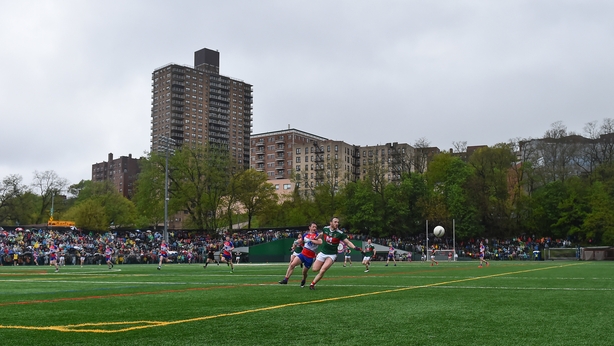 The 29-year-old also said that the players must be consulted, given that they would be putting their own health at risk.
"From a player's perspective, especially the inter-county game they are going to have to consult players," he said.
"Whether they want to play behind closed doors, whether they want to come together in a dressing room.
"What happens if a player gets Covid-19, what happens a team? All those questions are left unanswered.
"People are desperate for sport but I think the club scene is more realistic right now so that's probably closer on the horizon, that's where the focus should be.
"We are here for the Do it for Dan [campaign], that has grown from the club scene."
Also speaking on RTÉ, former Kerry star Kieran Donaghy said he wouldn't be a fan of games behind closed doors.
"I'd prefer them to hold it a month or two or three to play a proper championship where people could go to the games, even with smaller crowds," he said.
Henry Shefflin, the 10-time Liam MacCarthy winner, said: "Let the club championship go first."