The financial implications of having no further inter-county GAA action in 2020 are becoming starker by the day.
Yesterday, staff at Croke Park were informed of pay deferrals for May. Further cuts are expected in June.
In a conference call, county board officials were told that last year's record-breaking revenue haul of €73.9m could be down to as low as €10m this year – if there is no inter-county fixtures calendar. Potential outgoings, however, could rise up to €25m.
RTÉ Sport also understands that, as the cost of having no provincial championships will be extreme, every effort is being made to safeguard jobs and existing structures.
However, the lack of action and gate receipts will have a deep effect. The Ulster Council, for example, estimate that not having a senior football championship this season will set them back €1.6m in gate receipts alone. There will be further significant losses in the commercial revenue.
And following a meeting of the GAA's national finance committee yesterday morning, employees across the board - from central to provincial to county board level - were told of the imminent salary deferrals.
There was also communication from yesterday's meeting that it appears "increasingly unlikely there will be a significant programme of inter-county GAA games before the end of the financial year due to the ongoing Covid-19 emergency, with the result that there will be no significant revenue generated or cash received over the coming months."
Without a vaccine the prospect of returning to the playing fields and packed stadiums seems some distance away still.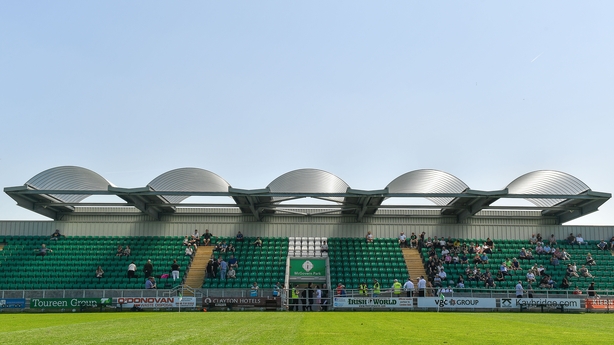 The action was due to throw in this weekend with London and Roscommon meeting at McGovern Park, Ruislip (above), tomorrow. Meanwhile, on Sunday, New York and Galway were down to face off at Gaelic Park.
The postponement is a massive set-back to London, who recently re-developed their grounds at Ruislip and have been working to produce more English-born players for their teams.
London have been competing in the championship since 1975 and in 1977 they won their first game by beating Leitrim at a time when there was a huge Irish contingent in the city.
Their next win was the 2011 qualifier win over Fermanagh. In 2013 they beat Sligo and Leitrim to make the Connacht final, where they lost to Mayo and then Cavan in the qualifiers at Croke Park.
Stephen Lohan is the Finance and Operations Manager at London GAA and hurls for the county team too. He still hopes that London could face Roscommon later in the year.
"We have not yet given up on 'The Connacht Game' just yet," he says.
"This game would have been a vital day for the GAA in London.
"We are fortunate that Connacht GAA understands this and continues to play this game in Ruislip each year to support our growth here in London. It's also very important that the teams (youth and senior) get the opportunity to play the games they have been training for."
Lohan describes the annual Connacht opener at Rusilip as the most important date in their calendar, both in social and financial terms.
"It is more than just a game. It's the largest revenue generator for the county and it helps us to finance the running and promotion of our games.
"It's also an opportunity for our players and backroom teams to showcase their skills in front of a home crowd after six months of hard training and commuting. This game inspires our youngsters to continue playing in the hope that one day they too may get the opportunity to line out.
"And socially it brings the GAA and Irish community together on the first bank holiday weekend in May for a celebration of our culture."
Last year, ahead of their meeting with Galway, there were a record 13 London-born players in the 32-man set-up. This year. Michael Maher is the first London born-and-bred manager of the team.
"The ultimate target is to continue to develop and promote Gaelic Games in the County of London with focus on a 'Building Our Own" campaign," Lohan said,
"The London GAA Strategic Plan 2021-2024 will also be launched at our annually Convention in December all going well," he concluded.