Over the last 40 years, The Sunday Game has brought the GAA football and hurling championships into your homes.
And now, we want you to help us choose the best XV in each code of the TV era - picking the best XV from All-Star winners of the Sunday Game era (1979-present)
Cast three votes for your All-Star hurling half-forwards of choice below or email teamselection@rte.ie to make any more considered contributions. We will be debating these teams across our platforms in the coming weeks.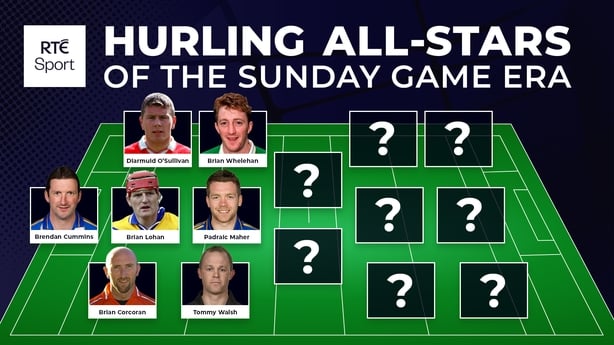 Voting is still open to select our midfield duo but we're springing straight back into action like a Cork goalkeeper taking a short puckout.
We move on now to the first of the forward lines, the halves, with some of the best players of all time among the candidates.
Speaking on our GAA Podcast debate around the half-back line choices last week, no less an authority than Henry Shefflin suggested that centre-back and centre-forward are where managers tend to situate their best players. He should know.
Just like in soccer, a hurling No 10 tends to be a team's attacking playmaker: a creator for others and an adept scoretaker themselves.
All half-forwards need to be capable of competing for possession with gnarled half-backs and hitting points from distance. They are typically among the most accurate shooters on the team and often designated free-takers.
We need your consent to load this SoundCloud contentWe use SoundCloud to manage extra content that can set cookies on your device and collect data about your activity. Please review their details and accept them to load the content.Manage Preferences
Some of the men on the list below also featured in the half-back poll (Tommy Walsh was left out as he has already been picked), showing that ball-winning and wristy hurling are as vital here as further back.
Even more of them are equally at home in the full-forward line. We'll let you decide where they should go.
Incidentally, some observers have been agitated by the absence of Kilkenny great JJ Delaney from either of the back lines. While we would probably have included him, we are duty-bound to accept the will of the PUBLIC VOTE in this selection.
We will not accept any whinging on results without accompanying screenshots of your selections and/or messages to friends and family rousing them in favour of your candidate.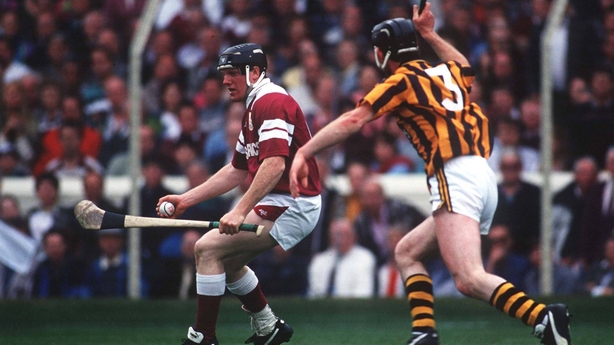 At the dawn of our chosen era, in 1979, Clare's John Callinan, Frank Burke of Galway and Kilkenny's Liam 'Chunky' O'Brien were all multiple All-Stars, though O'Brien had won most of his as a midfielder. O'Brien's county colleague Richie Power, whose son and namesake appears further down this list, was also recognised in both lines.
In 1980, Joe 'People of Galway we love you' Connolly won his only award, but it was a pretty decent year overall as he was also All-Ireland winning captain and Texaco Hurler of the Year.
As the decade progressed, Connolly's county men Noel Lane (one All-Star at full-forward) and Joe Cooney also gathered the garlands. The superb Cooney was an All-Star half-forward five times in six years and was Hurler of the Year in 87 as Galway won the first of back-to-back titles.
Cork were also well represented in a decade when they also lifted Liam MacCarthy twice. Pat Horgan won two awards at No 10, which was later replicated by Tomás Mulcahy (one at corner-forward), while the great Tony O'Sullivan won four of his five All-Stars at wing-forward, and was Hurler of the Year when the Rebels triumphed in 1990.
Pat Carroll was a standout on the Offaly team that won their first All-Ireland in '81, and also an All-Star at corner-forward the following year while George O'Connor, who was to finally lift Liam with Wexford 15 years later, was centre-forward in '81.
This week, GAANOW Rewind pays tribute to one of the biggest stars from our GAA Hall Of Fame in legendary @TipperaryGAA hurler Nicky English! pic.twitter.com/xj4hKphYLi

— The GAA (@officialgaa) April 3, 2020
It took Tipperary until 1989 to end what had been an 18-year wait for a 23rd All-Ireland title but their star forward Nicky English had been nonchalantly racking up scores since claiming his first All-Star in 83. English won six in all, equally split between the half and full forward lines, where he was HOTY in 89.
Future manager Declan Ryan was named at No 11 in '88 and on the right wing nine years later, coincidentally both years Tipp were beaten in All-Ireland finals.
Micheal Cleary took over the mantle of the Premier county's main man in the early 90s, winning four consecutive All-Stars from 90-93, the first two of which were on the wing. John Leahy was also recognised in midfield and at left-half-forward, the latter in 1994 when he didn't play a Championship game but scored 0-07 from play against Galway in the League final.
Kilkenny won two in a row in 92-93 with John 'The Red Lad' Power at centre-forward and a young sensation outside him who was so good that he is still recognisable from only the initials: DJ.
Whenever he touched the ball, everyone rose a little bit off their seat and craned their neck in anticipation. Such was the magic of DJ Carey, the @KilkennyCLG legend who enters our Hall of Fame at @CrokePark this Sunday when the Cats take on the @TribesmenGAA. Enjoy! pic.twitter.com/hSqRuexOgt

— Leinster GAA (@gaaleinster) June 27, 2018
DJ Carey was hurling's first modern superstar. With sublime skill, searing pace on either wing and an unparalleled ability for finding the net, he scored as many Championship goals as the legendary Christy Ring (33) in eight less games and was twice named Hurler of the Year.
It was Carey's relative misfortune to come of age just before the 'revolution years' of the mid 90s when Offaly and Wexford came to the fore in Leinster but he consistently won All-Stars at half and full-forward (nine in all) and eventually claimed three more All-Ireland titles under Brian Cody in the early 2000s.
The half-forwards of the Offaly team that won two All-Ireland titles were sparsely represented in the annual awards. Michael Duignan and John Troy were both recognised but 1994 goalscoring hero Johnny Dooley was the only two-time winner.
That can mostly be ascribed to the quality of the opposition, which included brilliant hurlers like Limerick's Gary Kirby (3 All-Stars) Wexford's Martin Storey (3) and Clare's Jamesie O'Connor (4).
Storey and O'Connor were Hurlers of the Year in their county's All-Ireland winning years of 96 and 97 respectively while it was an all-Wexford line in 96, Larry Murphy and Rory McCarthy on the wings alongside Storey.
As the millennium arrived so did the man who eclipsed even DJ's achievements in a Kilkenny jersey.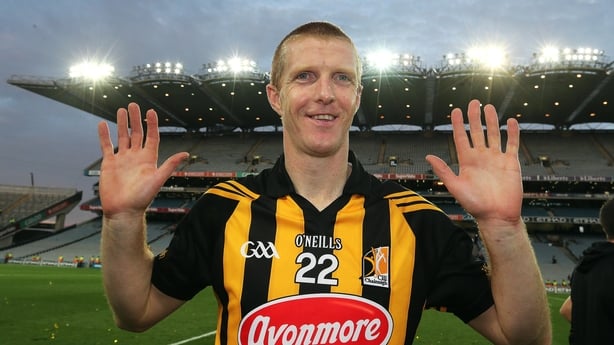 Henry Shefflin was the fulcrum of the Kilkenny attack for well over a decade, shattering numerous records in the process.
'King Henry' won 10 All-Ireland titles, 11 All-Stars (seven at centre-forward) and scored 28–485 (569 points) in 71 championship games. He is the only player to have been named Hurler of the Year three times: in 2002, 2006 and 2012.
The combination of his skill from open play and dead ball, consistency and fierce application and the iron will of Cody was a marriage made in heaven and Kilkenny reaped the rewards in spectacular fashion.
Following a promising if unspectacular underage career, team-mate Eddie Brennan said that "he turned himself into an incredible player by sheer force of will" while Cody paid his on-field general what (for him) was a lavish compliment upon his retirement in 2015.
"His greatest legacy at the end of the day is he has set the example for every Kilkenny player for what it takes. He was capable of adorning the game but he chose to work as hard as any player who ever walked out on Croke Park to allow him to adorn the game and that's something that is a great lesson for everybody."
Galway's Joe Rabbitte won his second All-Star in 2000, as did his Tribes team-mate Kevin Broderick in 2001, after he had scored one of the best points of all time - 'it's like it's an egg and spoon race' enthused Ger Canning - against Kilkenny in the 2001 All-Ireland semi-final.
Waterford were three-time Munster champions during the 2000s. Although more frequently recognised in other positions, Ken McGrath, John Mullane and championship record appearance holder Michael 'Brick' Walsh all won one of their All-Stars at half-forward.
That team's most celebrated wing-forward was Dan Shanahan, a three-time winner on the right and a man who liked to roam close to goal: he raised 21 green flags in Championship, including two hat-tricks, six more than Mullane and level with full-forwards like Tipperary's Eoin Kelly and Cork's Patrick Horgan.
'Dan the man' is one of only five players to be named Hurler of the Year despite not winning the All-Ireland (2007). Another Déise half-forward star, Austin Gleeson, is the most recent (2016).
Ahead of this weekend's clash in Cusack Park; GAANOW Rewind takes a look back to the 2004 @MunsterGAA Senior Hurling Quarter-Final of @WaterfordGAA v @GaaClare! Dan Shanahan put on a superb performance that day. Take a look at these three goals! pic.twitter.com/B9aifBVSQj

— The GAA (@officialgaa) May 23, 2018
Waterford excelled in patches but couldn't quite reach the level of Cork and Kilkenny, who carved up all but one of the All-Ireland titles that decade (seven for the Cats).
The Rebels' Ben O'Connor was a back-to-back All-Star in 2005-06 while the aforementioned Eddie Brennan won two of his four awards alongside Shefflin and the others in the corner. Eoin Larkin was Hurler of the Year in 08 and an All-Star again in 09 as Kilkenny stormed to their fourth All-Ireland title in a row.
By then, Tipperary had supplanted Cork as Kilkenny's main challengers. Lar Corbett and Noel McGrath were both All-Stars following the final defeat in 09 and again in 2010 when Hurler of the Year Corbett scored a hat-trick to stop the five-in-a-row.
McGrath scored a goal himself against Kilkenny and made one of Corbett's with a superb blind handpass, showcasing the vision that makes him one of the game's most dangerous centre-forwards. Their team-mate that day Patrick 'Bonner' Maher went on to win two awards later in the decade.
Kilkenny responded by immediately gaining revenge over Tipperary and reclaiming Liam in 2011 when Michael Rice (more often in midfield) and Richie Power Jnr (more devastating at full-forward) both claimed their second All-Stars flanking Shefflin in an all-Cats trio.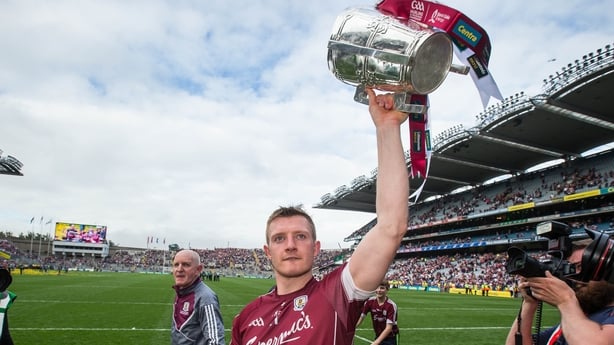 Galway were Kilkenny's victims in the 2012 decider but a Portumna pair at different stages of their careers each picked up their third All-Stars. Both players won more awards in the full-forward line but were equally effective on the wing (Damien Hayes) or in the centre (Joe Canning).
The second-highest championship scorer of all time - behind Shefflin but with a higher average - Canning has been recognised five times in total.
He was instrumental - remember that sideline point against Tipperary - in Galway bridging the gap to the 80s team with victory in the 2017 All-Ireland.
Kevin Moran of beaten finalists Waterford also won his second All-Star that year.

Great skill by TJ Reid for a Kilkenny point! pic.twitter.com/Ob8agBHWJ6

— The GAA (@officialgaa) June 30, 2019
2012 was also when another Kilkenny half-forward fast becoming known by his initials was first heralded.
TJ Reid, with four All-Stars and counting, the sublimely talented Ballyhale man has inherited his club-mate Shefflin's role of scorer in chief and leader by example for his team-mates.
Reid was Hurler of the Year in Kilkenny's All-Ireland winning year of 2015, a year after the similarly gifted Richie Hogan, who has won most of his four All-Stars elsewhere, and is also joined on our list by Colin Fennelly, who is more of a natural full-forward.
It is a slight surprise that a player of Tony Kelly's talents has only won one All-Star but he was also HOTY as Clare claimed a first title in 16 years in 2013. Former Cork captain Seamus Harnedy won his first gong that year and a second in 2018.
That makes 46 players below with either multiple All-Stars or Hurler of the Year awards. Happy choosing.
Voting is now closed. DJ Carey, Joe Canning and Henry Shefflin were selected by the public.